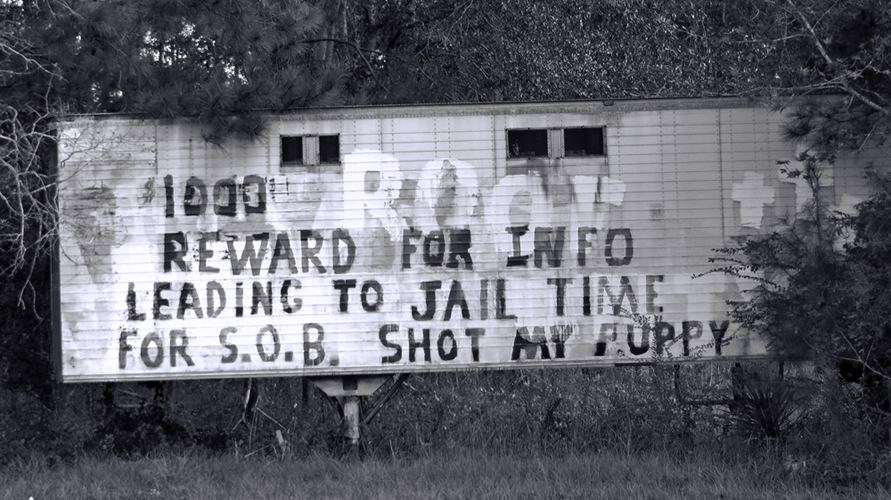 Avid reader Chuck Boyd of Hanahan sent along this photo captured somewhere in the Lowcountry.  It's not the message boat that used to be at Folly Beach, but using a trailer to display a message certainly got Boyd's attention.  Where is it?  Send your best guess to:  editor@charlestoncurrents.com – and please make sure to include your name and hometown.  In the subject line, write: "Mystery Photo guess."
Several eagle eyes correctly guessed last week's mystery, sent in by Don Clark of Hartsville, as the historic Salem Black River Church outside of Mayesville in Sumter County.  Congratulations to Chris Cooper of Washington, D.C.; Chris Brooks of Mount Pleasant; Marnie Huger of Richmond, Va.; Bill Segars of Hartsville; and George Graf of Palmyra, Va.
Cooper said this mystery was easy for him because "'a bunch of my ancestors are buried there, and some of them were ministers in the 1800s."
Brooks added the church was home to a Scots congregation: "Gen, Thomas Sumter often camped here.   Unusual solid brick wall construction."
Segars noted, the church is "a Greek Revival brick edifice built by the J. Lomas Company for $5,620 in 1846.  The congregation was established in 1756 as a daughter church of the 1736 Williamsburg Presbyterian church in Kingstree. ​Something notable that happened here you ask?  At two different times in 1780 Gen. Thomas Sumter's militia and Lt. Col. Banastre (Bloody) Tarleton's British regulars camped at this site as they purposed each other in the American Revolution."
And the reliable Graf added, "According to nationalregistert.sc.gov, (Brick Church) Salem Black River Presbyterian Church, built in 1846, is a well-preserved example of Greek Revival architecture. From the time of its organization in the mid-eighteenth century until the present, Salem Church has played an important role in the development of history of the surrounding rural community. The church has been virtually unaltered since its construction. It features massive stucco-over-brick columns, a gable roof and a pedimented portico. Basilican in plan, the interior of Salem Black River Church is simple. A slave gallery extends along three sides and is supported by square paneled wooden pillars. Listed in the National Register Nov.14, 1978."
Send us a mystery:  If you have a photo that you believe will stump readers, send it along (but make sure to tell us what it is because it may stump us too!)   Send it along to  editor@charlestoncurrents.com.