Staff reports  |  It's already that time of the year again – time to enjoy the dazzling annual display at the Holiday Festival of Lights at James island County Park.
The 28th edition of the annual attraction opens Friday, Nov. 10, and will feature more than 700 bright, beautiful light displays of all shapes and sizes every night through Jan. 1, 2018.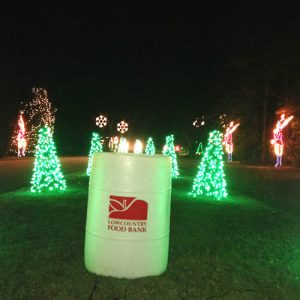 And starting Nov. 13, you can get $5 off the price of admission if you visit in the evenings from Mondays through Thursdays with a can of food for the Lowcountry Food Bank.
For most of its years of operation, the Holiday Festival of Lights has collected canned food items at the festival gate for donation to the Lowcountry Food Bank, according to a press release. Canned dog or cat food items are also accepted for donation. On Monday through Thursday, festival-goers who bring a canned food item for donation will save $5 off their vehicle admission fee (of up to 15 passengers). Not to mention, weeknights at the festival traditionally experience less traffic, so it's also one of the best evenings to visit.
Donations will help support those in need this holiday season. At last year's festival, 14,681 pounds of food were donated to the Lowcountry Food Bank. This equated to an estimated 12,234 meals provided to those in need during the holidays.
This year's Holiday Festival of Lights is more than just a driving tour.  After you see more than two million twinkling lights, you can park to experience a host of other attractions, including marshmallow roasting, train rides, dancing lights, an enchanted walking trail, an old-fashioned carousel, a climbing wall, photo opportunities and Santa's Sweet Shoppe.
The 28th Annual Holiday Festival of Lights is presented by The Boeing Company and your Charleston County Parks. For more information, including special event dates, hours, admission fees, and more, visit HolidayFestivalofLights.com or call 843-795-4386.