Staff reports  |   Carolina Youth Development Center (CYDC) has achieved national accreditation through the New York-based Council on Accreditation (COA).
CYDC is a nonprofit serving Berkeley, Charleston and Dorchester counties that provides shelter and support services to child victims of abuse and neglect, as well as youth mentoring programs and a community-based prevention program that helps at-risk families access the resources they need to stay together.
"Accreditation is a meticulous process that leaves no stone unturned in evaluating an organization, and we are proud of this tremendous accomplishment," said CYDC Chief Executive Officer Beverly Hardin.  "Successful accreditation is affirmation of our high quality, comprehensive care services."
The COA accreditation process involves a detailed review and analysis of an organization's administration, management and service delivery functions against international standards of best practice. The standards driving accreditation ensure that services are well-coordinated, culturally competent, evidence-based, outcomes-oriented and provided by a skilled and supported workforce.
According to a news release, COA accreditation demonstrates accountability in the management of resources, sets standardized best practice thresholds for service and administration and increases organizational capacity and accountability by creating a framework for ongoing quality improvement.
To achieve COA accreditation, CYDC first provided written evidence of compliance with the COA standards.  Thereafter, a group of specially-trained volunteer Peer Reviewers confirmed adherence to these standards during a series of on-site interviews with the board of directors, volunteers, agency partners staff, parents and clients.
CYDC, continuously accredited since 1980, originally was known as The Charleston Orphan House, founded in 1790 as the first public orphanage in the United States. It has evolved into a private nonprofit, providing comprehensive care for abused, abandoned and neglected youth, assisting vulnerable families in the community with preventative services, and offering job readiness and life skills programs for our residential children, as well as youth in foster care in the community.
In other Good News: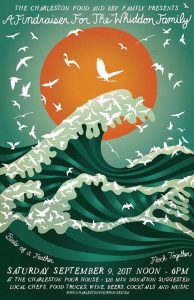 Whiddon family benefit:  Noon to 6 p.m., Sept. 9, Charleston Pour House, James Island.  The Pour House is presenting a fundraiser to benefit the family of Shane Whiddon, the Virginia's on King chef who was slain in late August.  The event will feature local chefs, food trucks, adult beverages and music. $20 donation suggested.  More.
In the playoffs.  Hats off to the Charleston RiverDogs, who made the Sally League playoffs with a strong 42-27 second-half of the season.  The team faces the Greenville Drive in a best-of-three playoff starting Wednesday at 7:05 p.m. in Charleston.  Click here for tickets or to learn more.  More kudos to the team for setting a new attendance record last week by surpassing the 300,000 visitor goal.
Telethon has big success.  Between noon and 8 p.m. on Aug. 31, area viewers of WCSC Live Five News pledged more than $100,900 to American Red Cross relief efforts for victims of Hurricane Harvey in Texas.  The telethon was a partnership of the Raycom Media-owned CBS affiliate and the Lowcountry South Carolina chapter of the American Red Cross, which provided volunteers to staff a special phone bank for collections.  "Your Red Cross is thankful for the outpouring of support Live 5 News and its audience showed during the telethon.  It was a successful fundraiser to support our Disaster Relief efforts." said Louise Welch Williams, executive director of the Lowcountry South Carolina Chapter of the American Red Cross.  "Now South Carolina is putting a temporary freeze on deploying volunteers to Texas because of the new storm that is brewing in the Atlantic.  Hurricane season lasts through the end of November, so we must remain prepared in case of more disasters to come."
Amnesty week for overdue books.  Late fees on overdue materials will be waived Sept. 18 to Sept. 24 during a special Amnesty Week in honor of Library Card Sign-up Month.  The Charleston County Public Library is encourage students and parents who live in Charleston County to sign up for a free library card, which it says is "one of the most cost-effective school supplies available, as it provides free access to programs and activities, educational apps, homework help, technology courses and librarian expertise. How much money can you save?  Visit the ALA's Library Value Calculator to calculate total savings."