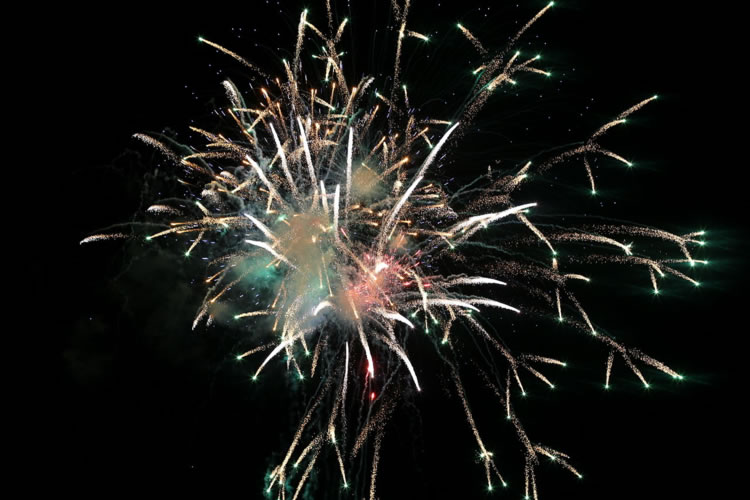 Staff reports |  About all you have to do is open your eyes and ears Tuesday around dusk to experience Independence Day fireworks.  And if you want a preview of the festivities, check out the fireworks tonight at The Joe on Fishburne Street after the 6:35 p.m. game with the Augusta GreenJackets (It should be good – the 'Dogs walloped Augusta 11-4 Saturday and then the 'Jackets shut out the 'Dogs last night.)
You can find fireworks and holiday festivals on Tuesday in North Charleston at Riverfront Park; Summerville's Gahagan Park; Patriots Point in Mount Pleasant; and just down the street at Mount Pleasant Pier, which will have the Uncle Sam Jam (see below); and at the S.C. Aquarium in Charleston.
Isle of Palms, Folly Beach and Sullivan's Island also have fireworks celebrations planned.  Other July 4 events:
July 4 Patriotic Spectacular:  Noon, July 4, St. Philip's Church, 142 Church St., Charleston.  The Charleston Wind symphony will present a concert in the style of John Philip Sousa's famous Sousa Band with patriotic songs.  Prior to the concert, you can meet at the Old Exchange Building for an annual reading of the Declaration of Independence, followed by a walk to the church. Cost for the concert:  $20.  More.
Salute from the Shore:  1 p.m. to 1:30 p.m., July 4 along the S.C. coast.  This year's air parade flyover will start at 1 p.m. at Cherry Grove at the northern part of the coast and finish over the May River sandbar in Bluffton around 1:30 p.m.   Organizers encourage parade witnesses to "salute" by wearing and waving red, white and blue on the beaches during the flyover. More:   www.salutefromtheshore.org.
Uncle Sam Jam.  Gates open 7 p.m., July 4.  Mount Pleasant Pier. A beach music band, the Recollections, will perform at the foot of the Ravenel Bridge at the pier to enliven an annual holiday fireworks show for the Fourth of July.  Food and drinks will be available.  Space is limited.  Tickets cost $10 per person, or $8 in advance.  More:  Call 843-795-4386, visit www.CharlestonCountyParks.com.
Also on the Calendar:
Unveiling McLeod.  11 a.m., July 8, 15, 22, 29, McLeod Plantation Historic Site, James Island.  This $15 tour delves deeply into history and reflects the most recent research, revealing new understandings of the people who lived here throughout history. In addition, participants are often allowed access to places typically not available to the public. A registered and paid chaperone is required for participants ages 15 and under.  More:  Call 843-795-4386, visit www.CharlestonCountyParks.com.
How to write business plans:  3 p.m. to 5 p.m., July 13, conference room at Trident United Way, 6269 Rivers Ave., Suite 101, North Charleston.  Join experts from the S.C. Small Business Development Center and learn what should be included in a credible Business Plan and Pitch Deck. Whether launching a business or an innovative product or service, you will need a financing strategy.  Cost:  $20.  Register.
Reggae Nights concert series.  James Island County Park.  Gates open at 7:30 p.m. with performances starting at 8:30 p.m. for this county concert series with Jah Works, July 21; and Mystic Vibrations, Aug. 4.
I Got You Babe: Various times, through Sept. 13, 34 West Theater, 200 Meeting St., Charleston.  34 West Theater's downtown venue will be California Dreaming all summer with its newest musical, I Got You Babe.  Tickets are $30 each.  For the schedule and more about the production, visit www.34west.org.
Farmers markets.  Here is a list of various markets in the Lowcountry throughout the summer:
TUESDAYS:  Mount Pleasant Farmers Market occurs every Tuesday through April starting at 3:30 p.m. and ending at 7 p.m. Location:  645 Coleman Blvd., Mount Pleasant.
WEDNESDAYS: West Ashley Farmers Market opens at 3 p.m. every Wednesday in Ackerman Park, 55 Sycamore Ave., Charleston.  It will continue through Oct. 4.
THURSDAYS:  Sullivan's Island Farmers Market starts at 2:30 p.m. every Thursday at 1921 I'On Avenue in front of the Poe Library.
SATURDAYS:  Charleston Farmers Market occurs every Saturday through Nov. 25 at Marion Square.  It opens at 8 a.m. and ends at 2 p.m.
SATURDAYS:  Johns Island Farmers Market operates each Saturday from 9 a.m. to 1 p.m. throughout the summer to allow patrons to beat the heat.  The market is located on the campus of Charleston Collegiate School, 2024 Academy Road, Johns Island.
Early morning bird walks at Caw Caw:  8:30 a.m. every Wednesday and Saturday, Caw Caw Interpretive Center, Ravenel.  You can learn about habitats and birds, butterflies and other organisms in this two-hour session.  Registration not required, but participants are to be 15 and up.  $10 per person or free to Gold Pass holders.  More:  http://www.CharlestonCountyParks.com.
If you have an event to list on our calendar, please send it to editor@charlestoncurrents.com for consideration.  The calendar is updated weekly on Mondays.