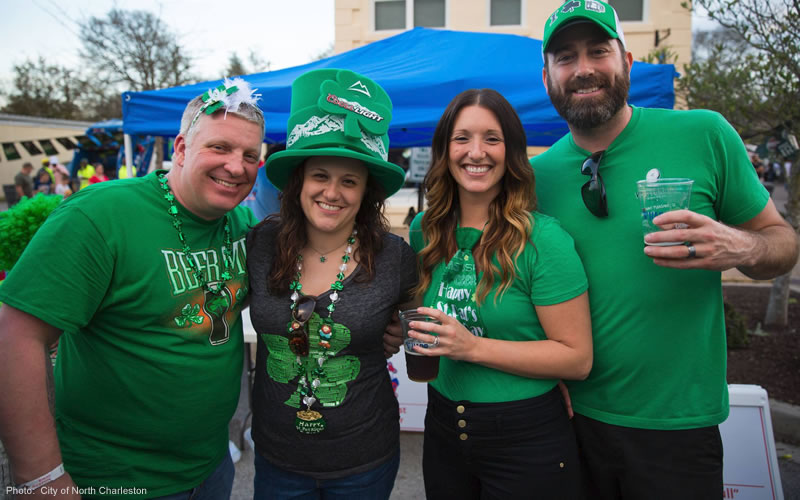 Staff reports  |  North Charleston will host the Lowcountry's biggest St. Patrick's Day celebration from noon to 6 p.m. March 11 in its Olde Village near Park Circle.
The celebration's Block Party, which will be on East Montague Avenue between Virginia and Jenkins avenues, will feature live music across three stages, street vending and fare from Olde North Charleston restaurants, additional local food vendors, a Kid's Zone with jump castles, face painting and inflatable obstacle course, charity partner booths, a bungee trampoline, a fire truck, as well as the always favorite mechanical bull.  Live music line-up includes:
Family Zone Stage sponsored by North Charleston Cultural Arts: 12:30pm Mark Schuler, 2pm Good Foot Band, 3:30pm Paddy McGee Duo
Lagunitas Brewing Stage at the Sparrow: 12:30pm The Ectomorphs, 2:00pm Dustin P Fanning & the Seconds Out, 4:00pm All Purpose Remedy
Guinness Stage at Madra Rua Irish Pub: 12:30pm Karl Byrne, 2:00pm: Chris Sullivan, 4:00pm Axus
The block party kicks off with a parade starting on Park Place East (adjacent to East Montague Avenue and across from Park Circle Community Center) at noon. The parade route will proceed down East Montague Avenue through the block party location to Virginia Avenue. The parade Grand Marshall will be Robert Spencer, owner of the Irish pub that started it all, Madra Rua Irish Pub and will also feature North Charleston's Mayor Keith Summey, Councilman Bob King, The Music Battery Drumline, The Charleston Police Pipe & Drum Band, The Lowcountry High Rollers Roller Derby Team and more.
The event is free, but parking is limited.  People are encouraged to carpool.  Learn more here.
In other area events:
See new library plans: 7 p.m., March 6, James Island Elementary School cafeteria, 1872 Grimball Road, James Island.  Local residents who want to get a look at the design for a new 20,000 square foot library on James Island can attend this community meeting to learn of progress in building the new library.
(NEW) Charleston Tells Concert Series: 7 p.m. to 8:30 p.m., March 17, Main Library, Calhoun St., Charleston.  The library will present an evening with storyteller and entertainer Robert Jones in what is sure to be a fun-filled evening.  Read more about Charleston Tells.
(NEW) Pet Fest 2017: 10 a.m. to 4 p.m. on March 18 and March 19, Mount Pleasant Palmetto Islands County Park. Pet owners and their pets are invited for a full weekend of exhibits, demonstrations, experts, entertainment and more.  If you take your pet to see dozens of displays, make sure to bring a leash.  There's lots to do, including K0s in Flight Frisbee Dogs at 11 a.m., 1 p.m. and 3 p.m.  Learn more:  CharlestonCountyParks.com/PetFest
Love, Sex & the IRS:  Through March 19, Footlight Players Theatre, 20 Queen St., Charleston.  The Footlight Players offer this farcical romp just in time for tax time.  A cross between "I Love Lucy" and "Some Like It Hot,"  the play is set in New York City in 1978.   There will be 10 shows, including three matinees, over several days.  Tickets are $30 for adults, $20 for students.  More:  http://www.FootlightPlayers.net.
Walk for Water: 9 a.m., March 25, Brittlebank Park, Charleston.  Water Missions International will hold its 11th annual water event to educate folks about the effort that more than a billion people go through to get water.  The walk through the streets of Charleston costs $20 for adults, but is free for kids up to age 15. To learn more about this fun event, go to:  CharlestonWalk.org.
(NEW) Quickbooks training: 9 a.m. to 4 p.m., April 1, Bastin Lab in Bond Hall, The Citadel, 171 Moultrie St., Charleston.  The Small Business Development Center and Citadel's school of business will offer basic Quickbooks training for $149, which includes the text.  Register and learn more.
(NEW) Lowcountry Cajun Fest:  Noon to 6 p.m., April 2, James Island County Park.  Enjoy Cajun and creole dishes, music and overall fun at this 26th installment of an annual spring event.  Music by Feufollet and Cedryl Ballou and the Zydeco Trendsetters.  Admission is $15, but free for kids 12 and under with a paying adult.  Learn more.
Lawrence exhibit:  Through April 30, Gibbes Museum of Art, 135 Meeting St., Charleston.  The museum will offer a comprehensive overview of influential American artist Jacob Lawrence featuring prints made from 1663 to 2000.  His prints explore African-American culture and experiences and highlight themes of history, labor and life.  More:  GibbesMuseum.org.  NOTE:  See our 2010 story on Lawrence.
Early morning bird walks at Caw Caw:  8:30 a.m. every Wednesday and Saturday, Caw Caw Interpretive Center, Ravenel.  You can learn about habitats and birds, butterflies and other organisms in this two-hour session.  Registration not required, but participants are to be 15 and up.  $10 per person or free to Gold Pass holders.  More:  http://www.CharlestonCountyParks.com.
Yoga and walk:  9:30 a.m. every Monday and Thursday, at two locations:  McLeod Plantation on James Island and Caw Caw Interpretive Center in Ravenel.  Charleston County Parks offers a walk and restorative yoga led by professionals in natural settings.  $10 per session with reduced rates for card holders.  Age 16 and up.  More:  http://www.CharlestonCountyParks.com.
If you have an event to list on our calendar, please send it to editor@charlestoncurrents.com for consideration.  The calendar is updated weekly on Mondays.