Staff reports  |  Sales at the Southeastern Wildlife Exhibition held from Feb. 17 to 18 were up 30 percent over 2016, which festival staffers say shows how the event that attracted  43,000 people was a resounding success.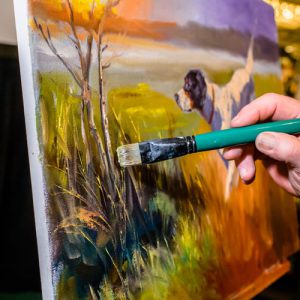 "It was an incredible weekend," said John Powell, SEWE executive director. "The crowds at outdoor venues were historic, artists and buyers from all over the US were here and enjoyed themselves thoroughly, locals and out of towners came in droves to enjoy our exhibitors, artists and live performances. There was a great energy in the city last weekend and I feel like we successfully fulfilled our mission."
With an estimated 43,000+ attendees, SEWE experienced an overall increase in pre-weekend and weekend-of general admission ticket sales and a more than 60 percent increase in food and beverage sales. Weekend art sales were up 35 percent from the 2016 event, according to a press release
Planning is already underway for the 2018 Southeastern Wildlife Exposition with continued enhancements in artist recruitment and programming. The 36th annual Southeastern Wildlife Exposition will be held February 16-18, 2018.
For more information on participating as an artist, exhibitor, VIP member or corporate partner, visit sewe.com.
In other good news:
Free admission to county parks.  Customer Appreciation Day returns in March! On Sunday, March 5, the Charleston County Park and Recreation Commission (CCPRC) says "thank you" to its regular and first-time visitors by offering free gate admission to many popular park facilities.

Parks waiving admission fees on March 5 will include Caw Caw Interpretive Center, McLeod Plantation Historic Site, and North Charleston Wannamaker, Mount Pleasant Palmetto Islands, James Island, and Laurel Hill County Parks. Free parking will be offered all day at Kiawah Beachwalker Park, Isle of Palms County Park, and Folly Beach County Park, as well as free fishing at the Folly Beach Pier and the Mount Pleasant Pier! Plus, the public is invited to the grand opening and ribbon cutting ceremony for the new archery range at Johns Island County Park (Mullet Hall Equestrian Center) from 2 p.m. to 4 p.m. on March 5.  CCPRC's new SK8 Charleston skate park is open for free skating March 5 only.
State online business filings system launches.  S.C. Secretary of State Mark Hammond has announced the launch of a new online business filings system in which South Carolinians can file more than 150 official business forms with his office.  "The new online service, available at https://businessfilings.sc.gov, will increase efficiency and help improve support for customers by providing a digital method for companies to incorporate, amend, merge, or dissolve a business. It will also allow users to request and receive copies of their documents online."
Lowcountry food insecurity panel.  Charleston Area Senior Citizen's Services Inc. will hold a light buffet and panel discussion on Lowcountry food insecurity at 2 p.m. March 8 at its office, 259 Meeting St., Charleston.  The event will also be the organizations' first kickoff event for March for Meals.  The discuss will start at 3 p.m.  More and registration information.
Green, Staffords to be honored.  Renowned artist Jonathan Green and lifelong supporters of The Footlight Players, Nancy and Sam Stafford, will be honored May 11 at the second annual Anthony Aston Honors Gala.  The award was developed by the Players "o annual recognize individuals or organizations that have made significant contributions to the arts or the cultural life of Charleston."  Tickets are on sale for The Aston Honors Gala at www.footlightplayers.net or by calling the box office at 843-722-7521. Individual tickets are $150 each.
Summer camp registration.  For parents looking to make the season one for kids to remember, the Charleston County Park and Recreation Commission offers many opportunities for children and teens to explore their environment and experience adventure through summer camps. CCPRC opens summer camp registration on March 8, 2017.  For a full list of summer camps, fee information and descriptions about what will take place during each camp, visit CharlestonCountyParks.com.