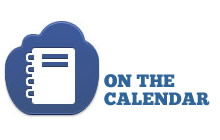 Black Comedy:  Through Feb 11, South of Broadway Theatre, 1080 E. Montague Ave., North Charleston.  This play is a classic farce by the late Peter Shaffer that begins in total darkness and then shines.  Tickets are $25.  Times and more info.
Lawrence exhibit:  Through April 30, Gibbes Museum of Art, 135 Meeting St., Charleston.  The museum will offer a comprehensive overview of influential American artist Jacob Lawrence featuring prints made from 1663 to 2000.  His prints explore African-American culture and experiences and highlight themes of history, labor and life.  More:  GibbesMuseum.org.  NOTE:  See our 2010 story on Lawrence.
Beauty and the Beast:  7:30 p.m., Feb. 10, Sottile Theatre, 44 George St., Charleston.  The South Carolina Ballet will present one performance of this love story that's perfect for all ages.  The production features choreography from Executive Director William Starrett and music composed by Léon Fyodorovich Minkus. Tickets are $25.  More.
Shuck-a-Rama:  5 p.m. to 8 p.m., Feb. 11, The Barrel of Charleston, 1859 Folly Road, Charleston.  The Brain Injury Association of South Carolina is holding its 6th annual oyster roast to raise awareness and money to support the organization's services related to helping people deal with brain injuries..  Attendees will not only have fresh oysters, drinks and other food, but they'll also be able to enjoy music from local bands.   More info/tickets.
(NEW) Whale of a Sale: Feb. 16 to Feb. 18, College Center, Trident Technical College.  The Junior League of Charleston's huge garage sale this year has a new location.  There's also a three-hour "Sponsor Splash" that starts 6 p.m. Feb. 16 for early shoppers, who will enjoy music, food and more as they peruse the array of goods.  Learn more about times and costs.
 (NEW) Ain't Misbehavin': 10 shows from Feb. 17 to March 5, Midtown Theatre @Duvall Center, 2816 Azalea Drive, North Charleston.  This popular jazz musical review that won lots of awards will have nighttime and matinee shows and feature classic jazz hits.  Tickets are $35 for adults; $25 for students.  Times and more.
An evening with David McCullough:  6 p.m., Feb. 21, Dock Street Theatre, 135 Church St. Charleston.  Award-winning historian David McCullough will reprise a White House performance done with musician Ed Wise at the 100th anniversary celebration of the opening of the Brooklyn Bridge.  At this performance that will benefit the Charleston Library Society, McCullough and Wise will share stories of history punctuated with the music of George Gershwin and Scott Joplin.  For tickets, click here or call 843-723-9912.
Free tax workshop:  9 a.m. to 1 p.m., Feb. 24, Hanahan Public Library, 1216 Old Murray Court, Hanahan.  The Internal Revenue Service in coordination with the Small Business Development Center will offer a tax workshop for small business owners that's designed to provide information and instruction about business taxes, tax benefits and obligations connected with starting a business as well as tax responsibilities for new employers. Other topics to be discussed include tax record keeping and tax filing deadlines.  Pre-registration may be made by calling (843) 740-6160 or visiting www.charlestonsbdc.com  and click on "Workshops."
(NEW) Charleston Wine + Food Festival:  March 1 to March 5, throughout town.  Check out what's new in the 12th year of the popular food festival.
Run with the Wild Things:  8:30 a.m., March 4, Caw Caw Interpretive Center, Ravenel.  "Where the Wild Things Run" is a 5K run/walk that allows nature lovers and sportsmen/women to run through nature trails at the 654-acre county-run site.  Food and beverages will be available after the run.  Also available – kids' yoga and readings of Maurice Sendak's classic "Where the Wild Things Are."  Race cost:  $22 to $38.  Register and learn more at:  http://www.CharlestonCountyParks.com/WTWTR
Early morning bird walks at Caw Caw:  8:30 a.m. every Wednesday and Saturday, Caw Caw Interpretive Center, Ravenel.  You can learn about habitats and birds, butterflies and other organisms in this two-hour session.  Registration not required, but participants are to be 15 and up.  $10 per person or free to Gold Pass holders.  More:  http://www.CharlestonCountyParks.com.
Yoga and walk:  9:30 a.m. every Monday and Thursday, at two locations:  McLeod Plantation on James Island and Caw Caw Interpretive Center in Ravenel.  Charleston County Parks offers a walk and restorative yoga led by professionals in natural settings.  $10 per session with reduced rates for card holders.  Age 16 and up.  More:  http://www.CharlestonCountyParks.com.
If you have an event to list on our calendar, please send it to editor@charlestoncurrents.com for consideration.  The calendar is updated weekly on Mondays.