By Marjory Wentworth, poet laureate of South Carolina  |  I am guessing there won't be a poem at this week's presidential inauguration. Too bad, because now is the time to think like a poet.

Through empathy, precise language and imagery, poets connect us to the things of this world and to one another. No one understood this better than the late Winston Churchill, who hand-wrote his speeches in iambic pentameter. This five stress line of verse is essentially the length of the average sentence written in the English language and can be said in one breath.  Churchill had to inspire a nation under attack, and he accomplished this in ways that will be remembered forever.
Dr. Martin Luther King was a preacher, a scholar, a teacher, a leader…. but he also was a poet and prophet.  His soaring words transcend time and space as they continue to inspire and guide us today. Like Winston Churchill, Dr. King understood the power of using poetic devices like repetition, imagery and figurative language in his speeches, letters, books and sermons.  He wrote often about the "beloved community" —  a place based on justice, equal opportunity and love of our fellow human beings.
For all the sorrow and pain we have experienced in Charleston, we have also witnessed the power of love and community in ways that most people will never experience.  Even Dylann Roof can't take that away from us. It is important to note, that after the very long sentencing proceedings at hate crime trial against  Roof last week, U.S. District Judge Richard  Gergel ended the day with a famous quote by King: "The arc of the moral universe is long, but it bends toward justice."
It was a fitting and appropriate way to close out the harrowing experience.
I was raised in Massachusetts – John F. Kennedy and Robert Frost country.  My favorite quote about the significance of poetry comes from a speech given by a United States president a few weeks before his death at the dedication of the Robert Frost Library at Amherst College, where Frost had taught for years.  Kennedy articulated the absolute necessity of poetry and the arts in a society and the role they play in maintaining our humanity and integrity.  Perhaps we've never needed to hear these words more than now:
The men who create power make an indispensable contribution to the Nation's greatness, but the men who question power make a contribution just as indispensable, especially when the questioning is disinterested, for they determine whether we use power, or power uses us…When power leads men toward arrogance, poetry reminds him of his limitations.  When power narrows the area of man's concern, poetry reminds him of the richness and diversity of his existence. When power corrupts, poetry cleanses.   For art establishes the basic human truth which must serve as the touchstone of our judgment.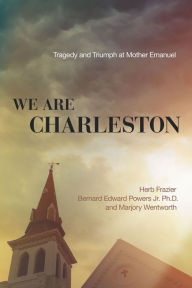 My life's work is based on empathy, creativity and diversity. At no time in my life have I had to harness these interests more than the last year and a half in Charleston. As the singer Ben Harper would say, "I am blessed to be a witness."
The operating word here is "blessed."  And I am blessed by the community of Charleston, home to a diverse, talented and loving creative community – a place that has always done what actress Carrie Fisher once suggested:" Let's take our broken heart and make it into art."
Wentworth is co-author of "We Are Charleston: Tragedy and Triumph at Mother Emanuel" with Herb Frazier and Bernard Powers.