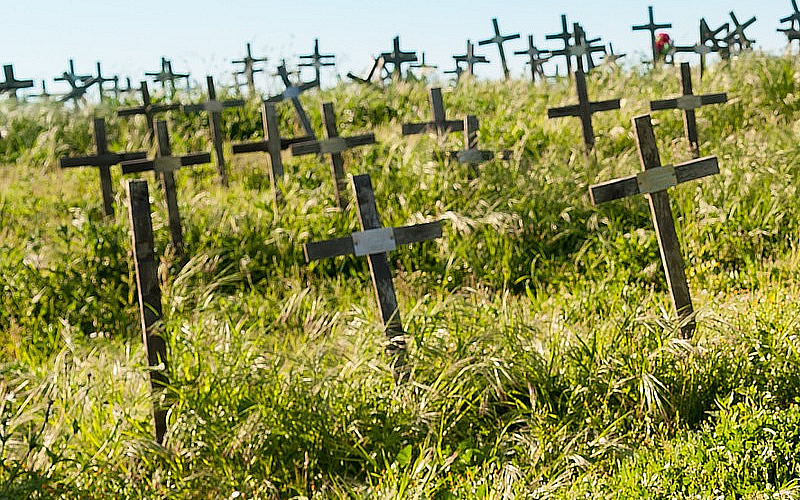 [Below are three poems by award-winning Upstate poet Kimberly Simms in our continuing monthly feature of South Carolina poems.]
Brother's Mess of Crosses
Converted at 16, when the dummy train
derailed to tip across his pregnant wife.
A holy roller, a Carolina spinner,
a brush arbor caller, an off-key gospel singer.
He took scarlet paint to moonshine jars, boulders,
pine trees, fences, and the neighbor's pig.
His front plot, he planted a mess of crosses
and built his own monolith with river rocks.
He didn't pay no mind to section leaders,
howled his only boss was the man in heaven.
He sent 10,000 message bottles down the Reedy
River, dreamed of taking Jesus to Mars and Jupiter.
"Brother's Mess of Crosses." Simms, Kimberly. First Place. 2006 John Edward Johnson Prize. SC Poetry Society. Charleston, SC: SCPS, 2006.
The Cotton Mill's Song
Thread spinner. Loom weaver.
Cloth maker to the world.
Doffers. Smashers. Slashers.
Whipping, sweltering, and worn.
It is true what they tell you. I am wicked
with my women weaving through throbbing
night under the electric lights. And, yes,
they say I am cruel for I have slaughtered
the little child and then brought another
to fill his place. And they tell you I am vile.
But my reply: in the cheeks of girls
and the ribs of toddlers I have instilled
the hollows of hunger. And still I will turn
to those indolent idealists who huff
at our speeding machines and say to them:
Come and show me a grander temple
to our industry with brick walls buzzing
through sunrises and hail storms and snap frost.
Show me another place where the indigent,
the illiterate, the slow, the widowed
are set to toil so assiduously in
sweat-soaked aprons and wild, dripping hair.
Spouting steam and thick oil, I cast long shadows
across the mountains. I sing my swollen song
timbre as dulcimer strings. Flushed. Defiant.
Racing. Thumping. Heaving. On the floor cotton
coating my woman's skin, singing with hands
like wrens, fueling the machinery of America
and singing the way only a burdened
soul can sing with chin thrown forward
and heart sour as ukulele. Humming.
Beating a foot on the cotton covered pine.
Blood pumping to the pulse of the looms. Singing!
Singing the heavy, linty, violent
song of the worker. Sinewy, sweat-soaked,
proud to be thread spinner. Loom weaver.
Cloth Maker to the World.
"The Cotton Mill Song." Simms, Kimberly. Blue Collar Review. Vol. 10 Issue 1. Autumn 2006. Norfolk, VA: Partisan Press, 2006.
Blue Panes
Indigo, cobalt, azure. Protection
from the evil eye or wandering ghouls.
Cool icy streams. The color of heaven.
Jesus' robes. Hyacinth blooms.
I always loved those windows,
forty years those blue eyes met mine,
a window to the soul. Mr. Stephenson sent
the boys up on ladders, smashing
laughing with each rain of blue tears.
Blue tick. Bluebird. Blueberry.
Shards settled in the grass and shone
in the streaming sun like a thousand eyes.
Who knew mortar could be spread
so fast? By day end we stood
in the fluorescent lights, surrounded
on all sides by endless brick.
But the debris called to us like jewels to crows.
We couldn't help but pick up the shards,
filling our aprons with textured glass
then stringing our porches with their blue song.
"Blue Panes." Simms, Kimberly. Honorable Mention. Kakalak 2006: An Anthology of Carolina Poets. Charlotte, NC: Main Street Rag, 2006.
Kimberly Simms is an award-winning poet, performer and writer as well as an arts integration expert.  She is the 2016 Carl Sandburg National Historic Site Writer-in-Residence, a member of the S.C. Humanities Council's Speakers Bureau, a South Carolina Arts Commission Approved Artist, a National Poetry Slam Certified Master of Ceremonies and a SMART Arts teaching artist. Her poetry has appeared in Poem, The South Carolina Review, The Asheville Poetry Review, and many more. Simms has a master's degree in English from Clemson University with a Creative Writing Thesis, as well as a bachelor's degree in English from Furman University. You can learn more about her at www.kimberlysimms.com.