Editor's note:  South Carolina mystery writer C. Hope Clark has a new Edisto Island mystery coming out Friday.  We thought you'd like to learn a little about her series and asked her to tell us what it is about.
By C. Hope Clark, special to Charleston Currents  |  A beach with no franchises where the loggerhead turtles take priority over the tourists. A beach where the locals preserve history, embrace their Southernism, and refuse to allow motels. A beach where you go to do what beaches were meant for. . . get away and bask in no responsibility and the sun, the rollers in the background lulling you to sleep.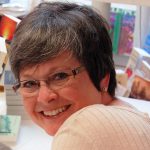 When you cross the McKinley Washington Bridge from the South Carolina mainland to Edisto Island, the natives claim you leave problems "on the other side of the big bridge." And when my publisher asked me to take a rest from my first mystery series and create another in whatever South Carolina spot I felt I could get lost in, I didn't think but seconds to head to Edisto Beach. At the far end of Edisto Island, the beach is one of the state's smallest, but what it lacks in size, it exudes in charm and peace of mind.
Which made it the perfect place for a crime fiction series.
The character, Callie Jean Morgan, is a South Caroling native but averse to the lifestyle of her political parents. So she does what could be deemed as the ultimate slap in a Southern parental face and moves north to Boston to become a homicide detective. But when she solves a case, and revenge murders her husband and costs her the job, she returns home with her teenage son. Drinking, struggling, and unemployed, she's a lost soul.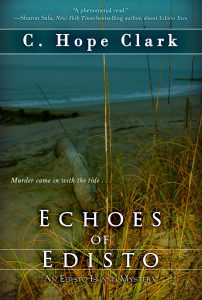 Her sympathetic father hands her the keys to the family vacation cottage on Edisto Beach, pushing her to a place known for its healing, hoping that leaving problems "on the other side of the big bridge" has merit. Only once moved in, Callie finds her childhood mentor shot in the head.
Mystery fiction is about the puzzle but also about flawed characters making sense of their lives. Readers adore the challenge of a broken sleuth finding not only the solution, but also confronting the devil in their heart, soul and mind. The journey must be a challenge, in more ways than one, with at least one point where the character (and therefore the reader) feels all is lost.
So why not take a resplendent, tropical beach, ripe with beauty and peace, and infuse crime? Why not take a smart, Southern lady and rob her of all that made her confident and whole? Then why not marry the two in a polarized mixture where the residents refuse to believe that crime has found them, and the main character questions her sanity that crime followed her to paradise?
In the wee hours of the morning, alone at my keyboard, my own heart hurts for Callie. I return to Edisto several times a year for my own mental health, each time praying some developer hasn't found a loophole to sink their talons into this understated bliss. As a novelist, I strive to write stories that leave an impression. In this series, the impression may also be that of place. Setting in the Edisto Island Mysteries is as much a part of the story as the crime itself. A subtle nuance in some chapters, a siren's call in others.
Using real places, streets, and hints of residents, the series has become a staple on the island. The story of each new book release is featured in Explore Edisto, an annual magazine focused on the magic of the area, and The Edisto Beach Island Guide located in every South Carolina visitor's center.
My legacy is hopefully more than story. I wish to show the world that despite what comes at Edisto, it remains a serene, unspoiled, safe-haven with hope it will remain so for many generations to come.
C. Hope Clark grew up and writes Lowcountry. Her recent release, Echoes of Edisto, book three in the Edisto Island Mysteries, comes out August 5. Come nosh at the Edisto Bookstore's celebratory event on that date from 4 p.m. to 6 p.m. where she'll be signing and sharing the love of a place that has stolen the hearts of her readers. www.chopeclark.com