By Doug Holmes | The real estate market in Charleston in 2015 was awesome and record-setting. It was the third busiest year ever in sales. We sold 15,486 residential units with a record median sales price of $235,000.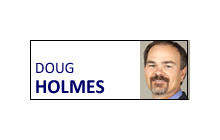 Back in the crazy days of 2007, we sold 18,000 units but the median sales price was only $210,000. The best news is that we are still undervalued and have lots of room for appreciation. My trend line back to 1991 shows that we should be above $250,000 right now, but we are still making up lost ground from the recession years of 2008 to 2011. Another important note is that prices only increased about 5.5 percent over 2014. That's great, but more importantly it's reasonable and shows that the tighter lending practices put in place after the recession have been doing their job of keeping things under control.
We set an all-time record in the spring with over 400 properties going under contract in one week and repeated that feat four times during the spring. Generally, any time 200 properties go under contract in a week is considered a very good week. Thirty-six of the 52 weeks had more than 300 under contract in 2015 and only the first and last week of the year had under 200.
Our current inventory is very low with less than 5,000 homes for sale. I haven't seen a number like that since 2007. At the height of the recession, we had more than 11,000 homes for sale and were only selling about 8,500 per year. Overall, months of inventory (MOI) is below four. Six months of inventory represents a balanced market. So, this is certainly a seller's market. Nineteen of the 32 MLS areas have less than six MOI and are in a seller's market situation.
People from all over the world are moving here to make Charleston their home. We've gotten a lot of positive press including being voted number one city in the world to visit and number one city in the U.S. for four consecutive years. Boeing has been the big job producer but there is also a new Volvo plant coming. And the "Silicon Harbor" label has just gotten stronger with several hundred software companies calling Charleston home. So, new construction has become very popular to these newcomers since inventory is so low.  And the boundary of our area seems to be going further out with new communities popping up on the outskirts of the edges in Summerville, Mount Pleasant and rural West Ashley. New construction now makes up over 41 percent of what we currently have under contract. Short sales and foreclosures, leftovers from the recession, are fairly insignificant now. They are only a total of 4 percent of our active inventory and only make up about 8 percent of what's under contract.
What does 2016 hold in store for us? I see more of the same as 2015. Lots of people moving here and lots of new construction. Maybe we'll set a record for sales this year with over 18,000 units sold. I would imagine that median sales price will again rise a modest 5 percent to 6 percent, limited somewhat by the tighter lending practices.
We have a new mayor for the first time in 40 years. Outgoing Charleston Mayor Joe Riley has left us in the very capable hands of John Tecklenburg. John was the President of my Rotary Club two years ago and will be a great asset to our city. New restaurants will open every day and new businesses will arrive and call Charleston home. We are so blessed to live in the Holy City.