Charleston Currents | Oct. 26, 2015 | Number 7.50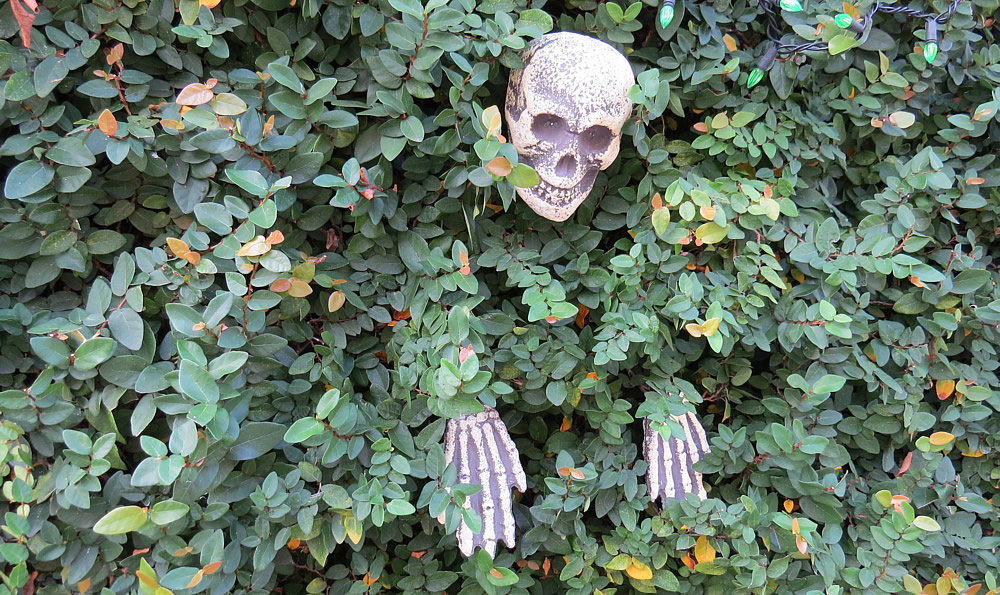 SPOOKY. Ghouls and goblins and witches and warlocks will be traipsing through Lowcountry neighborhoods this weekend in the annual celebration of Halloween — the best time of the year for local dentists. This East Elliott Street hedge, above, features a grinning — err, grimacing — skeleton snapped by contributing photographer Michael Kaynard.
IN THIS ISSUE
PHOTO:  Spookiness on East Elliott
FOCUS: Holiday Festival of Lights on the way
BRACK: On deadlines, new state senator
IN THE SPOTLIGHT:  Charleston RiverDogs

NEWS BRIEFS: From flood recovery to remembering Ken Burger
FEEDBACK: Send us your letters
CALENDAR, Oct. 26+: Mayoral history to spooky times
REVIEW:  Moriarty by Anthony Horowitz
MYSTERY:  Ironwork
BROADUS: Charleston Strong
S.C. ENCYCLOPEDIA: Walterboro, S.C.
TODAY'S FOCUS
26th annual Holiday Festival of Lights is less than three weeks away
By Sarah Reynolds, CCPRC
The beloved Holiday Festival of Lights is returning for its 26th year with even more to experience! Featuring an estimated 2 million shimmering lights, Charleston's most popular holiday event is open nightly at James Island County Park Nov. 13, 2015, through Jan. 3, 2016.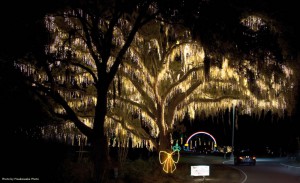 More than 4 million people have toured the Holiday Festival of Lights, which is hosted by the Charleston County Park and Recreation Commission at James Island County Park. The event has received many awards and mentions in publications throughout the country, and the three-mile driving tour delivers more every year. Join us as we kick off the 26th season at the Grand Opening Celebration on Nov. 13, featuring live entertainment from Lowcountry Power Brass, awards presentations for the gingerbread house, greeting card competitions, and all the excitement of the festival.
The Holiday Festival of Lights is much more than just a driving tour! Park the car and experience family attractions, shopping, dining and more. There are many celebrated attractions to see and activities to do, including:
The Festival Fun Run on Nov. 11 and 12
Marshmallow roasting
Festival train rides
Lakeside lights interactive activity
The amazing dancing light display
Enchanted Walking Trail
Old-fashioned carousel
Portable climbing wall
Four unique gift shops, featuring the new Prancer's Presents, a children's toy emporium
Santa's Sweet Shoppe
Santa's Sleigh – unique group and family photo opportunity
Special family events on select evenings, including photos with Santa, live music and more!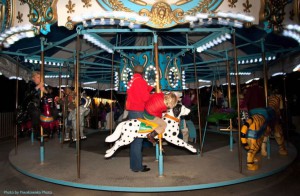 Grab dinner at concessions stands, or just spoil your sweet tooth at Santa's Sweet Shoppe. In Winter Wonderland, see a meticulously crafted sculpture constructed with 50 tons of sand. View sugary hand-made houses from the annual gingerbread competition. Shop at four festival shops for unique gifts, official 14-kt gold on brass collector series ornaments, toys, personalized items, angelic decorations and stocking stuffers. Hop aboard the festival train for an intimate look at the festival, only seen on this enchanted ride.
Explore Santa's Village, where the man himself is available for photos on select dates after Thanksgiving. Take a whirl on the traditional 18-animal carousel, make s'mores at the marshmallow roasting pits, and marvel at the giant 4-by-8 holiday card designs created by local students for the annual art competition. Enjoy family entertainment on select nights, including live music, storytelling, visits with Mrs. Claus, outdoor movies and more. On Dec. 31, the festival features fireworks!
What's every family's best bet for enjoying the Holiday Festival of Lights? Join us on our evenings benefitting the Lowcountry Food Bank – every Monday through Thursday! Bring a canned food item on these special nights to receive discounted admission.
COMMENTARY
Today's deadlines not as tough as those 150 years ago
By Andy Brack, editor and publisher

The Civil War is alive every day for reporters and editors — and they may not even know it.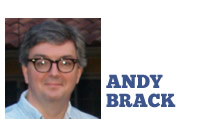 A couple of weeks back in a commentary taking the General Assembly to task for caterwauling about a court-imposed time limit on school funding, I observed how reporters face "deadlines" all of the time, just as courts impose deadlines frequently.
I got to wondering about how the word "deadline" came about. I was surprised to learn it appears to have come from Civil War prison camps.
According to reference.com, the word is newspaper jargon dating from around 1920, but apparently was influenced by a "do-not-cross" line in Civil War prisoner-of-war camps. Prisoners who crossed the a particular line were shot dead.
In 1865, Swiss-born Confederate Capt. Henry Wirz commanded Camp Sumter, a miserable prisoner-of-war camp near Andersonville, Ga. Intended as a temporary camp when established in February 1864, it became a place known for deplorable, overcrowded conditions — little food, potable water, poor sanitation, disease and minimal shelter. Some 45,000 Union prisoners arrived at the camp; almost 13,000 died, according to the National Park Service.
When the Union army arrived in May 1865, U.S. Cavalry Capt. Henry E. Noyes arrested Wirz and took him to Washington for trial on charges of conspiring to destroy federal prisoners and "murder, in violation of the laws and customs of war." Wirz was convicted and executed in November 1865.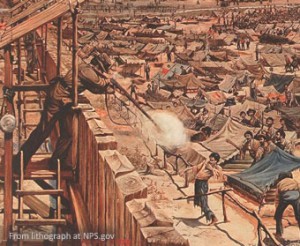 During the trial, it came out that Wirz "did establish and cause to be designated within the prison enclosure containing said prisoners a 'dead line,' being a line around the inner face of the stockade or wall enclosing said prison and about twenty feet distant from and within said stockade," according to an Army report on the trial. Guards were told to kill any prisoner who touched, fell on or crossed the "dead line" that limited their movements.
Dead-lines were not unique to Andersonville, according to the Park Service.  There was even one on Morris Island near Charleston.  A Union prisoner-of-war camp known as Camp Douglas (1863-65) in Chicago also apparently had a "dead line." According to Wikipedia, "a few prisoners were wounded or killed by guards who saw them step over the "dead line" near the boundaries of the camp or commit minor offenses, but such occurrences occurred infrequently."
As time passed, the term "deadline" seems to have been picked up by the newspaper business to indicate how serious a particular time limit was for a story.
Now we know!
Friday's commentary in Statehouse Report focused on the newest elected member of the Charleston County legislative delegation. Margie Bright Matthews won seven out of every eight votes in last week's special general election to replace slain Sen. Clementa Pinckney, whose district stretches from southern Charleston County to Jasper County.
Bright Matthews, who is supposed to be sworn in today, said she remembers getting angry when she heard about the death of Pinckney and eight members of his Charleston congregation.
"Then I thought, 'Don't get mad. Do something about it.'" she reflected this week after election excitement was wearing off and turning into a sense of being slightly overwhelmed by new responsibilities.
"I decided [then] that I can do this. It's another way for me to serve."
Click here to read the rest of the column about Margie Bright Matthews.
Andy Brack is editor and publisher of Charleston Currents and Statehouse Report. You can reach him at: editor@charlestoncurrents.com
IN THE SPOTLIGHT
Charleston RiverDogs
The public spiritedness of our underwriters allows us to bring Charleston Currents to you at no cost. This issue's featured underwriter is the Charleston RiverDogs. The Lowcountry's leader in sports entertainment, Charleston RiverDogs baseball is an attractive, affordable medium for your group or business. The RiverDogs develop the next major league stars for the 27-time World Champion New York Yankees at one of the finest ballparks in Minor League Baseball — Joseph P. Riley, Jr. Park.
Three short words sum up the every day approach taken by the Charleston RiverDogs front office. The brainchild of club President Mike Veeck, the nine-letter phrase "Fun Is Good" is meant to be a guideline and daily reminder of how employees should approach their jobs and in turn capture the imagination of the fans to turn them into repeat customers.

NEWS BRIEFS
Flood recovery to take months
Thousands of South Carolina families will have a far different holiday season from usual thanks to October floods that inundated a swath of the state from the Midlands through the Pee Dee and Lowcountry.
Some families are facing what state Sen. Ronnie Sabb, D-Williamsburg, calls a "new normal," especially during Thanksgiving and Christmas.
"Unfortunately, there are likely to be situations where folks don't have the opportunity to enjoy their homes — their normal environment for the family during that special time of year," he said. "There will be a new normal for a number of our citizens and residents."
Kevin Shwedo, the state's Department of Motor Vehicles executive director who was named disaster recovery czar by Gov. Nikki Haley on Monday, said he didn't believe every South Carolinian impacted by the disaster would be in a permanent home by Christmas, two months from now. It could be at least six months — or more — before recovery efforts conclude, he said.
"The best thing we can do as a community is to get our arms around those people who may not be in their permanent housing and give them the Christmas they deserve," he said. "We can do that as a community." Read the rest of the story in Statehouse Report.
More news briefs:
Remembering Ken Burger.  We were saddened last week by the loss of longtime Post and Courier columnist Ken Burger, who died Tuesday following a long battle with prostate cancer.  Let's remember him by being inspired from reading his outstanding, poignant writing, such as ​this sage advice from Baptized in Sweet Tea, a collection of columns published in 2011.  Click here for more.
Batting 100 percent. When Briarcliffe Acres in Horry County became the state's 23rd coastal municipality to oppose offshore drilling and seismic blasting, all coastal cities and towns in the state became united in opposition against offshore drilling. "Governor [Nikki] Haley should be listening to the voices of those she was elected to serve," said Samantha Siegel, campaign organizer at Oceana. "South Carolina's coastal communities are united against offshore drilling. While coastal communities like Briarcliffe Acres have the most to lose, their voices are going unheard in Columbia and Washington. Offshore drilling is a dirty and dangerous business that would threaten 79,000 jobs and $4.4 billion that is provided to the state each year through fishing, tourism and recreation. Governor Haley shouldn't be risking the way of life of her coastal communities on false promises from Big Oil."
Fantastic opportunity. Longtime Charleston resident Harriet McDougal has invited two debut novelists, Jason Denzel and Michael Livingston, to help celebrate all-things epic fantasy, with the launch event of The Wheel of Time Companion and their epic fantasy books Mystic and The Shards of Heaven with readings and signings at 7 p.m., Nov. 3 at Barnes and Noble Towne Centre, 1716 Towne Centre Way, in Mount Pleasant. The new Companion is the definitive encyclopedia for the Wheel of Time series, launched in 1990 by the late Robert Jordan, McDougal's wife and editor.
Parris Island celebrates. A tip of the hat to all Marines who mustered through Marine Corps Recruit Depot Parris Island in Beaufort County. The legendary, tough facility is celebrating its 100th anniversary of making Marines. For a great overview of the celebration and history of the training facility, check out the special 40-page newspaper tribute online here in the Beaufort Gazette and Hilton Head Island Packet.
Remember to vote. There are a lot of elections next Tuesday — for top jobs in Charleston and North Charleston, as well as council seats in both of those cities as well as in Mount Pleasant, Awendaw, Ravenel, Rockville, Lincolnville, Isle of Palms and Seabrook Island. To see a list of elections in the area, click here. To find polling places, click here.
FEEDBACK
Thanks for coverage of critical issues
To the editor: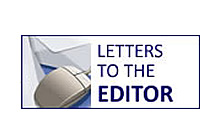 Thank you so much for writing on these critical issues now made even more so by recent weather damage.
Today my daughter, considering moving here from Boston, called from the road on Interstate 77 traveling to Winston Salem. She was so aghast at her experience on I-26 — what she called white-knuckle driving. That says a lot considering her being from Massachusetts.
– Harriet Smartt, Isle of Palms, S.C.
Rant.  Rave.  Tell us what you really think.  If you have an opinion on something we've offered or on a subject related to the Lowcountry, please send your letters of 150 words or less to: editor@charlestoncurrents.com. Our feedback policy.
CALENDAR
Oct 26+: Mayoral history to spookiness galore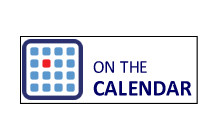 History of Charleston's mayor: 6 p.m., Oct. 28, Main Library, Calhoun Street, Charleston. Just in time for the 2015 election, the library will host a talk that delves into the evolution of Charleston's executive office, from "intendant" to mayor. More.
(NEW) Pat Conroy's 70th: Oct. 29-31, Beaufort. The whole town will celebrate the 70th birthday of adopted son and noted author Pat Conroy on Thursday through Saturday with panel discussions, book signings and a big birthday bash. Learn more.
Little Shop of Horrors:  Through Nov. 1, Dock Street Theatre, Charleston.  Just in time for Halloween, you can see plant puppets from Broadway and the national tour of this musical by Charleston Stage with nine actors and a live nine-piece orchestra.  More:  CharlestonStage.com.
Harvest Festival: 11 a.m. to 5 p.m., Nov. 7, Mullet Hall Equestrian Center, Johns Island. Bring the family to celebrate a traditional Southern fall festival that features down-home delights like a craft market, children's activities, and live foot-stomping bluegrass from five bands! Plus enjoy beverages and food for sale, including plenty of barbeque! Admission is $8, or free for kids 12 and under as well as Gold Pass holders. More info.
Beach & Chefs in the Kitchen: 1 p.m. to 5 p.m., Nov. 8, Sullivan's Island. This afternoon house tour will feature more than 25 artists selling their creations as well as live music, chef demonstrations and tastings. Proceeds will benefit Charleston Pro Bono Services. Tickets are $40 in advance, $45 on the day of the show. More info.
Oyster roast: 2 p.m. to 5 p.m., Nov. 8, Gold Bug Island at the Intercoastal Waterway in Mount Pleasant. This third annual event benefits East Cooper Meals on Wheels. In addition to oysters, the event will include a chili cook-off by four East Cooper Fire Departments where guests choose the winner by voting with their dollars. Also: Live music by Awendaw Green, a silent auction and more Tickets are $30 in advance, $35 at event. More info.
Bird walks: 8:30 a.m. to noon, every Wednesday and Saturday. This is the time of year that a great variety of migrating birds fly through the Lowcountry so what better time to take part in one of the regular early morning bird walks at Caw Caw Interpretive Center in Ravenel. Pre-registration is suggested. Cost is $5. Walks also are conducted on James Island and Folly Beach. Learn more online.
If you have an event to list on our calendar, please send it to editor@charlestoncurrents.com for consideration.  The calendar is updated weekly on Mondays.
REVIEW
Moriarty
Fiction by Anthony Horowitz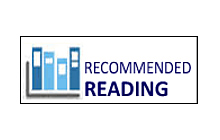 Moriarty is the second in the Sherlock Holmes series by Anthony Horowitz, the first being House of Silk. This is one of the few written works endorsed by Conan Doyle Estate Ltd. The plots from these two books are completely different and therefore they do not have to be read in order.
Moriarty picks up from Doyle's short story "The Final Problem" at Reichenbach Falls. The death of Moriarty has created a void in the criminal underworld of London. Two detectives, one from American Pinkerton Detective Agency and one from London's Scotland Yard, begin an investigation into Clarence Devereux, an American criminal mastermind who has come to London to either join forces with Moriarty or to take over the criminal underworld. The investigation leads the two detectives through multiple murders, throughout all of London, elegant squares to shadowy wharfs to alleyways filled with the unknown, and even a bombing of Scotland Yard.
Horowitz creates two leading detectives that are played up as a version of Sherlock and Watson. The fast pace plot keeps the reader intrigued and is enhanced with Horowitz's ability to create an atmosphere of suspense and mystery that is dark but not overly gory. Horowitz also ties in original Sherlock Holmes short stories such as: "The Sign of Four" and "The Red Headed League" as well as the book A Study in Scarlet.
— Whitney Lebron, Mt. Pleasant Regional Library

Find this and similar titles from Charleston County Public Library. This item available as a book. To learn more or place a hold, visit www.ccpl.org or call 843-805-6930.
MYSTERY PHOTO
Green ironwork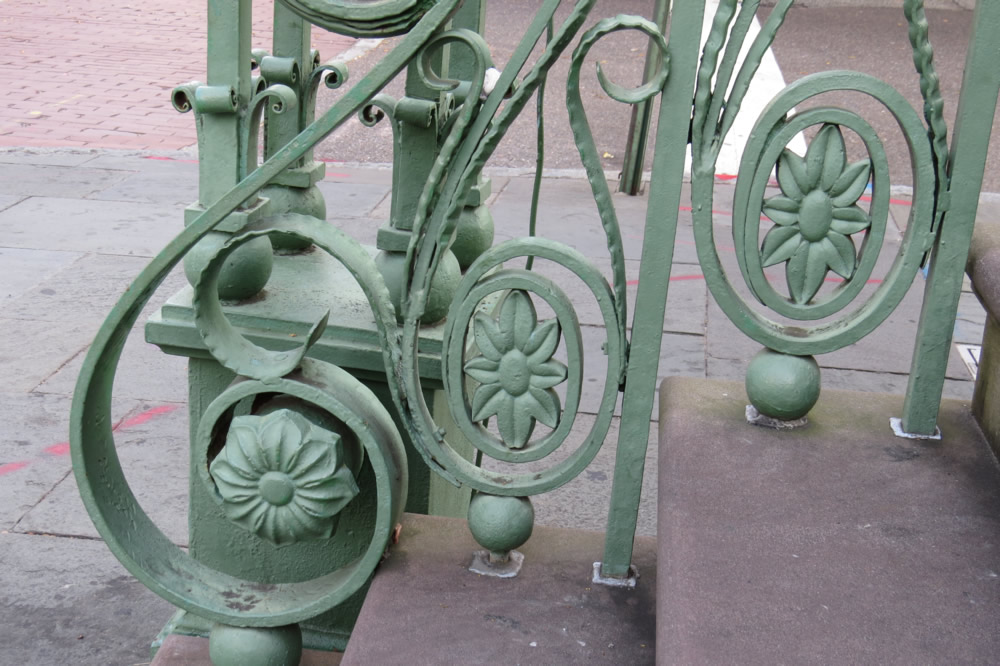 You know you've seen this green ironwork somewhere in Charleston, but where. Look closely at the photo for clues (maybe in the background). Photo by Michael Kaynard, Kaynard Photography.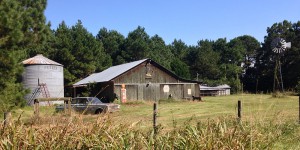 Hats off to Fred Rosenberg of Daniel Island who knew that the last issue's Mystery Photo was not a scene from Kansas, but a barn on S.C. Highway 165 on Yonge's Island near Meggett in southern Charleston County. He wins a pair of tickets to Magnolia Plantation and Gardens. Congratulations too to the only other person who got it right — Chip Davis of Charleston, whose parents live near the barn.
BROADUS
Charleston Strong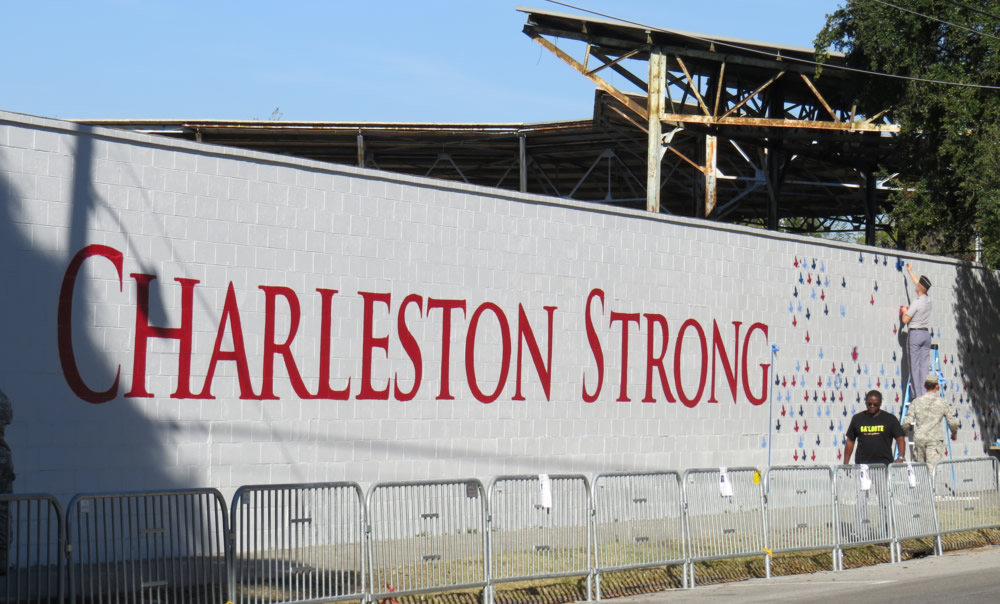 Cadets at The Citadel spurred the painting of red and blue doves along their new Charleston Strong mural on Rutledge Avenue near Grove Street at the old College Park ballpark. Mayor Joe Riley and state Sen. Marlon Kimpson stenciled in the first doves in a public ceremony. The mural, on which hundreds of people throughout the community painted doves, commemorates the victims of the Emanuel AME Church shootings and serves as a symbol of how the city united following the tragedy. Photo by Michael Kaynard, Kaynard Photography.
S.C. ENCYCLOPEDIA
Walterboro
S.C. Encyclopedia | Just after the Revolutionary War, rice planters along the Edisto, Combahee, and Ashepoo Rivers, tired of an annual summer jaunt of fifty miles to Charleston, created an alternate refuge from the malarial swamps closer to home. By the 1790s, among local forests and freshwater springs, they built a village of about twenty log houses, which they called Walterboro, after two brothers whose retreat was prominent among them. A parish house for the conduct of public business was authorized in 1796, a sign that the healthy landscape had attracted permanent residents.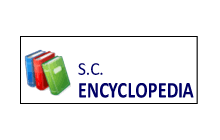 Owing to the skill and labor of black slaves and the profits from rice and indigo, the planters and town both prospered. In 1817 centrally located Walterboro succeeded Jacksonboro as the Colleton District seat. An elegant brick courthouse designed by Robert Mills entered service in 1822, followed in quick succession by stores, a tavern, and a library. In 1826 Walterboro was incorporated, with boundaries extending "3/4 of a mile in every direction from the Walterborough Library" and a municipal government consisting of an elected council and intendant (mayor).
Walterboro was a hotbed of states' rights sentiment in the antebellum years when the North and the South dueled over tariffs, western expansion, and slavery. In 1828 Robert Barnwell Rhett launched the nullification movement at the Walterboro Courthouse. In 1861 the white men of Walterboro shouldered rifles and went to war to defend their beliefs and interests. Four years later the vanquished remnant came home to find slavery dead, agriculture in decline, whites poorer, and freed slaves accounting for more than half the Walterboro population of 834.
Despite a short boom in phosphate mining from the 1880s through 1910s and the rise of more durable forest industries, prosperity proved elusive. In the 1880s, when house lots were still fenced to contain livestock and baseball and brass bands were the rage, the town got a railroad spur that connected Walterboro to the Atlantic Coast Line Railroad. Town councils passed laws protecting pine trees and Sundays and also installed oil lamps before switching to electric lights in 1915, about the time gasoline cars appeared. The two primary streets were paved in 1921.
In the latter decades of the twentieth century, Walterboro added population and wealth as it developed jobs in construction and light industry as well as public services, such as the $28 million Department of Veteran's Affairs Nursing Home. The high school was integrated and established itself as a football power in the 1970s, just as Colleton County was traversed by a new federal highway, Interstate 95. But if the old town was fading, links to the past survived. The farmers' market was still a central institution. Townspeople held fast to traditional ties of family and church. Hunting was a favored pastime.
– Excerpted from the entry by Laylon Wayne Jordan. To read more about this or 2,000 other entries about South Carolina, check out The South Carolina Encyclopedia by USC Press. (Information used by permission.)
About Charleston Currents
OUR UNDERWRITERS
Charleston Currents is an underwriter-supported weekly online journal of good news about the Charleston area and Lowcountry of South Carolina.
To learn more about how your organization or business can benefit, click here to contact us. Or give us a holler on the phone at: 843.670.3996.
OUR TEAM
Charleston Currents offers insightful community comment and good news on events each week. It cuts through the information clutter to offer the best of what's happening locally.
Mailing address: O. Box. 22261 | Charleston, SC 29413
Phone: 843.670.3996
Charleston Currents is provided to you twice a week by:
SUBSCRIBE FOR FREE
Subscriptions to Charleston Currents are free.
Unsubscribe.  We don't want to lose you as a reader of Charleston Currents, but if you must depart, please click here.
© 2008-2015, Statehouse Report, LLC. All rights reserved. Charleston Currents is published every Monday by Statehouse Report LLC, PO Box 22261, Charleston, SC 29413.