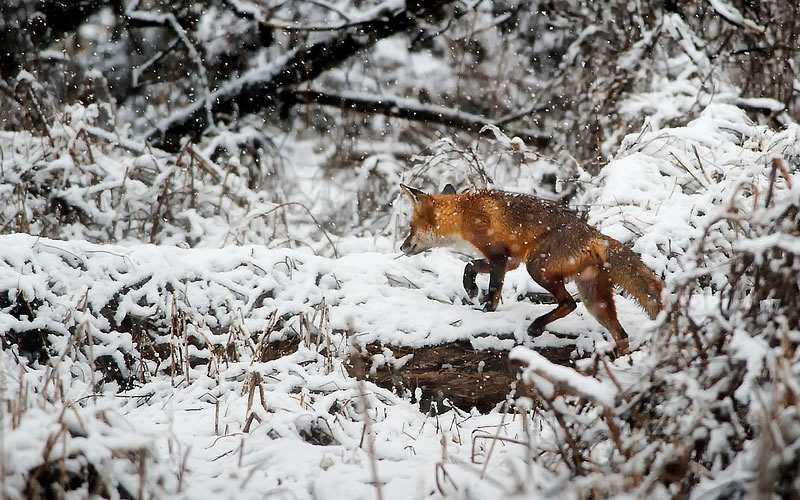 By Alison Palmer, special to Charleston Currents
1.
When a fox gets lost in the snow
it stands at attention, cold soldier
among the trees.
When I get lost in the snow
I bow down, ungracefully, saluting limbs
heavy with the white of morning.
In time, we both grow cold, enough to shiver
calories from our bones
in shifts of weight—wait for it,
I want to say, wait until enough light
warms the world around us…
2.
This morning I wake up at 5am, look
out my window, see the moon, see a fox
among the trees deep in the snow.
To notice a fox I must spot red, burnt fur
flashes against white, against what I know
to be true—there are only so many ways.
And its tracks lead to nowhere, and
from here I breathe on the window,
trace the fox, draw a halo, pray for help.
3.
To hunt us, leave behind a trail of rodents, of
rabbits, lay them lightly
on the bed of snow.
We dine. We chatter. We lift our palms
to each other's lips.
The world around us is starving. We're lost
before the net seizes.
---
Alison Palmer's work appears in FIELD, River Styx, Columbia Poetry Review, Hayden's Ferry Review and elsewhere. She is the recipient of Poet's Billow's Atlantis Award, and her debut collection, Aren't We Lovely in Our Suits of Armor, was a semifinalist for Persea Books: Lexi Rudnitsky First Book Prize. Alison was recently nominated for a Pushcart Prize and Best New Poets 2017. Her chapbook, The Need for Hiding, will be published by Dancing Girl Press in spring 2018. "After the Blizzard, the Animals," first appeared in Stirring: A Literary Collection, fall 2016.  Palmer lives outside Washington, D.C.