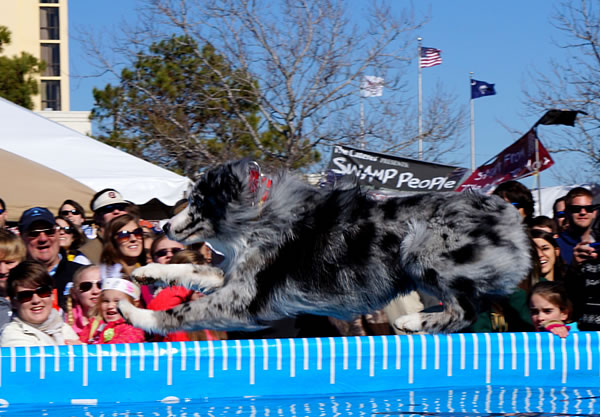 Photo by Leigh SabineStaff reports  |  The Southeastern Wildlife Exposition returns to Charleston starting Feb. 16 for the annual three-day sportsman's extravaganza that brings thousands to the Holy City to enjoy wildlife and nature-oriented activities. An awards dinner is set for Feb. 14, followed by private viewing hours and a gala on Feb. 15.
This year, wildlife enthusiasts will enjoy everything from art auctions and sales to balls, oyster roasts and wildlife tours.  There will be education events, such as the Feb. 18 discussion by Garden & Gun on the future of oyster aquaculture, and fun events, such as the always-popular Dock Dogs performances.
Also on the Calendar:
Combing the Caw Caw:  1:30 p.m. to 3:30 p.m., Feb. 17, Caw Caw Interpretive Center, Ravenel.  As part of the Southeastern Wildlife Expo, Charleston County Parks will offer a special interpretive tour with a naturalist to explore the park's swamps and habitats.  Advance registration is required, and the program is open to any interested party, ages 12 and up. Fees are $35 per person. To sign up, visit CharlestonCountyParks.com (course number 55176).
Free tax workshop: 9 a.m. to noon, Feb. 23, Trident United Way conference room, 6296 Rivers Avenue, Suite 101, North Charleston.  The S.C. Small Business Development Center and partners will offer a free tax workshop for small business owners to provide information and instruction on business taxes and related topics.  To register, call 843.740.6160.
School board workshop: 10 a.m. to non, Feb. 24, Lonnie Hamilton Public Services Building, 4045 Bridge View Drive, North Charleston 29405.  The League of Women Voters of Charleston will offer a free workshop to review what it takes to be a school board candidate or advocate for the 113,000 area children in public schools.  While free, an advance reservation is requested at http://lwvcharleston.org/school_board_2018.html
((NEW) Spring book sale:  Starts at 9 a.m. on March 2 and March 3, Otranto Regional Library, 2261 Otranto Road, North Charleston.  Charleston Friends of the Library will have more than 10,000 gently used books, CDs, DVDs and audio books at prices that can't be beat at this annual sale.  Free admission.  More info.
((NEW) Lewis Black:  7 p.m., March 4, Charleston Gaillard Center, Calhoun Street, Charleston.  America's crankiest comedian will bring  his "The Joke's On Us Tour" to Charleston for one night.  Recommended for mature audiences.  Tickets are $41.25 to $84.75.  More.
(NEW) Free day at county parks:  March 4, around the county.  The Charleston County Park and Recreation Commission will say "thank you" to its regular and first-time visitors by offering free gate admission to many popular park facilities. Plus, the day will kick off the agency's 50th anniversary in-park giveaways and surprises for guests.  Parks waiving admission fees on March 4 will include Caw Caw Interpretive Center, McLeod Plantation Historic Site, and North Charleston Wannamaker, Mount Pleasant Palmetto Islands, James Island, Johns Island and Laurel Hill County Parks. SK8 Charleston will offer free skating all day. Free parking will be offered all day at Kiawah Beachwalker Park, Isle of Palms County Park, and Folly Beach County Park, as well as free fishing at the Folly Beach Pier and the Mount Pleasant Pier.  More:  CharlestonCountyParks.com.
(NEW) Founder's Award Luncheon:  Noon to 1:30 p.m., March 8, Founder's Hall, Charlestown Landing, West Ashley.  Trident Literacy is planning a special luncheon event to honor seven outstanding women leaders in our community. 2018 honorees include Dr. María A. Córdova Salinas, President,  Circulo Hispanoamericano de Charleston and Honorary Consul of Chile; Molly Greene, Founder & Chairman, Water Missions; Carolyn Hunter, President, C&A Unlimited, Inc.; Jan Pearlstine Lipov, philanthropist;  Lorraine L. Lutton, President & CEO, Roper St. Francis; and Susan Pearlstine, philanthropist.  More info.
Early morning bird walks at Caw Caw:  8:30 a.m. every Wednesday and Saturday, Caw Caw Interpretive Center, Ravenel.  You can learn about habitats and birds, butterflies and other organisms in this two-hour session.  Registration not required, but participants are to be 15 and up.  $10 per person or free to Gold Pass holders.  More:  http://www.CharlestonCountyParks.com.
If you have an event to list on our calendar, please send it to editor@charlestoncurrents.com for consideration. The calendar is updated weekly on Mondays.