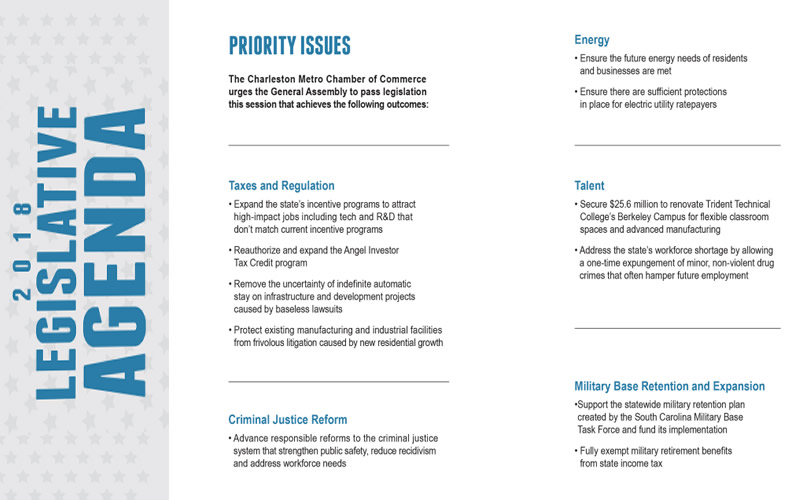 Staff reports  |  The 2018 legislative agenda for the Charleston Metro Chamber includes 15 priorities split between priority issues and competitiveness issues.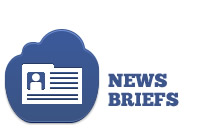 Anticipating a session focused on our state's energy and state pension issues, the Chamber restructured this year's state agenda into priority issues and competitiveness issues.
The agenda features 11 priority issues that the Chamber's advocacy team will actively work to pass this year. There are an additional four competitiveness issues which may take longer to accomplish, but are priorities that are vitally important to the business community.
Among the priority issues are items to further strengthen our support of the military. For instance, fully exempt military retirement benefits from state income tax which would allow our state to be more competitive in obtaining retired military who want a second career and have skills that are highly sought by private sector companies.
"Our 2018 State Legislative Agenda focuses on the business community's top priorities relating to taxes and regulations, meeting our state's energy needs, building a skilled talent pipeline and supporting the military," said Mary Graham, Chief Strategy Officer.
In other Good News:
New chief.  Congratulations career North Charleston police office Reggie Burgess for being named new police chief in North Charleston.  "When I was a teenager, growing up in various neighborhoods in North Charleston, there was a television show called "SWAT," Burgess said in a statement.  "Although it was Hollywood fiction, the show created a spark for me to explore serving my community through police work, to protect all who felt victimized.  I knew becoming a police officer would allow me to have a direct impact on improving my city and the neighborhoods where I grew up."
Magnolia internships in Paris.  Magnolia Plantation and Gardens is accepting applications for two eight-week horticulture internships at Bagatelle Park in Paris.  To be eligible, a student must be an American citizen enrolled in an accredited two- or four-year horticulture program at a college or university in the United States.  Feb. 5 is the deadline to apply. Send a cover letter, a 500-word essay stating your reason for applying, two letters of recommendation and a resume to Magnolia Plantation and Gardens, 3550 Ashley River Road, Charleston, S.C. 29414, to the attention of Herb Frazier. Proficiency in French is required.
Wild Dunes Author Series.  New York Times bestselling author Mary Alice Monroe is bringing two of her favorite authors to Wild Dunes Resort for a charity literary event open to the public. New York Times bestselling authors Mary Kay Andrews and Nancy Thayer will be the featured speakers at the Wild Dunes Author Series at 2 p.m. on Jan. 21.  Tickets are $40.  RSVP online or call 843.886.2188.    All three authors write national bestsellers rooted in beach settings inspired by where they live. Thayer is from Nantucket, Mass.. Andrews splits her time between Atlanta and Tybee Island, Ga., Monroe lives on Isle of Palms.  Proceeds from the 2018 event will benefit the Pat Conroy Literary Center, a 501(c)(3) organization in Beaufort, SC. Conroy was considered the king of southern literature, and is especially beloved in the Lowcountry.
Musical moves.  The Charleston Symphony Orchestra (CSO) has acquired the Charleston Symphony Youth Orchestra (CSYO), making the CSYO a division of the CSO's core education programs. The CSO will immediately begin a search for an assistant conductor, who will also serve as the conductor of the CSYO.
"The acquisition of the CSYO by the CSO creates a new path for the talented young musicians and their future in music," stated outgoing CSYO President Janine Nagrodsky.  More than 70 students ages 13 to18 are participating in the CSYO this season, representing 20 schools and four counties. The CSO hopes to grow the program in future seasons to serve even more students throughout the Lowcountry.  More:  www.charlestonsymphony.org