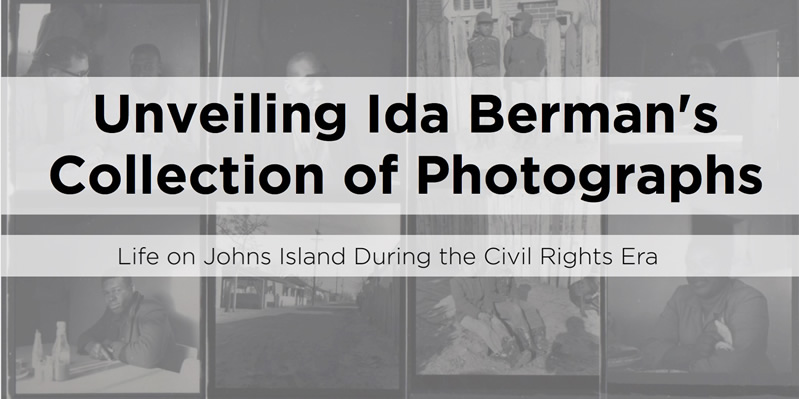 Staff reports  |  The niece of a celebrated civil rights photographer will be at a special event Jan. 30 at Charleston County Public Library on Calhoun Street.
Karen Berman will attend an event at the library at 5:30 p.m. Jan. 30 that celebrates photographs taken by her aunt, Ida Berman, in 1959 on Johns Island as residents were organizing to vote and figure for their rights.  A display of photos have been at the library since the beginning of the month.
Also on the Calendar:
NINE DAYS LEFT, Cuba photo exhibit: Through Jan. 31. Charleston County Public Library, Calhoun St., Charleston.  Charleston Currents' editor and publisher Andy Brack offers photographic insights into Cuba from a 2015 visit to the country.  An exhibition is on display in the Saul Alexander Gallery.  Free.
Breaking down barriers:  6 p.m. Jan. 23, Emanuel AME Church, Charleston.  Former S.C. Rep. Lucille Whipper of Mount Pleasant and Charleston business leader Linda Ketner will share their experiences breaking barriers in this talk moderated by Patricia Williams Lessane, a cultural anthropologist and the executive director of the Avery Research Center at the College of Charleston. The forum is part of the Social Justice, Racial Equity Collaborative, which is convened by The Sophia Institute, to seek a just, sustainable, and thriving community where all people are empowered to fulfill their human potential.  The event is free, but registration is required for planning. Register through this link.
Cornhole for a Cause:  11 a.m. to 4 p.m., Jan. 27, Magnolia Park and Community Garden, corner of Magnolia Road and Sycamore Ave., West Ashley.  The Rotary Club of St. Andrews — Charleston is hosting this second annual two-person team cornhole tournament to raise $1,00 to benefit area nonprofits.  Register for $50 per team.  There will be music plus food trucks and beer available for purchase. Prizes will be awarded to the top finishers. There is no fee to attend and watch the tournament.  For more information or to register, visit http://bit.ly/2BdIH9Q
Good Catch Oysterfest:  7:30 p.m., Feb. 2, 2018, S.C. Aquarium, Charleston.  The aquarium will hold the fourth annual event featuring sustainably-sourced oysters, other food and drinks for an all-inclusive price of $45, which goes up to $50 on Jan. 20.  More info.
STEM Festival:  Feb. 3,, Brittlebank Park, Charleston.  The annual Charleston STEM Festival will celebrate science, technology, engineering and math with many interactive experiences for students.  More information.
Camera workshop: 8 a.m., Feb. 3, Charleston Parks Conservancy, 720 Magnolia Road, Suite 25, West Ashley. Photographer Libby Williams will lead a three-hour photography class to help you get more about your DSLR camera.  Cost: $40.  Register online here.
Repticon Charleston: Feb. 3-4, Omar Shrine Center, Mount Pleasant.  This reptile and exotic animal expo offers a family-oriented, fun-filled event for guests to learn about animals not normally seen in pet stores.  Tickets are $10 for adults, $5 for children.  Learn more.
New York art show: Feb. 8 to May 17, St. Peter's Church, 619 Lexington Avenue, New York, N.Y.  Charleston artist Duke Hagerty will have a show of his contemporary art of the 14 Stations of the Cross in the Big Apple throughout the spring.  If you're in the neighborhood, you might want to drop by.  More.
Early morning bird walks at Caw Caw:  8:30 a.m. every Wednesday and Saturday, Caw Caw Interpretive Center, Ravenel.  You can learn about habitats and birds, butterflies and other organisms in this two-hour session.  Registration not required, but participants are to be 15 and up.  $10 per person or free to Gold Pass holders.  More:  http://www.CharlestonCountyParks.com.
If you have an event to list on our calendar, please send it to editor@charlestoncurrents.com for consideration. The calendar is updated weekly on Mondays.