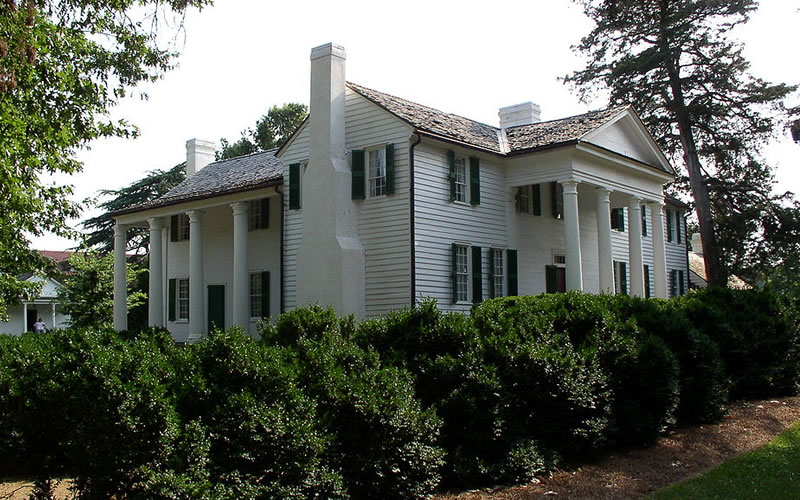 Here's a grand white house that many college graduates in South Carolina may have seen.  If you were paying attention, what is it and where?  Send your best guess to:  editor@charlestoncurrents.com – and please make sure to include your name and hometown.  In the subject line, write: "Mystery Photo guess."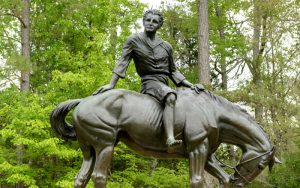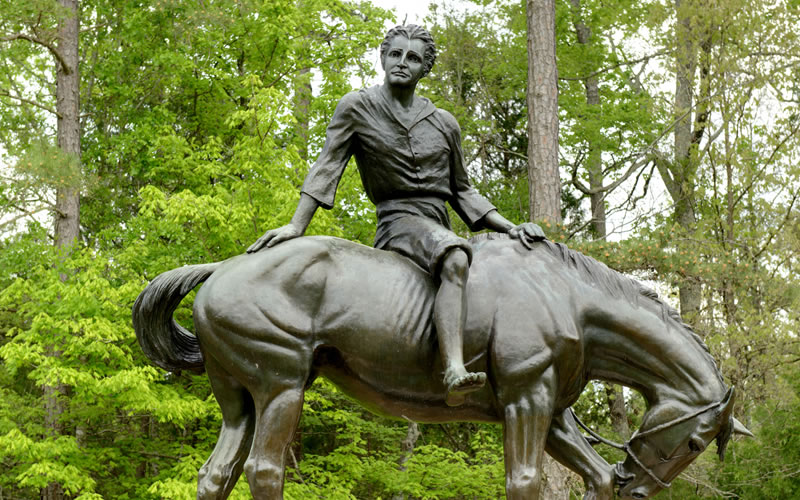 Hats off to all who correctly guessed last week's mystery as being a photo of a statue of S.C.-born President Andrew Jackson at Andrew Jackson State Park in Lancaster.  "Andrew Jackson, A Boy of the Waxhaws" was sculpted by Anna Hyatt Huntington, who is known for her grand sculpture collection at Brookgreen Gardens in Georgetown County.
Those who correctly identified the statue were:  Ross Lenhart of Pawleys Island; Liz Clark of Givhans; Marnie Huger of Richmond, Va.; Chris Brooks of Mount Pleasant; George Graf of Palmyra, Va.; and Tom Tindall of Edisto Island.
Tindall shared, "When the Andrew Jackson State Park in Lancaster County celebrated the 200th anniversary of Jackson's birth, March 15, 1967, the feature attraction was a bronze larger-than-life statue of young Andy Jackson astride a horse. It is still a star attraction, the creation of Mrs. Anna Hyatt Huntington, then in her 90th year, a world-renowned sculptress for 70 years.
"The project began with a letter from a sixth-grade class at Rice Elementary School in Lancaster. Miss Nancy Crockett, teacher-principal of Rice, and her students had written Mrs. Huntington to ask if she would sculpt a statue of young Andrew Jackson for the park. Mrs. Huntington replied, in part, "A picture came to mind as I read your letter and I have tried out the composition. I have Jackson as a young man of sixteen or seventeen seated bareback on a farm horse, one hand leaning on the horse's rump and looking over his native hills, to wonder what the future holds for him."
Graf added, "According to roadsideamerica.com, Future President Andrew Jackson was born March 15, 1767, on the border between North and South Carolina. The two states seemed content to live-and-let live with it for nearly 150 years — until North Carolina put up a monument on what it said was the birth spot. South Carolina, which had no other birthplace Presidents (North Carolina had two), responded with a flurry of its own he-was-born-over-here tributes: a monument, a fancy bronze statue, a mini-museum, and an Andrew Jackson birthplace state park.  The casual visitor to this region would never guess that Jackson could've been born anywhere other than South Carolina, although history suggests otherwise. As Bill Howie, a North Carolina Jackson historian, admitted of South Carolina, 'They got the jump on us.'"
Send us a mystery:  If you have a photo that you believe will stump readers, send it along (but make sure to tell us what it is because it may stump us too!)   Send it along to  editor@charlestoncurrents.com.