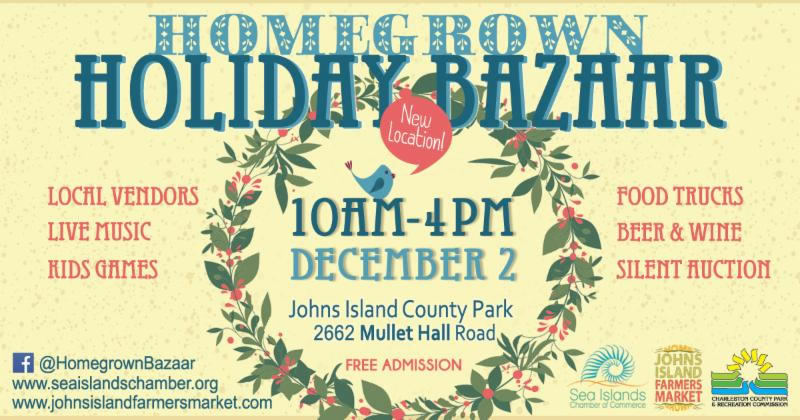 Staff reports  |  The fourth annual Homegrown Holiday Bazaar on Dec. 2 will feature more than 100 vendors and farmers – and it's just in time for you to do your holiday shopping from local vendors.
The event will be 10 a.m. to 4 p.m. at Johns Island County Park, 2662 Mullet Hall Road, on Johns Island.   The bazaar will also serve as the farmers market for that day and is brought to you by the Johns Island Farmers Market and Sea Islands Chamber of Commerce.
Among the attractions are holiday carriage and hay rides; an antique tractor show, meet and greets with native horses, and pony rides.  And there will be a visit by Santa and Mrs. Claus.
Many local food trucks will be on site along with warm drinks, local craft beer and wine. The V-Tones of Charleston will tantalize attendees with festive tunes from 10 a.m. to 1 p.m., followed by members of Sol Driven Train.
Admission is free and there is plenty of free parking on site. More info.
Also on the calendar:
New collaborative talk: 6:30 p.m., Nov. 14, Burke High School auditorium, 244 President St., Charleston.  The Social Justice Racial Equity Collaborative's Living Your Truth talks about civil rights will continue and feature attorney Armand Derfner and Dr. Millicent Brown, who was chief plaintiff in a 1963 case that desegregated Charleston's schools.  It's free but registration is encouraged.  Click here to register.
(NEW) Plan a budget workshop: 5 p.m. to 8 p.m., Nov. 16, 2 Canal St., Charleston.  Google Applied Digital Skills and CharlestonGood will offer a budget planning workshop that can help families and organizations. Curriculum is here.  More info, contact Betsy Padilla.
(NEW) Free shredding: 9 a.m. to noon, Nov. 18.  Charleston County's Environmental Management Department will celebrate America Recycles Day by hosting five free shredding events across the county.  You can bring documents to shred to:
J.C. Penney's Parking Lot (Citadel Mall), 2070 Sam Rittenberg Blvd, Charleston;
Mount Pleasant DMV, 1189 Sweetgrass Basket Pkwy, Mount Pleasant
Signal Point Road Convenience Center, 1716 Signal Point Rd, West Ashley
City of North Charleston Town Hall, 2500 City Hall Ln, North Charleston
Johns High School, 1518 Main Rd, Johns Island
That Holiday Book Sale: Opens at 9 a.m. on Dec. 1 and 2, Mount Pleasant Regional Library, 1133 Mathis Ferry Road, Mount Pleasant.  The Charleston Friends of the Library will have another great sale of used books, CDs, videos and more – all of which could be a perfect holiday gift.  More info.
Farmers markets.  Here is a list of various markets in the Lowcountry open this fall.  If you have information on other markets, please send information to editor@charlestoncurrents.com.
Early morning bird walks at Caw Caw:  8:30 a.m. every Wednesday and Saturday, Caw Caw Interpretive Center, Ravenel.  You can learn about habitats and birds, butterflies and other organisms in this two-hour session.  Registration not required, but participants are to be 15 and up.  $10 per person or free to Gold Pass holders.  More:  http://www.CharlestonCountyParks.com.
If you have an event to list on our calendar, please send it to editor@charlestoncurrents.com for consideration. The calendar is updated weekly on Mondays.