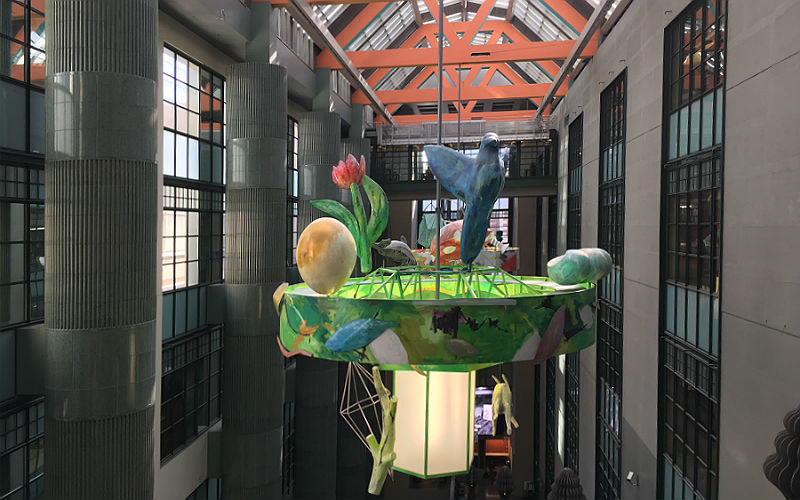 This large, odd-looking chandelier isn't anywhere near Charleston, but you may have seen it somewhere on your travels or research.  Send your best guess to:  editor@charlestoncurrents.com – and please make sure to include your name and hometown.  In the subject line, write:  "Mystery Photo guess."
The last issue's Mystery Photo featured a barn-like structure on stilts that turns out to be a "winnowing" barn for rice located at Mansfield Plantation in Georgetown County.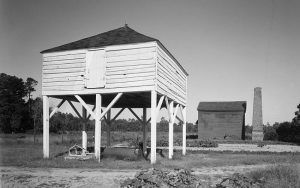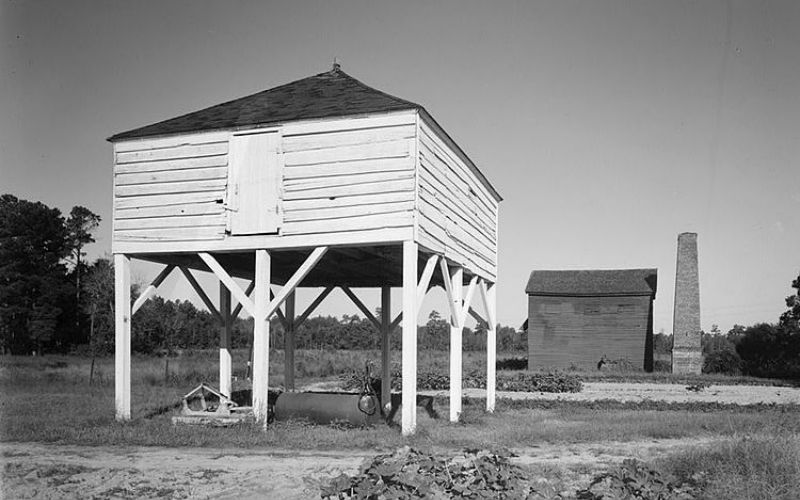 Congratulations to several loyal readers who correctly guessed the mystery, including Bill Segars of Hartsville; Ross Lenhart of Pawleys Island; Marnie Huger of Richmond, Va.; George Graf of Palmyra, Va.; Tom Tindall of Edisto Island; and Charlie Morrison of James Island.  And half credit to David Brown of Daniel Island for knowing the winnowing barn had something to do with rice.
Segars enjoyed the challenge, noting, "It's an older photo.  Additional diagonal braces have been added.  It was used in rice production.  This one is the only one left in South Carolina. The rice mill in the rear of your photo has been removed and another building built in it's place.  The chimney is still there."
Graf noted that the structure in the back was a rice pounding mill and provided a little more context via The Nature Conservancy:  "South Carolina's Mansfield Plantation is a testament to the power of conservation to protect not just nature, but also important links to our past. A former rice plantation worked by slaves for more than a century, today the nearly 1,000-acre property is a spectacular combination of upland pine forests and wetlands. Owners John and Sallie Parker and The Nature Conservancy have partnered on a conservation easement that will protect all of Mansfield Plantation's natural and historic features in perpetuity."
According to Mansfield Plantation B&B on Facebook, "in 1718, a plot of land was granted to a family on the outskirts of the bustling new village of Georgetown, South Carolina. Construction began on the main house fifty years later, and soon after, Mansfield Plantation blossomed into one of the largest rice plantations in South Carolina."
Tindall sent this additional historical and contextual information:  "Winnowing barns, or winnowing houses, were commonly found on South Carolina rice plantations. A winnowing barn consists of a large shed on tall posts with a hole in the floor. Raw, husked rice was carried up into the barn by enslaved workers and then the grain was forced through the small hole. As the grain dropped to the ground, the lighter and undesirable chaff was carried away in the wind, leaving a mound of purified rice grains directly below the winnowing barn. The purified grain was then packed into barrels and carried down river to the port  for shipping to market. Prior to the development of the winnowing barn, winnowing was done by hand using winnowing baskets — a long and labor-intensive process. Thus, the development of the winnowing barn helped South Carolina become the second largest exporter of rice in the world, next to Indonesia and the Far East.
Send us a mystery:

 If you have a photo that you believe will stump readers, send it along (but make sure to tell us what it is because it may stump us too!)   S

end it along to  

editor@charlestoncurrents.com

.