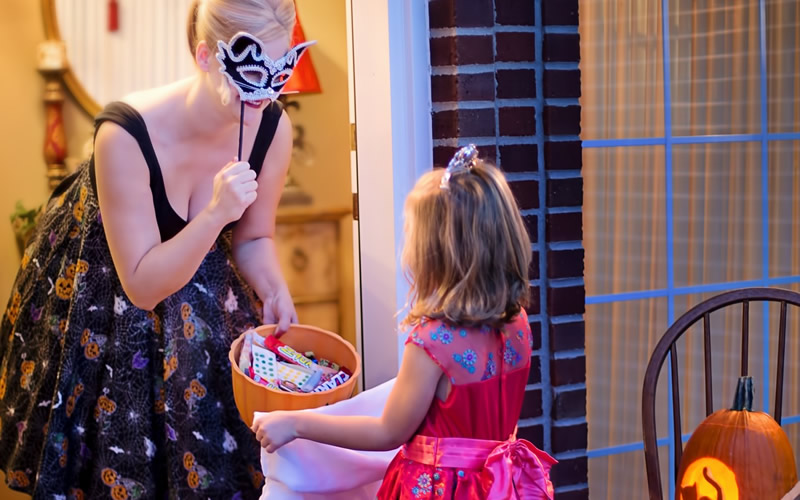 Staff reports  | With Halloween just around the corner, the health experts at Envolve, an integrated health care solutions company sent along these five tips to make sure you and your goblins have a safe night of trick-or-treating next week: 
Travel together. Before your little ones head out for the big night, make sure there's a plan in place for an adult or two to supervise the festivities. It can be challenging to identify young ones in the dark wearing similar looking costumes. Make sure there's an established plan beforehand to meet at a familiar location in case your child or someone under your supervision somehow strays from the group during the trick-or-treat trek.
Stay on track. Remember, kids have been waiting for this night to arrive and will be tempted to run from house to house and take the quickest possible route. Make sure they understand the potential dangers of dark alleys or unpaved areas. It's best to travel on a well-lit path or street with people around so you and the children can be better aware of your surroundings. Explaining simple traffic rules can also go a long way, so review how to look both ways before crossing a street or how to wait for the proper cross-walk sign to stay safe.
Don't go inside. If there'sa house that tries to entice kids to come inside in exchange for candy, make sure they know to turn down the invitation – even if it's for their favorite chocolate bar. If the homeowner won't give away treats until they head inside, tell your children to leave the house and head to the next spot.
Dress to reflect.Cars pose one of the biggest dangers to everyone roaming the streets on Halloween. Make sure your children have flashlights or glow sticks in hand to help lead the way. Even better, put reflective tape on their costumes so drivers can more easily see them.
Check treats.Remind your little ones that it's only safe to eat candy after it has inspected by an adult. Have your kids wait until the end of the night and spread it on the floor as a fun way for them to see what their hard work has turned into. When digging through their pile, closely look at everything for choking hazards and broken packaging. If you think your children will get hungry during the neighborhood voyage, bring your own snacks to give them that extra energy to finish strong.
In other Good News:
New Fort Sumter app.  Visitors to Fort Sumter National Monument can now experience an 1800s historical site using state-of-the-art technology. Fort Sumter Tours – family owned and operated since 1961 – has launched a new Fort Sumter mobile app. The app is available for free in Apple's App Store or in Google Play by searching "Fort Sumter." Learn about lots of more features by downloading the free mobile app by searching "Fort Sumter" in the app stores or visit fortsumtertours.com.
Supper with Santa:  Families are invited to enjoy Supper with Santa for a good cause during the opening night of the Holiday Festival of Lights! On Nov. 10, a special benefit event for The Parklands Foundation of Charleston County will offer breakfast for dinner, a visit with Santa, and the opportunity to enjoy all the magical experiences of the Holiday Festival of Lights.  Beginning at 5:30 p.m. at James Island County Park, families will enjoy breakfast for dinner in Edisto Hall, a professional photo op with Santa, participation in the event opening ceremony and the tree lighting. Then, participants can enjoy all of the festivities the Holiday Festival of Lights offers. Registration includes tickets to the festival train, the carousel, and climbing wall, along with marshmallow roasting. And, of course, visitors can view the famous three-mile drive through the park's two million lights and over 700 light displays. Children are encouraged to wear their favorite wintertime pajamas.  Only 100 Supper with Santa tickets will be sold, and tickets may be purchased by visiting TheParklandsFoundation.org or calling 843-640-5451.
Bond referendum on Charleston ballots.  While only have of Charleston City Council seats are on the Nov. 7 ballot, every voter in the city will have a chance to cast a vote in a referendum seeking $20 million for more affordable housing, particularly because the skyrocketing costs of housing for teacher, firefighters, police and others.  According to the Charleston Chronicle, "The 20-year, $20 million bond represents a rare opportunity for the city to make not just workforce housing a reality, but also housing that is affordable for residents at every level of income. 'We need this one," Councilman William Dudley Gregorie said. 'Voters must show up at the polls. And all of them will be open," Gregorie noted.'" Read more about the bond referendum in this council resolution.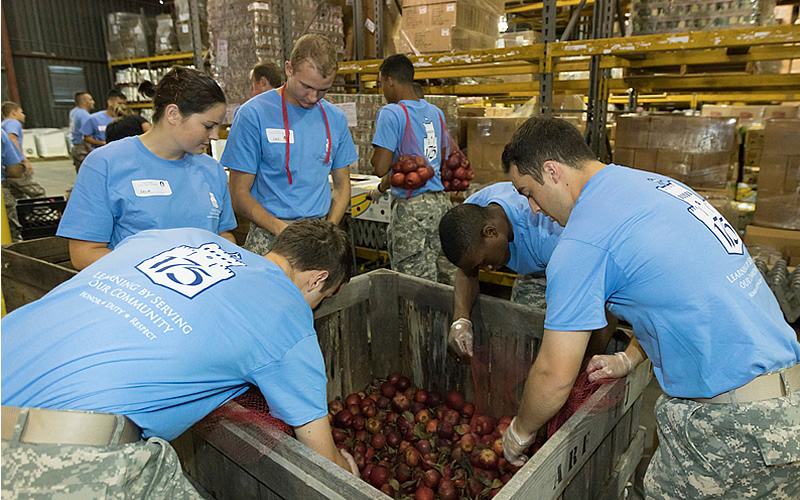 Leadership Day.  Regularly-scheduled classes were put on hold Oct. 18 so that students could participate in Leadership Day through service learning and civic engagement projects around the Lowcountry.  They also attended ethics and leadership seminars. Above is a phot of some of the members of the Corps of Cadets volunteering at the Lowcountry Food Bank, which attracts a lot of help from the college.  In July, summer program cadets set a record for the largest one-day, on-site volunteer group at the organization, according to a Citadel staffer.  Photo provided.
Civil War in 3-D.  1 p.m. to 3 p.m., Nov. 11, Old Exchange and Provost Dungeon's Great Hall, 122 East Bay St., Charleston.  The attraction and the Fort Sumter-Fort Moultrie Historical Trust will; offer a journey through the depths of the Civil War in Charleston when writer and photo expert Bob Zeller presents a special three-dimension program using original period photographs.  Program is free, but normal admission fees apply.