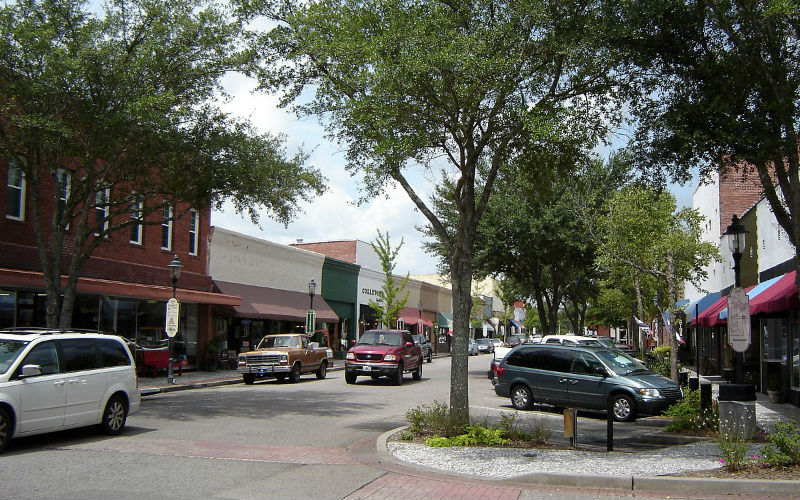 Here's a downtown that you may have seen in your travels in South Carolina, but where is it?  Send your best guess to:  editor@charlestoncurrents.com — and make sure to include the name of the town in which you live.  Please also write "Mystery Photo" in the subject line.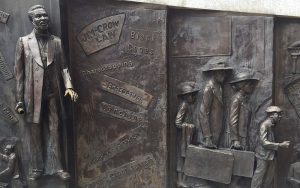 Last week's Mystery Photo may have been familiar to many who have visited the east side of the Statehouse grounds in Columbia because that's where the African American History Monument is located.  
Congratulations to those who correctly identified the artwork filled with historical references:  Bud Ferillo of Columbia; Kristin French of North Charleston; Bill Segars of Hartsville; Montez Martin of Charleston; Charlie Morrison of James Island; and George Graf of Palmyra, Va.
Ferillo shared this story about the monument: "The late John Rainey and I raised the &$.1 million to build the African American History Monument on the east side of the State House in Columbia. It was designed by artist Ed Dwight of Denver after a national search."
Graf added, "According to discoversouthcarolina.com, 'This monument was sculptured by Ed Dwight of Colorado and dedicated March 29, 2001. This monument traces African-American history from the Middle Passage, to the fight for freedom in the Civil War, the struggle for civil rights and emergence into mainstream America. Among the 12 scenes are images that depict a family on the auction block, slaves working in a rice field, men and women celebrating the Emancipation Proclamation, the Jim Crow era, the Northern migration, and images of African Americans today pioneering in such fields as engineering, law education, sports, politics and space exploration. At the base of the monument's obelisk are four rubbing stones from regions of Africa where slaves were captured – Senegal, Sierra Leone, the Republic of Congo and Ghana.'"
Send us a mystery:  If you have a photo that you believe will stump readers, send it along (but make sure to tell us what it is because it may stump us too!)   Send it along to editor@charlestoncurrents.com.
Have a comment?  Send to:  editor@charlestoncurrents.com.