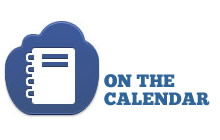 Charleston Restaurant Week:  Through Sept. 17, around the area.  The Greater Charleston Restaurant Association presents the annual event to allow people to enjoy world-renowned cuisine at prices a little lower than usual.  More.
"An Act of God:" Various times, Sept. 15 to Oct. 1, Footlight Players Theatre, 20 Queen St., Charleston.  The Footlight Players will perform this clever, one-act comedy that's based on a satirical book and Twitter account.  Shows are at 8 p.m., except for Sunday matinees at 3 p.m.  Tickets are $30 for adults.  More.
Love Potion No. 9:  Various times, Sept. 15 to Nov. 11, 200 Meeting St., Charleston.  The post-apocalyptic doo-wop musical will be presented by 34 West Theater Company at various times on Tuesdays, and Thursdays through Sundays  with tickets at $35.  More.
Children's Museum Fam Jam: 10 a.m. to 2 p.m., Sept. 16, Marion Square, Charleston.  The free festival, held in conjunction with more than 30 partners, celebrates family, community togetherness and the power of play as Marion Square is transformed into an engaging, innovative playscape.  Free.
Black Ink:  11 a.m. to 5 p.m., Sept. 23, Charleston County Public Library main branch, Calhoun St., Charleston.  Award-winning author Kwame Alexander will be the featured speaker at Black Ink: A Charleston African American Book Festival.  More than 50 black authors and hundreds of readers are expected for the second annual free event.  Learn more.
(NEW) Charleston Pride Festival:  Parade at 9 a.m., Sept. 23, at Marion Square; Festival fun is 11 a.m. to 3 p.m., Sept. 23, Brittlebank Park, Charleston.  The free festival will feature entertainment, vendors, food trucks and more.  Schedule of a week of events.
Living Your Truth conversation: 6:30 p.m. to 8:30 p.m., Sept. 26, Emanuel AME Church, 110 Calhoun St., Charleston.  The Rev. Nelson B. Rivers III and former College of Charleston President Alex Sanders will share stories, answer questions and talk about ways to create a just, equitable and thriving community in the Sophia Institute's SJRE Collaborative's Living Your Truth series.  The event is free, but registration is requested.
Seawall history: 6 p.m., Sept. 28, and 1 p.m., Sept. 30, at the Main Library on Calhoun Street, Charleston.  Library officials will present "a short history of Charleston's Low Battery seawall," during this free presentation.
(NEW) Free Verse Festival, S.C.'s first poetry festival: 29 events from Sept. 29 through Oct. 31, Charleston.  Take a look at the varied calendar, including The Mayhem Poets on Sept. 29 at the Charleston Gaillard Center to the Poet Laureate Show, featuring our own Marjory Wentworth, on Oct. 6 at the City Gallery at Waterfront Park.  View events online at FreeVerseFestival.com.
Colour of Music Festival:  Oct. 18-22, Charleston.  The fifth annual festival will offer an array of classical music to showcase the impact and historical significance of black classical composers and performers.  More.
Farmers markets.  Here is a list of various markets in the Lowcountry throughout the summer:
TUESDAYS:  Mount Pleasant Farmers Market occurs every Tuesday starting at 3:30 p.m. and ending at 7 p.m. Location:  645 Coleman Blvd., Mount Pleasant.
WEDNESDAYS: West Ashley Farmers Market opens at 3 p.m. every Wednesday in Ackerman Park, 55 Sycamore Ave., Charleston.  It will continue through Oct. 4.
THURSDAYS:  Sullivan's Island Farmers Market starts at 2:30 p.m. every Thursday at 1921 I'On Avenue in front of the Poe Library.
SATURDAYS:  Charleston Farmers Market occurs every Saturday through Nov. 25 at Marion Square.  It opens at 8 a.m. and ends at 2 p.m.
SATURDAYS:  Johns Island Farmers Market operates each Saturday from 9 a.m. to 1 p.m. year-round with more than 50 local farmers and vendors, food trucks, music and more.  The market is located on the campus of Charleston Collegiate School, 2024 Academy Road, Johns Island.
Early morning bird walks at Caw Caw:  8:30 a.m. every Wednesday and Saturday, Caw Caw Interpretive Center, Ravenel.  You can learn about habitats and birds, butterflies and other organisms in this two-hour session.  Registration not required, but participants are to be 15 and up.  $10 per person or free to Gold Pass holders.  More:  http://www.CharlestonCountyParks.com.
If you have an event to list on our calendar, please send it to editor@charlestoncurrents.com for consideration.  The calendar is updated weekly on Mondays.