S.C. Encyclopedia  |  Lewis (or Louis) Reeve Gibbes was born in Charleston on August 14, 1810, eldest of the eight children of Lewis Ladson Gibbes and his wife, Maria Henrietta Drayton. Gibbes attended grammar school in Charleston and Philadelphia, then prepared for college at the Pendleton Academy in the South Carolina upcountry, where he excelled in mathematics and the classics. A student of five languages, he showed an early interest in botany, astronomy, and physics. Gibbes entered South Carolina College soon after graduating first in his class from Pendleton Academy in 1827. For a time in 1830 he was the classics teacher and acting principal at Pendleton Academy. Later that year he enrolled in the Medical College of South Carolina, in Charleston.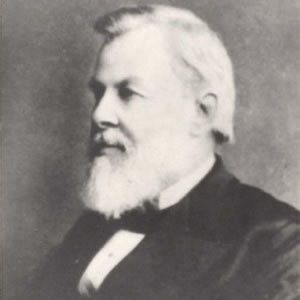 In 1831 Gibbes left for Columbia to become an instructor in mathematics at his alma mater. There he commenced a study that resulted in the publication in 1835 of Catalogue of the Phoenogamous Plants of Columbia, S.C., and Its Vicinity, which listed around 775 species of plants. Gibbes returned to Charleston in 1835 and completed the medical program in March 1836. Soon thereafter, he traveled to Paris to study with several prominent medical professors and naturalists. On returning to Charleston in late 1837, Gibbes accepted appointment as the professor of mathematics at the College of Charleston. Married to Anna Barnwell on September 2, 1848, he was the father of nine children.
During his fifty-four-year career at the College of Charleston, Gibbes taught mathematics, chemistry, physics, and astronomy, and endeared himself to generations of students despite his exacting standards. Although he bore an extremely heavy load as a teacher, Gibbes found time to conduct numerous studies in astronomy, and, from 1848 to 1850, acted as an official celestial observer for the U.S. Coast Survey, using an observatory that he personally constructed. Meanwhile, the energetic scientist published studies of crustacea that earned him a national reputation as the leading authority on the subject in the South.
Over the years, Gibbes also published articles on many other topics, including physics, mineralogy, chemistry, and botany. An avid collector of specimens, he amassed large cabinets of crabs, flora, insects, mollusk shells, and minerals, most of them from South Carolina. Gibbes was devoted to the advancement of science in the South and in his native state in particular, and he played a prominent role in Charleston's Elliott Society of Natural History, before which he presented more papers than any other member. He served as the president of the society for three decades.
A fervent advocate of secession, Gibbes aided the Confederacy in any way he could. As federal troops entered Charleston in February 1865, Gibbes was forced to flee, but he returned to his teaching post immediately after the war ended. Struggling to overcome inadequate resources and to support his family on a meager salary, he continued to teach until 1892. The most versatile of all the scientists in nineteenth-century Charleston, Gibbes received wide acclaim for his studies. He died in Charleston on November 21, 1894, and was buried in Magnolia Cemetery.
— Excerpted from an entry by Lester D. Stephens.  This entry hasn't been updated since 2006.  To read more about this or 2,000 other entries about South Carolina, check out The South Carolina Encyclopedia, published in 2006 by USC Press. (Information used by permission.)