Staff reports  |   About three dozen tri-county locations are on the new Great Carolina Fried Chicken Map, which highlights 319 places in the Carolinas that specialize in everything from traditional fried chicken take-out joints to great chicken found in gas stations and church dining rooms.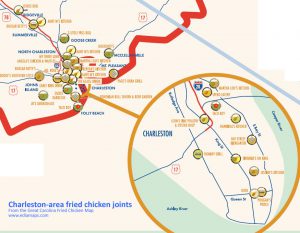 "There's a lot of mystery over fried chicken and how favorite restaurants get that perfect crispy bird," said Amanda Fisher, a co-creator of the map, which is being shipped to customers and retail outlets across North and South Carolina.  "Some fried chicken has a thick and craggy crust with a lot of crunch. Others are thinner, flakier, and lighter. Everyone has their preference. And the questions always is — how did they do it? Without giving away any priceless family recipes — those are held way too close to the chest, anyway — the maps gives you some of the secrets."
The back of the map includes a description of restaurants or of the chicken dish, or some other interesting tidbit.
"Though it comes in map format, the depth of what we provide is really more like a guidebook," Fisher explained in a news release. "The density of details and information is packed in tight, but we present everything in such a graphic, visual way that it's easy and very quick to understand. It's intuitive, really."
The Great Carolina Fried Chicken Map was created by EDIA Maps.  Folded road maps are $9.99; posters are $29.99.  More:  EDIAmaps.com
In other Good news:
House opioid committee meeting.  The S.C. House Opioid Abuse Prevention Study Committee will meet 6 p.m. Aug. 16 in Building 920, College Center, at Trident Technical College at 7000 Rivers Avenue in North Charleston.  The committee meeting is a public hearing to hear personal testimony about the impact of the opioid epidemic to help the committee in its work to identify preventive measures, boost treatment and improve recovery options.
NASA's Hyperwall to be here Aug. 19-23.  As part of NASA's historic coverage of the total solar eclipse at the College of Charleston, the agency will have its Hyperwall, which displays multiple high-definition data and images simultaneously across several screens, at the Marlene and Nathan Addleston Library starting at 9 a.m. Aug. 19.  At 2 p.m., a NASA official will give a discussion on the eclipse.  At 2 p.m. Sunday, the director of NASA astrophysics will discuss how scientists search for exoplanets.
Three libraries to close for eclipse.  In anticipation of lots of people pouring into the Lowcountry to view the Aug. 21 total solar eclipse, three libraries will be closed:  The main branch on Calhoun Street, the John L. Dart branch on upper King Street and the McClellanville branch.
Books for classrooms.  Charleston Friends of the Library has received a $3,000 grant that will allow 60 teachers to buy $50 worth of books for local classrooms at the organization's 36th annual That BIG Book Sale on Oct. 13 to Oct. 15 at the Omar Shrine Auditorium in Mount Pleasant.  The grant from the Renee B. Fisher Foundation will support teachers in high-need Charleston County public schools.