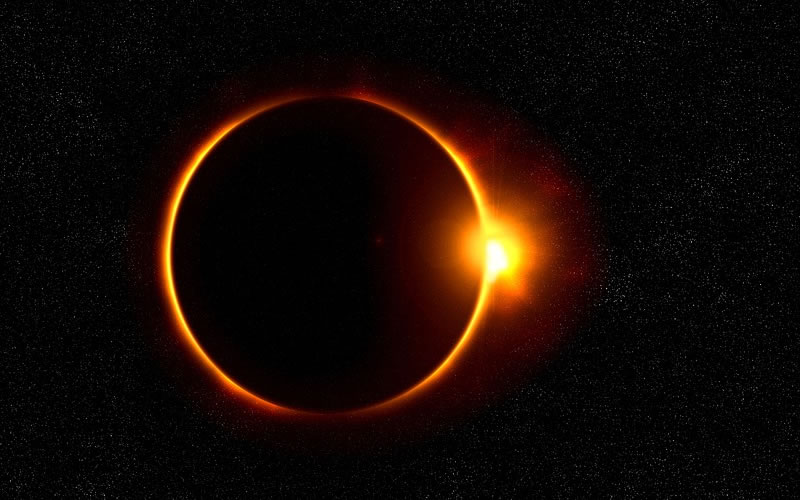 Staff reports |  As part of NASA's historic coverage of the total solar eclipse at the College of Charleston, the agency will have its Hyperwall, which displays multiple high-definition data and images simultaneously across several screens, at the Marlene and Nathan Addlestone Library through Wednesday, Aug. 23.
In the meantime, you can watch a live webcast via Nasa.gov starting at 11:45 a.m. Eastern to enjoy the "experience of a lifetime!"  Some other area eclipse events:
Gibbes Museum.  "Total Eclipse of the Art" is an Aug. 21 eclipse viewing opportunity at the museum to allow visitors to watch from the Lenhardt Garden.  Two-for-one-admission for adults and kids under 17 are free.  Protective eclipse glasses will be provided.  More.
Solar eclipse at The Joe.  Riley Park will host NASA experts and educational booths when gates open at 1 p.m. for a party and viewing before the 4:05 p.m. game with the Augusta GreenJackets.  Limited availability. More.
Fort Sumter viewing.  The National Park Service will offer an eclipse viewing and informal educational viewing with several partners at its facility at 340 Concord Street in Charleston.  More.
Charleston Museum.  The museum will offer free eclipse viewers with museum admission during its celebration of The Great American Eclipse.  Location:  360 Meeting St., Charleston.  More.
How Life Responds:  Caw Caw Interpretive Center, 5200 Savannah Highway, Ravenel.  The center will offer a natural history interpretive specialist to host a citizen science event to upload information and share observations.  The center is just outside the path of totality of the eclipse.  More.
Balloon viewing.  Charleston's Hotter than the Sun Eclipse Viewing Party at the MUSC Health Stadium on Daniel Island is the only place in the world to view coast-to-coast streams of NASA's 57 weather balloons live on a Jumbotron.  More.
Elsewhere on the calendar:
(NEW) Charleston Tells concert: 7 p.m. to 8:30 p.m., auditorium of the main Charleston County Public Library, Calhoun St., Charleston.  Kate Campbell, originally from the Mississippi Delta, will use her songs to chronicle societal changes below the Mason-Dixon Line in this second installment of the Charleston Tells series.  More.
Pest house talk. 6 p.m., Aug. 30, auditorium, Charleston County Public Library, 68 Calhoun St., Charleston.  The library will present a program on the brief history of the Pest House on Sullivan's Island.  Free.
Farmers markets.  Here is a list of various markets in the Lowcountry throughout the summer:
TUESDAYS:  Mount Pleasant Farmers Market occurs every Tuesday through April starting at 3:30 p.m. and ending at 7 p.m. Location:  645 Coleman Blvd., Mount Pleasant.
WEDNESDAYS: West Ashley Farmers Market opens at 3 p.m. every Wednesday in Ackerman Park, 55 Sycamore Ave., Charleston.  It will continue through Oct. 4.
THURSDAYS:  Sullivan's Island Farmers Market starts at 2:30 p.m. every Thursday at 1921 I'On Avenue in front of the Poe Library.
THURSDAYS:  Isle of Palms Farmers Market is 4 p.m. to 7 p.m. through Aug. 31.  It is held at the Isle of Palms County Park.
SATURDAYS:  Charleston Farmers Market occurs every Saturday through Nov. 25 at Marion Square.  It opens at 8 a.m. and ends at 2 p.m.
SATURDAYS:  Johns Island Farmers Market operates each Saturday from 9 a.m. to 1 p.m. throughout the summer to allow patrons to beat the heat.  The market is located on the campus of Charleston Collegiate School, 2024 Academy Road, Johns Island.
Early morning bird walks at Caw Caw:  8:30 a.m. every Wednesday and Saturday, Caw Caw Interpretive Center, Ravenel.  You can learn about habitats and birds, butterflies and other organisms in this two-hour session.  Registration not required, but participants are to be 15 and up.  $10 per person or free to Gold Pass holders.  More:  http://www.CharlestonCountyParks.com.
If you have an event to list on our calendar, please send it to editor@charlestoncurrents.com for consideration.  The calendar is updated weekly on Mondays.