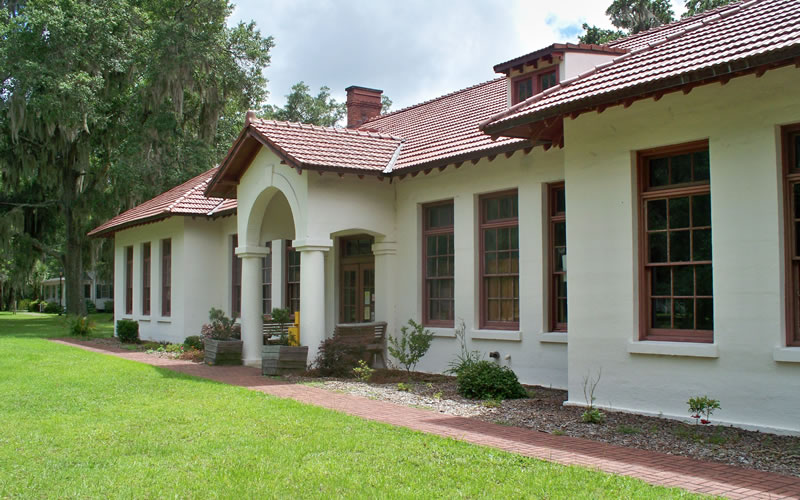 S.C. Encyclopedia  |  Located on St. Helena Island in Beaufort County, Penn Center, Inc., originated as the Penn Normal School. The school was established in 1862 on St. Helena by the northern missionaries Laura Towne and Ellen Murray. It was one of approximately thirty schools built on St. Helena as part of the Port Royal Experiment, an effort by northern missionaries to educate formerly enslaved Africans and prepare them for life after slavery. The leaders of the Port Royal Experiment were philanthropists, abolitionists, and Quaker missionaries from Pennsylvania who came to the Beaufort County area during the Civil War. They named the school in honor of their home state and for the Quaker activist William Penn.
Laura Towne arrived on St. Helena Island in April 1862 and was joined by Ellen Murray in June of the same year. The two began educating blacks in a one-room schoolhouse on the Oaks Plantation. As the number of students outgrew this space, they moved to the Brick Baptist Church. They remained there until 1864, when a prefabricated building was sent down from Pennsylvania. A fifty-acre tract of land was purchased from a freedman named Hastings Gantt so that the building could be erected.
In 1901 the school was chartered as the Penn Normal, Industrial, and Agricultural School. The Tuskegee Curriculum, developed by Booker T. Washington, was slowly incorporated into the Penn curriculum. So, in addition to reading, writing, and arithmetic, Penn started teaching classes in carpentry, basket making, harness making, cobbling, shoe lasting, midwifery, teacher training, and mechanics.
In 1948 the Penn School board decided that it was no longer economically feasible to keep the Penn School open as a private boarding school since public schools were now being brought onto St. Helena Island. As a result, the Penn School class of 1953 was the last one to graduate.
After becoming Penn Community Center in 1953, the institution began to focus on social issues affecting the well-being of the native islanders. This expanded to African Americans as a whole in the 1960s, when Dr. Martin Luther King, Jr., the Southern Christian Leadership Conference (SCLC), and other civil rights organizations began coming to the island to have meetings at the Frissell Community House, one of several buildings that students and community members had built on the campus.
Penn Center, Inc.'s programs and educational partnerships included the History and Culture Program, the Program for Academic and Cultural Enrichment (PACE), the Land Use and Environmental Education Program, and the Early Childhood / At-Risk Families Initiative. In 1974 the United States Department of the Interior designated the Penn Center's buildings and grounds a National Historic Landmark District. Exhibitions that focus on the history of Penn School and its connections to the native Gullah/Geechee culture of the Sea Islands are housed in the York W. Bailey Museum, which serves as a major tourist attraction.
— Excerpted from an entry by Queen Quet Marquetta L. Goodwine.  This entry hasn't been updated since 2006.  To read more about this or 2,000 other entries about South Carolina, check out The South Carolina Encyclopedia, published in 2006 by USC Press. (Information used by permission.)