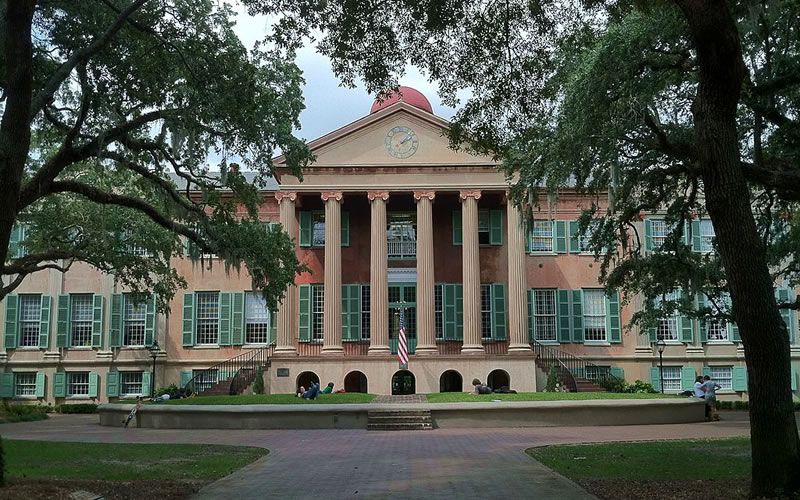 Staff reports  |  An online poll by one of the nation's premier travel magazines finds the College of Charleston to be the nation's prettiest college campus according to readers who took the poll.
"The College of Charleston community has known for centuries that we have one of the most beautiful college campuses in the world," said College of Charleston President Glenn F. McConnell, who graduated from the institution in 1969.  "I'm thrilled that renowned Travel + Leisure magazine has formally recognized the College with this No. 1 ranking and affirmed to everyone that our world-class beauty matches our world-class instruction."
The College was named the winner of Travel + Leisure's "Most Beautiful College Campus" contest last week after two weeks of open online voting. Before polling closed on Thursday, the college had nearly 20 percent of the vote and was several points ahead of the next top vote-getter, the University of Montana.
"This recognition would not be possible without the incredible work of our talented grounds crew, led by Paty Cowden," McConnell added.  "She and her team deserve much of the credit for this unique and well-deserved honor."
The College bested nineteen other universities across the country, including schools such as Princeton University, Duke University and the University of California Los Angeles. The College of Charleston was the only South Carolina institution in the contest.
Travel + Leisure and other Condé Nast magazines have also given high marks to the city surrounding the College; Travel + Leisure named Charleston the best city in the world in 2016, and the magazine and Condé Nast Traveler have ranked the city, its restaurants, attractions and lodgings among the best in the nation.
In other Good News:
More time to have your say.  If you want to tell the federal government about what you think about seismic testing for oil and gas along our coast (we're opposed!), you have until July 21 to have your say as the comment period has been extended. According to the S.C. Coastal Conservation League, hundreds of South Carolinians have already sent comment letters to the Trump Administration.  The organization says seismic testing hurts whales–in addition to being the first step toward offshore drilling for oil and gas that coastal communities have soundly rejected.
Save $30 on free application day.  Trident Technical College will take applications from prospective student for free on July 15 from 10 a.m. to 2 p.m. on its campuses in North Charleston, Charleston, Moncks Corner and Mount Pleasant.  New students should being proof of high school graduation or GED, qualifying SAT or ACT scores, proof of U.S. citizenship and Social Security number. Returning students can bring a government-issued ID.  For more information and for a complete list of what to bring, visit http://bit.ly/ttcfreeapp or call 843.574.6111.
Food help for veterans. The Lowcountry Food Bank is partnering with the Ralph H. Johnson Medical Center to open a pilot site for a new project to help veterans get food assistance.  "We are honored to be able to provide this pantry for the brave men and women of the military," said Pat Walker, president and CEO of the Lowcountry Food Bank.  "The harsh reality is that many veterans now face hunger.  In fact, one in five households that comes to us for help has a member who served our country.  Military families confront difficult challenges daily and it is our hope that through the Veteran Pantry Pilot, that putting food on the table is not one of them."
John's Island book sale.  Charleston Friends of the Library will hold a two-day book sale July 28 and 29 at the John's Island Regional Library, 3531 Maybank Highway, to raise money for the charity.  Paperbacks start at $1 and hardbacks at $3.  There also are lots of other materials, such as DVDs, CDs and children's books.  The sale starts at 9 a.m. each day and ends in late afternoon.  More:  CharlestonLibraryFriends.org.