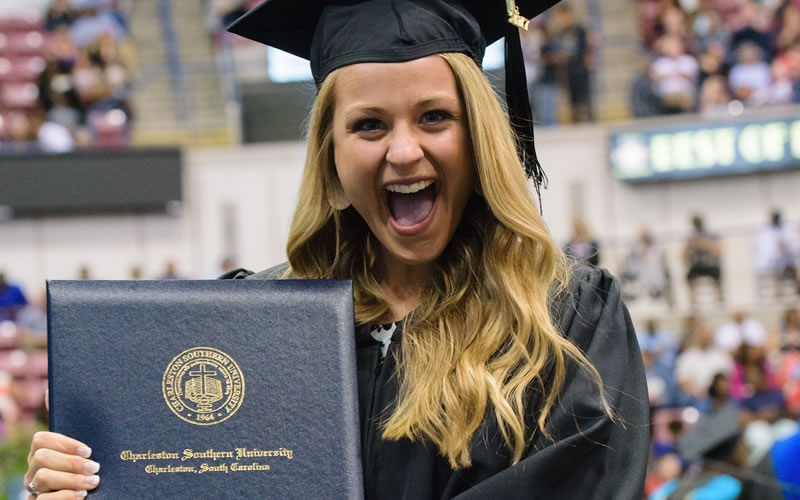 Staff reports  |  Graduates of area colleges tossed their hats into the air over the weekend as they celebrated hard work hitting the books.  Pictured above is Sarah Anne Dumont, one of 657 graduates of Charleston Southern University.  That was the school's largest graduation since its founding in 1964.  (Photo provided by Richard Esposito.)
Other graduations:
Charleston School of Law graduated 110 students, including 20 who finished their coursework in December.
Trident Tech had about 1,000 graduates in its 53rd commencement on Friday.
The Citadel had more than 500 cadets graduate Friday, also its largest class ever.
The College of Charleston has its graduation ceremonies on May 12 and 13.
The Medical University of South Carolina's graduation is set for May 19.
In other Good News:
Plan West Ashley.  Charleston's efforts to do a comprehensive master plan for West Ashley offers several events in the week ahead.  Planners will offer an "Open Planning Studio" for May 8 to May 12 in the Citadel Mall center court to allow people to add ideas.  The hours are Monday, 2 to 6:30 p.m.; Tuesday, Wednesday and Thursday, 10 a.m. to 6:30 p.m. and Friday, 10 a.m. to 1 p.m.  Other community events, also to be held in the Citadel Mall center court, include:

Community Input Recap, Monday, May 8, 6:30 p.m. to 7:30 p.m. Attend this session to get caught up on the planning process and input received so far.
Charleston Metro Chamber West Business in Your Backyard Meeting, Tuesday, May 9, 7:30 a.m. to 9 a.m. The Chamber will host a session at the Planning Studio to provide additional input to the planning team.
Brown Bag Lunch with CityFi's Gabe Klein, Tuesday, May 9,  Noon to 1 p.m. Bring a lunch and listen to Gabe Klein share insights on his work in government reinvention, project innovations, and new public & private mobility trends. Ask questions and challenge his assumptions.
West Ashley Revitalization Commission Meeting / Open House, Wednesday, May 10, 5 p.m. to 7:30 p.m. Join the West Ashley Revitalization Commission (Plan West Ashley steering committee) to review draft sketches and illustrations at this mid-week Open House.
Work-in-Progress & Feedback Session, Saturday, May 13, 10 a.m. – noon. All of the work to date will be presented. Attend this session and tell the planning team if the draft ideas are on the right track.

Flagship rescue organization.  Charleston Animal Society has been awarded grants of $360,000 by national family foundation Maddie's Fund to share its leadership and programming with other communities  "To be recognized as a flagship lifesaving organization in the United States is an honor. We are excited to share our rescue game plan with other organizations, all thanks to Maddie," said Charleston Animal Society CEO Joe Elmore. "These grants shine a very positive light on the Charleston community and show how much people here love their animals."
Number 5.  Charleston has been named one of the nation's best cities to start a business now, according to Inc. magazine, which wrote:
"Charleston is home to 250+ tech companies and its digital economy ranks highly: 11th in the nation for high-tech industry output and the fastest-growing mid-sized metro for IT.  Charleston was also just ranked on TechNet's "Next in Tech" metro startup economy index. …
"Charleston attracts 35 new people each day (12,700 net new people each year), two-thirds of which are 18-44 years old and highly educated. Many of the tech professionals behind Charleston's top companies hail from places like New York or Atlanta and cite Charleston's unbeatable lifestyle and collaborative tech community as reasons why they chose to relocate."