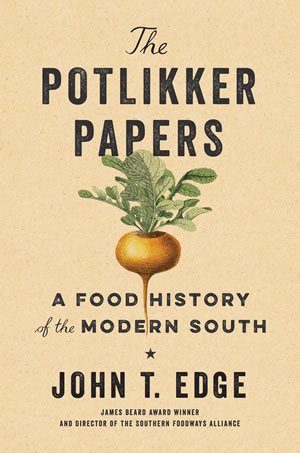 Staff reports  |  Longtime Charleston Currents friend John T. Edge, director of the Southern Foodways Alliance, will be in the Holy City 5 p.m. June 2 for a discussion of his new book, Potlikker Papers:  A Food History of the Modern South.
He and Garden & Gun editor David DiBenedetto will discuss the book and how it came to be at a space-limited discussion at the magazine's offices at the Cigar Factory on East Bay Street.  If you want to attend, you will need to RSVP by May 29 to:  events@gardenandgun.com.
To read a 2011 commentary featuring Edge, click here.
Garden & Gun describes the book as "masterful:"  "When it comes to chronicling Southern food, John T. Edge puts his motor where his mouth is, logging many thousands of miles over the years to illuminate these hidden corners of the region's cuisine like no other…Edge expertly sieves through decades of cultural influences to explore how today's rich culinary tradition emerged."
Edge, founding director of the Alliance at the University of Mississippi, is winner of the M.F.K. Fisher Distinguished Writing Award from the James Beard Foundation.  A native of Georgia, he holds degrees from the University of Mississippi and Goucher College.
In other Good News:
Commission on Women sessions.  The City of Charleston's Commission on Women will hold five public listening sessions May 24 to June 14 to get input to shape the focus and goals of the commission, which was set up to make recommendations, policies and programs related to the status of women.  Meetings will be held:
Johns Island – May 24, 6 p.m. to 7:30 p.m.; Johns Island Regional Library, 3531 Maybank Highway;
Daniel Island – May 25, 6 p.m. to 7:30 p.m.; Providence Baptist Church, 294 Seven Farms Drive, Daniel Island;
James Island – June 12, 6 p.m. to 7:30 p.m.; James Island Recreation Complex, 1088 Quail Drive;
Peninsula – June 13, 6 p.m. to 7:30 p.m.; Charleston County Main Library, 68 Calhoun Street;
West Ashley – June 14, 6 p.m. to 7:30 p.m.; Charleston County Hurd/St. Andrews Regional Library, 1735 N. Woodmere Drive.
Trident Tech honorees.  Trident Technical College recognized more than two dozen students at its graduation earlier this month.  The college's highest award, the President's Award/Kurtzman Prize, went to Grace Uwizeye-Allen, a dental hygiene graduate from Summerville. Her award included a monetary gift given to a graduating student on the basis of academic achievement, contributions to the college and community service

CEO Rick Hammond was on hand to present the S.C. State Credit Union Award, which also includes a monetary gift, to Katherine Russell. This award is presented to a returning student who demonstrates a commitment to service, exhibits perseverance toward completing higher educational goals, displays commendable personal attributes, and serves as an exemplary role model to other students.
The Klein Tools Award, which honors the outstanding electrician graduate from the Electrical and Automated Technologies program with a set of tools valued at more than $1,000, was presented by Klein Tools Inc. District Manager David Inman to TTC student Matthew Gearhart.
The Dr. Frankie Miller Leadership Award, in honor of the former dean of the Culinary Institute of Charleston (CIC), Frankie Miller, was awarded to Kimberly Kesh. Kesh was recognized with a $500 scholarship check from the Charleston Area Convention and Visitors Bureau and an award from CIC.
The Merit Award winners were also recognized by TTC President Dr. Mary Thornley for their academic and personal excellence, identifying each recipient as the top student in his or her program of study. The Merit Award winners are: Accounting-Linda Ash, Associate in Arts-Millie Lambrakos, Associate in Arts- Jan Zimmer, Associate in Science-Jessica Giblin, Associate in Science-Ejhazz Milford, Commercial Graphics/Animation-Cayden Cook, Commercial Graphics/Digital-Christine Bise, Commercial Graphics/Graphic Design-Erich Brem-Rice, Commercial Graphics/Photography-Sylinda Asher, Computer Technology/Information Systems Specialist-Brian Grant, Culinary Arts Technology-Daven Coad, Culinary Arts Technology/Baking and Pastry-Kelsey Keesee, Culinary Arts/Sports and Health Nutrition-Diana Brito Maldonado, Dental Hygiene-Grace Uwizeye-Allen, Early Child Care and Education/Child Care Management-Brittany Meyers, General Business/Marketing-Diana Lopez, Homeland Security Management-Anna Mitchel, Hospitality and Tourism Management-Jonathan Wilson, Human Services Generalist-Linda Lipske, Management/Business Information Systems-Kacy Byrd, Media Arts Production/Film Production-Anthony Morgan, Media Arts Production/Post Production-Kimberly Hutson, Media Arts Production/TV and Media Production-Krystal Welch, Medical Assisting-Janet Hogan, Medical Laboratory Technology-Megan Porter, Network Systems Management-James Curry Jr., Nursing/ADN-Jeremy Kinard, Paralegal-Kori Whitt, Pharmacy Technician-Patrice Scott, and Radiologic Technology-Joshua Wilborn.