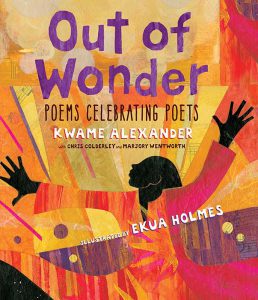 Staff reports  |  Charleston Currents contributing editor and South Carolina Poet Laureate Marjory Wentworth's work is getting attention in a new national book that targets middle-school children to open their eyes to the joys of poetry.
Out of Wonder: Poems Celebrating Poets is a collection of original poems by Newbery Medal–winning author and poet Kwame Alexander, along with poems by teacher-poet Chris Colderley and Wentworth.
Each of the poems in this book is an ode to one of 20 celebrated poets, to their work or to the act of writing poetry. As Alexander writes in the preface, "I believe that by reading other poets we can discover our own wonder." Children will enjoy hearing these poems read aloud, and they will enjoy reading them independently.
A book review in The New York Times offers, "The three authors take turns emulating their idols, who include Emily Dickinson, Billy Collins and Terrance Hayes ('Make a paint box out of letters,' that poem begins). Complementing the infectious mood of tribute is the spirited mixed-media artwork by Holmes ('Voice of Freedom'), a harmonious riot of color, texture and pattern."
According to the publisher, as readers grow in their ability to understand with more complexity and sophistication, and as they experience a greater exposure to poetry, delight will increase when they discover the influence of the celebrated poets' work on the poets and poems in this book. The vibrant mixed-media illustrations by Caldecott Honor–winning artist Ekua Holmes offer a visual invitation to readers to enter the world of each of the poems.
The 32-page book by Candlewick Press ($16.99) is for middle-grade students and up.
In other Good News:
Library to participate in summer feeding.  The Charleston County Public Library will serve free breakfast to children in need this summer through its participation in the Seamless Summer Feeding Program run by the Charleston County School District. The Summer Feeding Program allows school districts to provide free summer meals to children and teens in low-income areas during the traditional summer vacation period.  The library system will serve breakfast to children and teens age 18 and younger at eight branch locations on the following dates between June 6 and Aug. 4. There is no approval process required for participants to redeem free breakfast.
Tall ship is here through May 6.  The Swedish tall ship Gunilla is making its 11th visit to the city of Charleston in the coming week.  The 160' Barkentine ship arrived Sunday with 52 students and crew aboard.  The students, 17 and 18 years old, are in their second year of a three-year program aboard the Gunilla. While in Charleston, the students plan on several outings, including marine biology studies at Capers Island, a trip to Patriot's Point, and other educational activities.
Hats off to North Charleston firefighters.  The North Charleston Fire Department has been awarded a Class 1 rating by the Insurance Services Office (ISO), an organization that independently evaluates municipal fire protection efforts in communities throughout the United States.  The Class 1 rating is the highest possible rating that can be given to any fire department.  Out of 46,200 departments nationwide, only 260 are rated Class 1.  What does this mean?  Fire insurance premiums in North Charleston might go down!