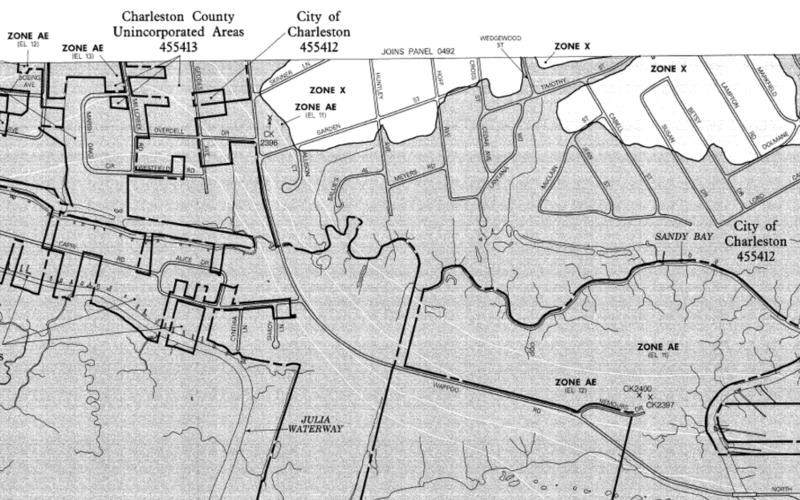 Staff reports  |  Charleston County residents will have the opportunity to view new preliminary flood maps and ask questions about potential impacts to their property in meetings this month in North Charleston, Charleston and Mount Pleasant.
If new flood maps show your property to be higher than current maps, your flood insurance rates could go down.
Meetings are scheduled for:
March 20: 2 p.m. to 7 p.m., Lonnie Hamilton III Public Service Building, council chambers, 4045 Bridge View Drive, North Charleston.
March 21: 3 p.m. to 7 p.m., C.E. Williams Middle School, 640 Butte St., Charleston.
March 22: 2 p.m. to 7 p.m., Alhambra Hall, 131 Middle St., Mount Pleasant.
Residents can meet one-on-one with a variety of specialists who will be available to talk about flood insurance, engineering, building permits and more.
The new preliminary flood maps were produced through a partnership between Charleston County Government, the South Carolina Department of Natural Resources (SCDNR), and the Federal Emergency Management Agency. Flood maps improve over time as better flood hazard and risk data becomes available. In addition, flood risks change due to construction and development, environmental and floodplain changes as well as other factors. Flood maps are updated periodically to address these changes.
By law, federally regulated or insured mortgage lenders require flood insurance on properties that are located in areas at high risk of flooding. Standard homeowners', business owners', and renters' insurance policies typically don't cover flood damage, so flood insurance is an important consideration for everyone.
Visit floodsmart.govfor more information about flood insurance and to locate a local agent.
In other Good News:
Mobile clinic:  Charleston Animal Society on Sunday unveiled its $250,000 Simon Greer Mobile Spay-Neuter Clinic which will allow the organization to reach out with services to underserved areas of the state.  The tractor-trailer sized clinic was unveiled at the organization's annual meeting Sunday where Wayne Pacelle, CEO and president of the Humane Society of the United States was guest speaker.
QUEST competition.  Congratulations to more than 1,000 students from 37 schools who participated Saturday in Trident Tech's 31st annual QUEST competition to promote academic excellence.  According to a press release, "Overall awards were given to 12 schools. At Level I (grade 6) Rollings Middle School of the Arts won first place, Gregg Middle School placed second and Sangaree Middle School finished in third place. At Level II (grades 7-8) Thomas C. Cario Middle School took top honors, while Buist Academy for Advanced Studies and Rollings Middle School of the Arts tied for second place. At Level III (grades 9-10) Ashley Ridge High School won first place, Academic Magnet High School placed second and Goose Creek High School placed third. At Level IV (grades 11-12) Academic Magnet won first place, Ashley Ridge High School placed second and Cane Bay High School took third place."
Red Cross Month:  The American Red Cross is celebrating 100 years of service in the Lowcountry throughout March.  "March is Red Cross Month, the perfect time to honor our Red Cross volunteers, blood donors and financial contributors who bring hope to people facing life's emergencies," said Louise Welch Williams, CEO for the Palmetto SC Region of the Red Cross. "We thank them for their tremendous support over the past 100 years and look forward to another century of service to the Lowcountry."  More information about how people can support the organization is available on redcross.org/sc.