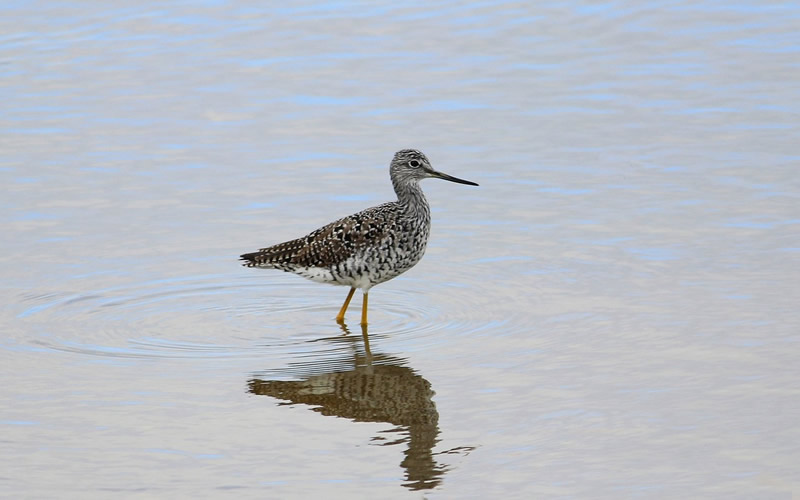 Staff reports  |  Audubon South Carolina and the Charleston Animal Society have launched the "Let 'em Rest, Let 'em Nest" campaign to educate state residents and visitors about the fragility and wonder of coastal birds.  The campaign is designed to teach the importance of reducing human disturbance to coastal nesting spots.  More online.

Every year, hundreds of thousands of shorebirds use South Carolina beaches and shores to replenish energy, find food and to hatch their young, a press release noted. Birds seen in coastal areas are usually in the middle of nesting or migration, many flying thousands of miles to reach their destinations. Starting in late February, migrating shorebirds begin to arrive from the south to rest on SC shorelines. Beach nesting birds begin their nesting process mid-March.
"It is of utmost importance that we respect the birds during this time. Let's show them a little Southern hospitality," said Nolan Schillerstrom, the Coastal Program Coordinator for Audubon South Carolina.  "When the birds are on our beaches it's like a layover when traveling on an airplane — they haven't reached their destination yet and they are tired, hungry and desperate to rest and refuel."
Any disturbance to migrating birds during their time spent on the South Carolina coast can be life threatening. Extra strength used to escape or fend off intruders, being chased by dogs or children or even scarcity of food and habitat can derail a bird's migration and nesting.
"The best thing we can do is simply to let 'em rest, and let 'em nest and give the birds plenty of space so they don't feel threatened," Schillerstrom added. "For these birds, it's the difference between life and death."
Audubon South Carolina suggests simple ways you can help:
Keep a safe distance (more than 50 yards) from nesting and resting birds on the beach. If you notice that you are altering their behavior in any way, you are too close.
Don't allow children or pets to chase birds. Just because your pet doesn't  catch a bird, doesn't mean the bird isn't affected.
In other Good News:
Tons of mac and cheese.  Hats off to Land O'Lakes for donating 40,000 pounds of its macaroni and cheese to the Lowcountry Food Bank as part of a program to help alleviate hunger.  "With this donation, the Lowcountry Food Bank will be able to reach thousands of our neighbors in need," said food bank president and CEO Pat Walker.  "We are fortunate to have Land O'Lakes as partners in our fight against hunger."
A top feeder school.  The College of Charleston has been named one of the top schools in the country for producing Peace Corps volunteers, according to a news release. The school ranks 12th among medium-sized schools on the agency's list.  The college currently has 20 alumni volunteering with the organization.
New book.  Award-winning journalist Tony Bartleme of The Post and Courier has a new book out by Beacon Books.  It's titled "A Surgeon in the Village:  An American doctor teaches brain surgery in Africa."  The book, which goes on sale this month, has its first event at noon March 24 during a launch luncheon at High Cotton restaurant with Blue Bicycle Books.  To reserve your signed book and tickets, click here.
A decade of conservation.  Hats off to the Charleston Parks Conservancy for a decade of connecting people to their parks and creating great public spaces.  The organization will celebrate its 10th anniversary at a special Birthday Bash from 11 a.m. to 1 p.m. on March 25 at Colonial Lake.  There will be entertainment, food, drink and a Bark Angel canine costume contest.  More info.