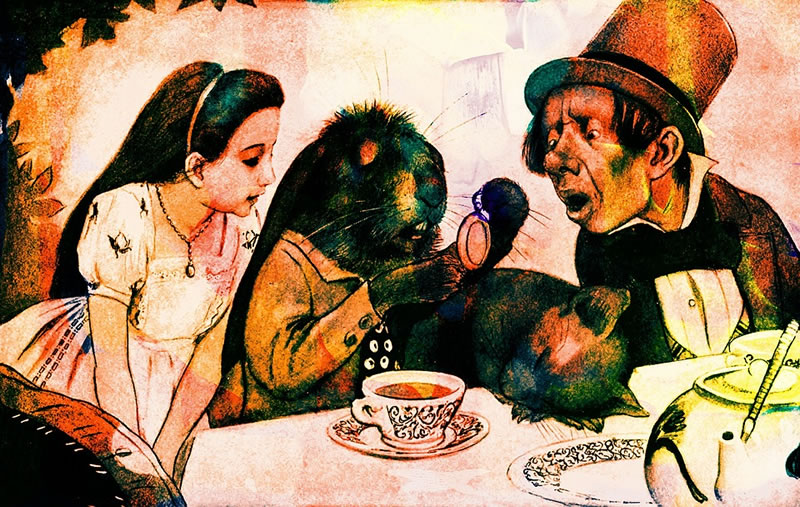 Staff reports  |  Don't be late for the Mad Hatter Tea Party at Magnolia Plantation and Gardens on Saturday, March 25, near the horticultural maze.
The four-hour event starts at 11 a.m. and is designed for children three to 12 years old. The maze area will be become a wonderland of entertainment including a giant chess set, flamingo croquet, face painting, photo booth, games, refreshments and more. Prizes will be given for the best costumes.
Participation in the Mad Hatter activities will require purchase of a $5 wristband in addition to the garden admission. Adults accompanying a child are not required to have a wristband.  Children two and under do not require a wristband. The children of annual members will require the purchase of the $5 wristband.
In other area events:
Slightly Askew: March 25 to May 7, City Gallery, 24 Prioleau St., Charleston.  The City of Charleston's Office of Cultural Affairs will feature the works of artists Rebecca Davenport and Cabelle Heyward that offers perspectives on reality that are slightly askew from consensus views.  More info.
(NEW) Smoke on the Mountain:  8 p.m., March 31; 3 p.m. and 8 p.m. April 1; and a 3 p.m. matinee on April 2, Trident Technical College, Main Campus Student Center, North Charleston.  The college's Clemente Players will present this gospel musical at three showings, which a social before the evening shows.  Tickets and more.
Quickbooks training: 9 a.m. to 4 p.m., April 1, Bastin Lab in Bond Hall, The Citadel, 171 Moultrie St., Charleston.  The Small Business Development Center and Citadel's school of business will offer basic Quickbooks training for $149, which includes the text.  Register and learn more.
Lowcountry Cajun Fest:  Noon to 6 p.m., April 2, James Island County Park.  Enjoy Cajun and creole dishes, music and overall fun at this 26th installment of an annual spring event.  Music by Feufollet and Cedryl Ballou and the Zydeco Trendsetters.  Admission is $15, but free for kids 12 and under with a paying adult.  Learn more.
Wine Down Wednesdays.  The afternoon wine social continues April 5, April 19 and May 3 at the not-open Old Town Creek County Park off Old Towne Road in West Ashley.  Included are music and wine for $15 for county residents; a food truck will be on hand.  More info here.
(NEW) Free shredding:  11 a.m. to 1 p.m., April 6, Charleston County Public Services Building, 4045 Bridge View Drive, North Charleston.  You can shred documents for free here to avoid having your personal information being compromised.
Charleston Bluegrass Festival:  April 7-8, Middleton Place, 4279 Ashley River Road, across from the Middleton Equestrian Center.  The festival is a combined event by Middleton Place Woodlands, Awendaw Green and other organizations with campaign and limited RV hook-ups.  Advance tickets and more info.
Lawrence exhibit:  Through April 30, Gibbes Museum of Art, 135 Meeting St., Charleston.  The museum will offer a comprehensive overview of influential American artist Jacob Lawrence featuring prints made from 1663 to 2000.  His prints explore African-American culture and experiences and highlight themes of history, labor and life.  More:  GibbesMuseum.org.  NOTE:  See our 2010 story on Lawrence.
Early morning bird walks at Caw Caw:  8:30 a.m. every Wednesday and Saturday, Caw Caw Interpretive Center, Ravenel.  You can learn about habitats and birds, butterflies and other organisms in this two-hour session.  Registration not required, but participants are to be 15 and up.  $10 per person or free to Gold Pass holders.  More:  http://www.CharlestonCountyParks.com.
If you have an event to list on our calendar, please send it to editor@charlestoncurrents.com for consideration.  The calendar is updated weekly on Mondays.