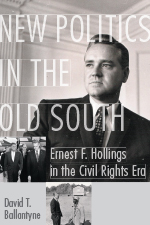 Staff reports  |  The University of South Carolina Press has published a new scholarly work about the early career of Isle of Palms resident Fritz Hollings, a former governor (1959-63) and longtime U.S. senator (1966-2005).
The book, "New Politics in the Old South: Ernest F. Hollings in the Civil Rights Era," focuses on Hollings' early life and his public service from his return from World War II as an infantry officer to serving in the Senate during the Watergate era in 1974.
The 208-page book ($34.99) is a revision of a doctoral dissertation by British scholar David T. Ballantyne, a lecturer in American History at Keele University in the United Kingdom.
According to USC Press, "New Politics in the Old South is the first scholarly biography of Ernest F. "Fritz" Hollings, a key figure in South Carolina and national political developments in the second half of the twentieth century. Throughout his career Hollings was renowned for his willingness to voice unpleasant truths, as when he called for the peaceful acceptance of racial desegregation at Clemson University in 1963 and acknowledged the existence of widespread poverty and malnutrition in South Carolina in 1969. David T. Ballantyne uses Hollings's career as a lens for examining the upheaval in Southern politics and society after World War II."
In other Good News:
Free park admission.  Charleston County Parks will offer free admission March 5 to allow people to explore each of its 12 parks, including the new archery range at Johns Island County Park.  Learn more about Customer Appreciation Day.
Closed for repairs.  The Avery Research Center for African American History and Culture is closed until Oct. 15 for renovations to replace heating, ventilation and air conditioning systems and enhance archival storage conditions.  While the center's closing for the next eight months might not be good news to researchers, it is good news in that it will help history be preserved.