Staff reports  |  SK8 Charleston, a concrete skate park to be operated by Charleston County Park and Recreation Commission, will have grand opening events March 4 and 11 at its peninsular Charleston location, 1549 Oceanic Street, which overlooks the Ashley River.
"The Charleston County Park and Recreation Commission has always looked to provide world-class facilities for the public we serve," said CCPRC Executive Director Tom O'Rourke. "SK8 Charleston is the next in a long line of great facilities."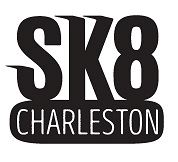 "The Charleston County area has been waiting a long time for the opportunity to enjoy a facility like this. We are all as excited about the opening of this park as any facility we have opened."
The 25-acre park features more than 32,500 square feet of skate-able terrain, including a 200-foot-long snake run. A 315-foot-long street course  and an 11.5-foot-deep pro bowl,  park officials said.  The facility also will feature a building with a large viewing deck, a small skate shop, restrooms, seating, and food and drink concessions.
Grand opening events will include giveaways, tricks and skateboarding demonstrations as well as live music from local and regional punk, ska and indie rock bands performing beginning at 1 p.m. Bands include Dragged Under, Colorworld, Black Power Mixtape, Another Man's Trash, Sex Wax, Voorhees, Dumb Doctors, and McRad on March 4, and Anergy, Glass Lashes, The Prevalent, The Lungs, Hale Bopp Astronauts, Hearts on Fire and Lewis Turn Out on March 11.
An admission fee will be charged for spectators and participants. General admission to the skate park will be $3 for participants, and $1 for spectators. Gold Pass holders and kids 2 and under may spectate free of charge. An annual skate park pass can be purchased for $40.
SK8 Charleston's hours of operation will be 2-10 p.m. Monday through Friday, and 10 a.m. – 10 p.m. Saturday and Sunday. Skateboarding and in-line skating will be the only activities allowed every Wednesday through Monday, with each Tuesday designated as a BMX biking-only day.