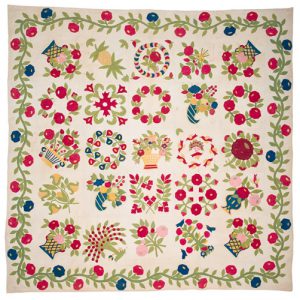 Staff reports  |  Starting in mid-March, the Charleston Museum's Textile Gallery will present a unique display of themed historic quilts from its extensive quilt collection. The first installment of this exhibition will consist of quilts with botanical designs, the other with geometric motifs.
On display from March 16 until August 2017, will be Piece by Piece: Quilts Inspired by Nature, consisting of beautiful handworked quilts from the early 19th century to the late 20th century in which the makers expressed their appreciation of the natural world through the intricate botanical designs adorned on these pieces. From elegant chintz masterworks and traditional appliqué florals to stunning whitework examples, these quilts demonstrate a love of nature and skill with a needle that helps tell an important story of women in the Lowcountry.
In other area events:
Charleston Wine + Food Festival:  March 1 to March 5, throughout town.  Check out what's new in the 12th year of the popular food festival.
Love, Sex & the IRS:  March 3 to 19, Footlight Players Theatre, 20 Queen St., Charleston.  The Footlight Players offer this farcical romp just in time for tax time.  A cross between "I Love Lucy" and "Some Like It Hot,"  the play is set in New York City in 1978.   There will be 10 shows, including three matinees, over several days.  Tickets are $30 for adults, $20 for students.  More:  http://www.FootlightPlayers.net.
Speth, George to talk conservation:  2 p.m. to 4 p.m., March 4, Main Library, Calhoun Street.  Speaking will be Gus Speth, former dean of the Yale University School of Forestry and Environmental Management and co-founder of the Natural Resources Defense Council, and Albert George III, first director of conservation of the S.C. Aquarium and co-founder of the Amazon Reforestation Project.  Proceeds for sales of Orangeburg native Speth's "Angels by the River" will support Charleston Friends of the Library.
Run with the Wild Things:  8:30 a.m., March 4, Caw Caw Interpretive Center, Ravenel.  "Where the Wild Things Run" is a 5K run/walk that allows nature lovers and sportsmen/women to run through nature trails at the 654-acre county-run site.  Food and beverages will be available after the run.  Also available – kids' yoga and readings of Maurice Sendak's classic "Where the Wild Things Are."  Race cost:  $22 to $38.  Register and learn more at:  http://www.CharlestonCountyParks.com/WTWTR
Ain't Misbehavin': 10 shows through March 5, Midtown Theatre @Duvall Center, 2816 Azalea Drive, North Charleston.  This popular jazz musical review that won lots of awards will have nighttime and matinee shows and feature classic jazz hits.  Tickets are $35 for adults; $25 for students.  Times and more.
Peter and the Starcatcher:  Through March 5, Dock Street Theatre, 135 Church St., Charleston.  Charleston Stage is offering this collaboration of writers Dave Barry and Ridley Pearson that mixes humor and suspense with the Peter Pan story.  Several shows.  Learn more.
Oyster roast fundraiser:  2 p.m. to 5 p.m., March 5, Bowens Island, 1870 Bowens Island Road.  Friends of the Lowcountry Senior Center will hold an oyster roast fundraiser  with live music by the Sweetgrass Band.  Tickets are $30 in advance for adults, $40 at the door.  More info: 843.990.5555.
(NEW) See new library plans: 7 p.m., March 6, James Island Elementary School cafeteria, 1872 Grimball Road, James Island.  Local residents who want to get a look at the design for a new 20,000 square foot library on James Island can attend this community meeting to learn of progress in building the new library.
Walk for Water: 9 a.m., March 25, Brittlebank Park, Charleston.  Water Missions International will hold its 11th annual water event to educate folks about the effort that more than a billion people go through to get water.  The walk through the streets of Charleston costs $20 for adults, but is free for kids up to age 15. To learn more about this fun event, go to:  CharlestonWalk.org.
Lawrence exhibit:  Through April 30, Gibbes Museum of Art, 135 Meeting St., Charleston.  The museum will offer a comprehensive overview of influential American artist Jacob Lawrence featuring prints made from 1663 to 2000.  His prints explore African-American culture and experiences and highlight themes of history, labor and life.  More:  GibbesMuseum.org.  NOTE:  See our 2010 story on Lawrence.
Early morning bird walks at Caw Caw:  8:30 a.m. every Wednesday and Saturday, Caw Caw Interpretive Center, Ravenel.  You can learn about habitats and birds, butterflies and other organisms in this two-hour session.  Registration not required, but participants are to be 15 and up.  $10 per person or free to Gold Pass holders.  More:  http://www.CharlestonCountyParks.com.
Yoga and walk:  9:30 a.m. every Monday and Thursday, at two locations:  McLeod Plantation on James Island and Caw Caw Interpretive Center in Ravenel.  Charleston County Parks offers a walk and restorative yoga led by professionals in natural settings.  $10 per session with reduced rates for card holders.  Age 16 and up.  More:  http://www.CharlestonCountyParks.com.
If you have an event to list on our calendar, please send it to editor@charlestoncurrents.com for consideration.  The calendar is updated weekly on Mondays.