S.C. Encyclopedia  |  Born in Cape May, New Jersey, on August 17, 1922, and raised in Greenwich, Connecticut, Frederick Baily Dent is the son of Magruder Dent and Edith Baily. He married the late Mildred Carrington Harrison on March 11, 1944, and they have five children. Dent attended St. Paul's Episcopalian preparatory school in Concord, New Hampshire, and then earned a bachelor of arts degree in political institutions from Yale University in 1943. He served in the U.S. Navy until 1946, spending time in the Pacific during World War II, then remained in the U.S. Naval Reserves until 1957.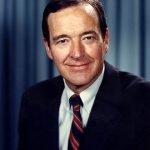 In 1946 Dent joined the textile sales firm Joshua L. Baily & Company of New York, which was founded by his great-grandfather. He moved south, to Spartanburg, in 1947 to learn the manufacturing end of the business and wound up staying at Mayfair Mills in Arcadia, becoming president in 1958. Under his leadership the company expanded from two mills to six—five in South Carolina and one in Georgia—producing goods for the apparel and household industries.
Dent merged his interest in government with his career in industry through his significant involvement on state, national, and international levels. He was president of the South Carolina Textile Manufacturers Association in 1960 and president of the American Textile Manufacturers Institute (ATMI) in 1968, and he earned membership in the prestigious Business Council, made up of leaders in American industry. In addition, he served as chairman of the Spartanburg County Industrial Commission from 1960 to 1965, then served as chairman of its successor, the Spartanburg County Planning and Development Commission, from 1965 to 1972. During his chairmanship the local textile industry received $600 million in government funds. In the 1960s, with the backing of South Carolina senator Strom Thurmond, he traveled overseas, negotiating trade agreements to limit textile exports to the United States.
Dent's involvement in ATMI, as a member of the Commission on an All-Volunteer Army, and as a supporter of President Richard Nixon during his second presidential election gained him the recognition of the Nixon administration. In 1973 Dent was confirmed as Nixon's third secretary of commerce. Dent continued to serve under President Gerald Ford until 1975, when he was named a special representative for trade negotiations with the rank of ambassador in Ford's cabinet. Through his work in Washington, Dent is credited with introducing an energy conservation program for industry, organizing the National Energy Conservation Council, and establishing private-sector trade and economic councils in the Soviet Union and China.
In 1977 Dent returned to Mayfair Mills, where his son Frederick B. "Rick" Dent, Jr., had joined the company. In 1988 Dent was named chairman of the board, with Rick Dent assuming responsibilities as president and CEO. In 2001 the company filed Chapter 11 bankruptcy and closed its plants. However, Dent remained active in the community through the Arts Partnership of Greater Spartanburg, Spartanburg Day School, Spartanburg Technical College, and the Brevard (North Carolina) Music Center.
— Excerpted from an entry by Tanya Bordeaux Hamm.  This entry hasn't been updated since 2006.  To read more about this or 2,000 other entries about South Carolina, check out The South Carolina Encyclopedia, published in 2006 by USC Press. (Information used by permission.)