By Andy Brack, editor and publisher  |  South Carolina's new governor, Henry McMaster, has boatloads of political and governmental experience.  But that doesn't mean he can't learn a little, especially from people who have occupied the same seat that he took over this week.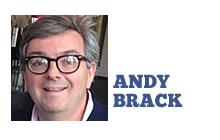 From predecessor Nikki Haley, sworn in this week as America's ambassador to the United Nations, McMaster can learn the lesson of being seen when it matters.  Haley might want people to remember her for being a governor of job creation, but that was an obvious priority at the tail end of a recession.  It might be better for McMaster to look at how Haley dealt with various crises – a hurricane, floods, shootings – during her six-year tenure and realize that part of effective leadership is taking charge in a crisis and being seen a lot by people to illustrate things are under control.
From her predecessor, Mark Sanford, McMaster might learn more of what not to do as governor.  Sanford had a "my way or the highway" attitude in dealing with the legislature, which often pitted him against lawmakers of his own party.  The takeaway from this relationship for McMaster should be to listen more.
Former Gov. Jim Hodges used innovative thinking and political muscle to get approval of his big-ticket agenda item – an education lottery.  It has wildly exceeded expectations, opening the doors of college to tens of thousands of South Carolinians like never before.  From Hodges, McMaster can learn to think outside of the box.
The four-year term of Gov. David Beasley offers the lesson of courage for McMaster.  As governor, Beasley, a Republican, sought to remove the Confederate flag from the top of the Statehouse dome.  He also opposed unregulated video poker, incurring the political wrath of the gambling lobby, which poured millions into Hodges' campaign.  While Beasley lost his 1998 reelection bid, the flag eventually came down and video poker went away.  Beasley later won the coveted John F. Kennedy Profile in Courage Award for standing up to institutional forces and doing the right thing.
The leadership style of the late Gov. Carroll Campbell, a Republican who led the state for eight years with a Democratic legislature, offers lessons for McMaster.  Many might remember Campbell for his focus on getting government to work more like a business or for pushing restructuring after Operation Lost Trust cracked the old way of doing business at the Statehouse.  But as former Campbell top staffer Bob McAlister recalled this week, "In these times of incredible political turmoil where people are spitting vitriol and acid out of their mouths, the modern interpretation of Carroll Campbell is how to get things done with people with whom you don't agree philosophically."  (This is a lesson that might have served Sanford and Haley, too, in their dealings with state lawmakers.)
Dick Riley of Greenville will forever be remembered as South Carolina's education governor.  Riley, who later served as U.S. secretary of education under President Bill Clinton, continuously pushed South Carolina to do more to educate her children during his two terms as governor.  Even today through the Riley Institute at Furman University, Riley beats the drum of bettering education to improve opportunities for the state's residents.  Recent governors haven't had strong education records.  McMaster would be wise to pick up the drumsticks and push for full funding of K-12 education as well as more early kindergarten opportunities.
Finally there's former Gov. Fritz Hollings, challenged in 1986 for his U.S. Senate seat by a young McMaster in his first political bid.  While Hollings prevailed, McMaster can look back to Hollings' days as governor (1959-63) and find inspiration related to innovation (technical education and economic development) and focusing on moving the state forward.
In his first days of office, it's clear that Gov. Henry McMaster already has his eyes on the election of 2018 for which he is the obvious frontrunner thanks to the power of incumbency.  For much of his life, he's wanted to be governor.  Now he is. So now let's see what McMaster's got and, hopefully, use it to make South Carolina's future even brighter.