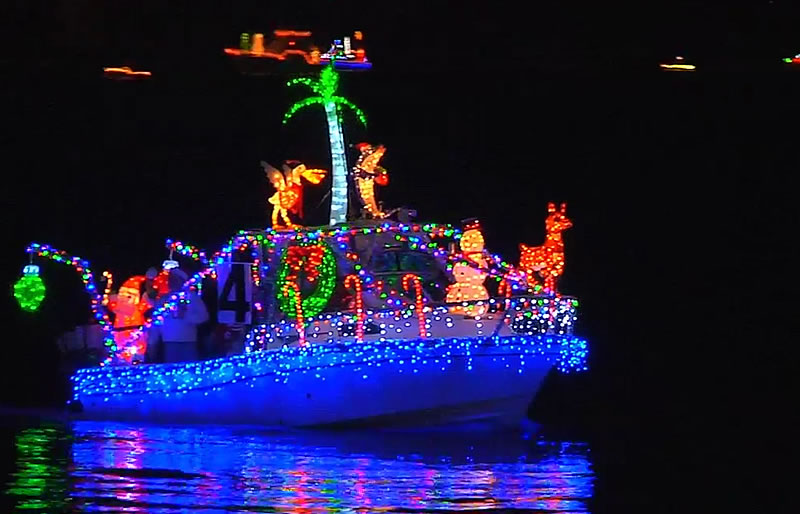 Staff reports  |  It's only a few days until one of the most unique and fun parties of the year – the Rotary Club of Charleston's annual Light Up the Night Parade Party.  It will be held Saturday, Dec. 10, at the Charleston Maritime Center where festive attendees have a front row view for the 2016 Charleston Parade of Boats.
In fact, the party is a two-fer.  Not only can you enjoy great food and drinks with hundreds of holiday-goers for an affordable price, but you can buy a chance to win a brand new 18-foot Commander Sea Fox boat being raffled by the club.  Cost?  $100 per ticket (and tickets are limited!)
Club President Alissa Lietzow explains that the funds raised by the club will go to its charitable foundation, which provides grants for several local nonprofit organizations.
"The Rotary Club of Charleston Foundation funds club projects both locally and internationally – from Operation Warm which provides coats and gloves to students at our partner elementary school to the installation of sanitation and clean water systems in Peru through Water Missions International," she said.  "The Rotary Club of Charleston, through such fundraising support efforts as this Holiday Parade of Boats, has supported nearly 50 organizations."
About the party

The Holiday Parade of Boats Light Up the Night Parade Party starts at 5 p.m. Dec. 10 and continues until 8 p.m.  It's held at the Charleston Maritime Center, 10 Wharfside St., Charleston.  It will offer barbecue by Sticky Fingers, live music and a cash bar.  For sponsors and VIP friends, there will be a special Ho Ho Ho Hospitality Room with more food and fun.
The annual holiday party is offered by the club in coordination with the City of Charleston's Office of Cultural Affairs. The boat parade is being conducted by the Charleston Sail and Power Squadron.
About the boat raffle
For a $100 ticket, you get a chance to win a 186 Commander boat by Sea Fox that includes a Magic Tilt Trailer, Infinity Stereo, Garmin 54DV, Bimini Top, Bow Cushion Package and Safety Kit.  The drawing will be held during the viewing party.  You do not need to be present to win.
Proceeds will benefit local charities through the club's foundation. Every year, dozens of local organizations apply for funding for non-operating grants to pay for short-term projects or one-time needs. Through the boat contest and Light Up the Night Parade Party, club leaders say they want to build the foundation's funding so more groups can get help every year.
"In the past, for example, the foundation has given money to help Water Missions International with machines to clean water across the world," Lietzow added.  "It has provided education grants to Junior Achievement for an economics program and to YESCarolina for books. It has funded bulletproof vests for crisis chaplains. Over the years, more than 45 organizations have benefited."