By Doug Holmes, contributing editor  |  Things are just going so well in Charleston right now.  We are so blessed to live in such a wonderful city.  We just got voted #1 City in the World by Travel and Leisure magazine!!  For the 2nd time!!  Boeing, Volvo, Silicon Harbor, lots of sports teams, shopping, restaurants, etc, etc.  You really need to check out Lewis Barbecue downtown on Nassau and see what's happening to that section of town.  Amazing!!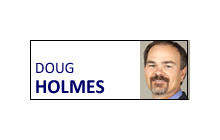 So all of this, of course, is making lots of people want to move here.  Our real estate market is doing quite well.  This will probably be the second-busiest year ever in Charleston history with over 16,000 transactions.  We're up 10.5 percent in terms of transactions year to date over 2015.  Median sales price is up 5 percent year to date over 2015 and stands at a record high of $243,000.  That's still just a little below where we ought to be based upon a regression trend line dating back to 1991.  We've made up a lot of the ground that we lost during the recession and are almost back to where we ought to be — but not quite, so there's still room for more appreciation.
Lots of people ask me if this is another bubble like 2006.  I don't think so.  Credit is so much tighter now.  It's a lot of work to get through the loan process these days.  But that's a good thing.  And prices are not out of control when they're only going up 4 percent to 5 percent each year.  The National Association of Realtors says that the national average over the entire time they've been keeping records is 4 percent.  So things seem quite sustainable.