Charleston Currents  |  Nov. 9, 2015  |  Number 8.02
 GUARD DOG:  During daytime, this pooch probably doesn't ward away lots of folks from Ansonborough house on Laurens Street, but he could look menacing on a dark and stormy night.  Hats off to eagle eye contributing photographer Michael Kaynard for spotting the dog sculpture.
IN THIS ISSUE
PHOTO:  Guard dog
FOCUS, Doug Holmes:  Real estate prices rising in sellers' market
BRACK:  #JohnNotLeon
IN THE SPOTLIGHT:  Kaynard Photography
PALMETTO POEM, Samuel Henry Dickson:  "Written at the North"
GOOD NEWS:  From a bikeway study to a new community garden
FEEDBACK:  Remembering loved pets
CALENDAR, Nov. 9+: Food to festivals to books
REVIEW:   Deep South, by Paul Theroux
MYSTERY:  Substantial building, but where?
S.C. ENCYCLOPEDIA:  Allendale, S.C.
TODAY'S FOCUS
Real estate prices rising in sellers' market
By Doug Holmes, contributing editor
NOV. 9, 2015  |  Charleston real estate has recovered nicely from the torture of 2008-2011.  Back then, the country was in recession and a lot of it was due to the real estate crisis caused by banks giving money away too freely.  It became very difficult to sell homes and buyers had it all their way.  We were mired in a buyer's market of unprecedented proportions.  It's interesting to compare months of inventory for that market to months of inventory for the market today.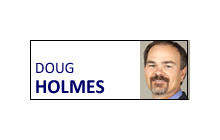 Months of Inventory (MOI) is the number of months it takes to sell off all of your current inventory based on the recent sales pace.   This is true for any retail business.  In real estate, it is fairly well known that the golden rule for a healthy, balanced market that doesn't favor either the buyer or seller is 6 MOI.  More than 6 MOI indicates a buyers' market with too much supply and not enough demand.  Less than 6 MOI indicates a sellers' market with too much demand and not enough supply.
In the 2004 to 2007 period, we were deeply in a sellers' market with less than 3 MOI.   When this happens, supply is low and demand is high and that causes prices to rise.  Prices rose sharply and that ultimately caused supply to increase and demand  decreased and we slipped into a buyers' market in 2008.  MOI quickly rose to 9 months and gradually got worse through the recession and the housing crisis.  Eventually, in 2011 we saw 18 MOI and prices had fallen significantly.  We were deep into the buyers' market and sellers had a very difficult time selling their homes.
Now that the recession has ended and the government has helped supply us with ridiculously low interest rates, the buyers are gobbling up homes at an incredible pace.  The huge increase in demand has reduced supply and we are back into a sellers' market with about 4 MOI.  Some areas have less than 2 MOI.  With this, of course, comes an increase in prices.  Our median price of $235,000 in Charleston is much higher than it was at the peak in 2007 of $210,000.
This scares some and they wonder if we are in another bubble about to burst.  Only time will tell.  However, one big difference now is the difficulty at obtaining mortgage money.  It was "oh so easy" back in 2004 to 2007.  It's pretty difficult now.  Most of us in the real estate business hope that will  keep us from having another major correction.
Doug Holmes is a local Realtor with Keller Williams. He also provides markets analysis for a fee to several hundred local real estate agents. He has a bachelor's degree in physics and math from the College of Charleston as well as a master's degree in math from the college, where he still teaches a couple of statistics classes in the fall. Visit his website here: www.CharlestonHolmes.com
COMMENTARY
#JohnNotLeon in Nov. 17 runoff
By Andy Brack, editor and publisher
NOV. 9, 2015  |  After all of Leon Stavrinakis's whining about negative campaigning in the race to replace Charleston Mayor Joe Riley, you might have been surprised that the first thing out of his mouth after the polls closed was an attack.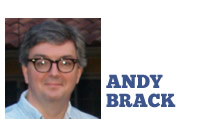 Stavrinakis, who has been a frontrunner for so long that he was obviously stunned that he came in a close second to commercial real estate agent John Tecklenburg on November 3, criticized the lead vote-getter as a "developer" in comments to the press.
That's kind of an amazing attempt at a spin, obviously inspired by stunned consultants for a campaign that is off track.  Remember it is Stavrinakis who one columnist dubbed as the "developer's choice" for accepting legal campaign contributions worth tens of thousands of dollars from developers.  And now he's propping up his second-place finish by trying to tar Tecklenburg, who has opposed efforts to get rid of the city's Board of Architectural Review — not exactly a pro-developer position.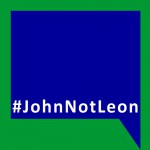 Yes, it's true Tecklenburg once served as the city's director of economic development during part of the Riley administration.  His success led to the revitalization of upper King Street.  But that doesn't make him a developer in the classic sense.  He was on the city's payroll, not his own.  And today, his occupation  is to find 21st century uses for old buildings and to sell properties, not make a bunch of money by turning raw land into shiny, expensive homes or buildings.  He's a real estate agent, not a developer.
Some observations based on the results:
Precincts.  While Tecklenburg got 270 more overall votes out of 25,000 cast, Stavrinakis won the most votes in 43 precincts, compared to 42 by Tecklenburg.  They tied in one.  William Dudley Gregorie won two precincts; Ginny Deerin, who came in third overall with more than 4,300 votes,  captured most votes in one precinct.
Geography.  Tecklenburg, who now lives in West Ashley, won all six precincts on Daniel Island, where he once had a general store.  He nabbed 18 of 20 precincts in on the peninsula.  And he narrowly won James Island, carrying 12 of 21 precincts.  Stavrinakis, who also lives in West Ashley, dominated that area by garnering the most votes in 31 of its 36 precincts.

Impact of the House district.  Stavrinakis tended to win precincts in which he has run successfully in the past for state representative — in places where people are used to voting for him.   Meanwhile, Tecklenburg carried only three of the 12 West Ashley precincts that also are in Stavrinakis's House district. Tecklenburg won four of the five James Island precincts represented in the House by Stavrinakis, although those generally had few votes
Between now and the Nov. 17 runoff, look for the warring campaigns try to secure support from voters of the four candidates who lost, especially in the battlegrounds of the peninsula and West Ashley:
Endorsements.  Tecklenburg won the battle of the print endorsements, racking up support from The Post and Courier, Charleston Mercury and Charleston Currents.  Additionally, he picked up Deerin's important endorsement, which should motivate her supporters to get to the polls, rather than be frustrated and stay home.  Both candidates will try to round up personal endorsements, particularly in areas where they're comparatively weak — West Ashley for Tecklenburg and downtown for Stavrinakis.
Style.  Tecklenburg, known for a calm temperament, didn't face the animosity that grew between the Stavrinakis and Deerin camps during the general campaign.  But now, Stavrinakis likely will turn his guns on Tecklenburg.  But that could backfire — especially since he complained so much about how a Deerin ad linked him to developers.  If Stavrinakis is only positive, he may not get the fuel he needs to attract new support.  If he goes more negative, he may be seen as a hypocrite.
Other runoffs.  Because Tecklenburg dominated the peninsula and Daniel Island, he should benefit from more turnout expected in precincts in those areas for city council candidates.
At this point with runoffs in Tecklenburg-friendly precincts and broad endorsements, Tecklenburg has the edge in the runoff.  We continue to believe John Tecklenburg is the right choice for Charleston.  To learn why, read our endorsement.
Andy Brack is editor and publisher of Charleston Currents and Statehouse Report.  You can reach him at:  editor@charlestoncurrents.com
IN THE SPOTLIGHT
Kaynard Photography
The public spiritedness of our underwriters allows us to bring Charleston Currents to you at no cost. Today we shine our spotlight on Kaynard Photography, a business run by contributing photographer Michael Kaynard of West Ashley.  Kaynard Photography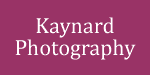 grew from Michael's love of walking the streets of the Charleston's historic district. It developed into a passion for capturing everything Charleston through a camera lens. Kaynard can be seen walking the streets of Charleston many days from dawn to darkness. He calls his work "At Street Level." His photos are available for viewing and sale at kaynardphotography.com.
Now headquartered at 114 East Bay Street in the W. Hampton Brand Gallery across from Rainbow Row in the Charleston Historic District.
PALMETTO POEM
Written at the North
By Samuel Henry Dickson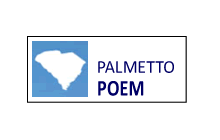 I sigh for the land of the Cypress and Pine,
Where the Jessamine blooms, and the gay Woodbine;
Where the moss droops low from the green Oak tree,
Oh! that sunbright land is the land for me.
The snowy flower of the Orange there,
Sheds its sweet fragrance through the air—
And the Indian rose delights to 'twine
Its branches with the laughing vine.
There the Humming-bird of rainbow plume,
Hangs over the scarlet creeper's bloom,
While midst the leaves his varying dies,
Sparkle like half-seen fairy eyes.
There the deer leaps light through the open glade,
Or hides him far in the forest shade,
When the woods resound in the dewy morn,
With the clang of the merry hunter's horn.
There the echoes ring through the livelong day,
With the Mockbird's changeful roundelay,
And at night when the scene is calm and still,
With the moan of the plaintive Whip-poor-Will.
Oh! I sigh for the land of the Cypress and Pine,
Of the Laurel, the Rose, and the gay Woodbine;
Where the long grey moss decks the rugged Oak tree,
That sunbright land is the land for me.
Dr. Samuel Henry Dickson (1798-1872) was an American poet, doctor, writer and educator born in Charleston.  A founder of the Medical College of South Carolina, he and his brother, Dr. John Dickson, played a major role in the medical education of the first woman doctor in the United States, Elizabeth Blackwell.  More info.
GOOD NEWS
Study outlines how bike lanes could occur on James Island Expressway
A draft study for the City of Charleston outlines how the James Island Connector could be modified to include bike lanes to allow bicyclists to cross the Ashley River safely.  Over the last few years, there has been much controversy about turning a lane of U.S. Highway 17 over the Ashley into a bike lane.  The new study suggests an alternative, which would cost about $3.6 million to implement.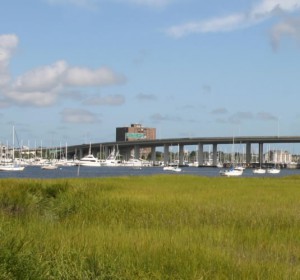 "The conceptual design plan considered a six-foot bicycle lane and a reduction of the inside shoulder to four feet in width. A striped buffer area will be provided where possible, which varies between two parallel white lines and a wider area with chevron markings. This buffer area will provide more recovery space for vehicles and bicycles without making the bike lane appear so wide that it might be mistaken for another travel lane. It should be noted that for the majority of the James Island Connector, the six-foot bicycle lane and adjacent buffer area will provide adequate room for a vehicle to pull over in an emergency."
The study also recommended that the speed on the expressway should be reduced to 45 mph, as well as addition of railings, better lighting, pavement marking and better signs.  Public comments, which are open on the study until Dec. 2, 2015, can be sent here.
Also in Good News:
Sculpture dedication.  U.S. Deputy Secretary for Veteran Affairs Sloan Gibson will make a keynote address 10 a.m. Nov. 10 at the Ralph H. Johnson VA Medical Center as part of a sculpture dedication ceremony.  A sculpture donated by Dr. Edward Byrd is of a young fallen Marine, Dennis Lobbezoo, who was killed in the Vietnam War.  Byrd, who served as a medical officer on a hospital ship during the war, treated Lobbezoo, who is said to have left a lasting impression on him. A reception will follow the dedication.
Flourish Lowcountry.  The Lowcountry Open Land Trust will offer a half-day brainstorming session and celebration on Nov. 11 to develop new ways of thinking about the business of conservation in the Lowcountry.  Following a panel discussion involving 12 people, there will be a party featuring local food and drinks.  The event will start at 1:30 pm. Nov 11 and will be at Founder's Hall at Charles Towne Landing park in West Ashley.  Cost is $75.  More info.
New community garden.  The Charleston Parks Conservancy has launched its third community garden to allow neighbors to grow their own crops.  The new garden on James Island is the Medway Park and Community Garden, 2101 Medway Road in the Riverland Terrace section of James Island.
"We have seen the impact community gardens have had in other parts of town and we know the James Island community will benefit from having a public space to learn best practices for gardening in the Lowcountry," said Jim Martin, programs director at the Conservancy. "We know the addition of a community garden will give more people the opportunity to experience not only the health benefits but the personal satisfaction of the park-to-table concept."
Holiday food drive.  Magnolia Plantation and Gardens offers special discounts off admissions to the garden and nature train ride for people who bring one or more non-perishable healthy food items in November and December.  The attraction is collecting food until Dec. 31 to benefit the Lowcountry Food Bank.  Over the past four years, it has collected more than 10 tons of food during the holidays.
FEEDBACK
Animals are loving, loyal, resilient, forgiving
To the editor:
Just wanted to send a quick note to say how much I enjoyed reading your article and please accept my condolences for your loss of your family pet and friend.
Everything you wrote I have found to be true, and because my long-time girlfriend runs a rescue agency, I have blessed over the years with lots of friendships with lots of dogs.  Oftentimes, I see them in the worst conditions imaginable and it never ceases to amaze me how loving, loyal, resilient and, most importantly, forgiving, animals can be.
You are right that we have a lot to learn from them. Thanks for writing that article.  I wish you and your family healed hearts and hope that your daughters can find solace in the fact that you provided Simon with a life well lived.
– Bryan Cordell, Charleston, S.C.
A note from the editor
Many thanks to the many readers like Bryan who sent kind notes about the death of our family dog, Simon, who we wrote about in the last issue ["If you want a friend, get a dog"].
Our family appreciates all of the emails and comments from more than 100 people on Facebook.  We still miss him, but your kind words and thoughts help.
– Andy Brack
Send us a letter. We love hearing from our readers and encourage you to share your opinions. Letters to the editor are published weekly. We reserve the right to edit for length and clarity. We generally publish all comments about South Carolina politics or policy issues, unless they are libelous or unnecessarily inflammatory. One submission is allowed per month. Submission of a comment grants permission to us to reprint. Comments are limited to 250 words or less. Please include your name and contact information.
CALENDAR
From food to festivals to books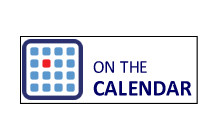 (NEW) Food Film Fest Charleston:  Nov. 12-13, Cedar Room, 701 East Bay Street, Charleston.  While the world premiere of Anthony Bourdain's "Parts Unknown — Charleston" on Nov. 11 is sold out, there are two other events still open — a "Cheers to Local Beers" on the 12th and the "Food Porn Party: Charleston" on the 13th.  Could be fun.  Check it out here.
(NEW) Holiday Festival of Lights:  Nov. 13 through Jan. 3, 2016, James Island County Park.  The annual light festival with millions of lights and lots of family fun opens for a seven-week run.  Lots of information is online here.
(NEW) Charleston Recycles:  9 a.m. to noon, Nov. 14, J.C. Penney's parking lot, Citadel Square Mall, West Ashley.  Charleston County's Environmental Management Department will celebrate America Recycles Day by hosting a Community Collection Day to let people drop off unwanted items not collected through curbside recycling.  These items range from paint, oil and household chemicals to electronic waste like computers.  More information.
(NEW) Park workshop: 6 p.m., Nov. 19, Laing Middle School cafeteria, 2705 Bulrush Basket Lane, Mount Pleasant.  Officials will hold a workshop to get input on the future development of a 245-acre park on Rifle Range Road in Mount Pleasant.  For more information, contact Julie Hensley.
(NEW) That Holiday Book Sale: Dec. 4-6, Charleston County Main Library, 68 Calhoun St., Charleston.  The Friends of the Library will offer a great book sale just in time for the holidays where you can pick up affordable books, CDs and more.  For times and other information, click here.
Miracle on 34th Street:  Dec. 4-20, Footlight Players Theatre, 20 Queen St., Charleston.  The Footlight Players will perform the beloved holiday classic based on the 1947 Oscar-winning film.  Shows are at 8 p.m. Dec. 4-5, Dec. 11-12 and Dec. 17-19 and at 3 p.m. Dec. 6, Dec. 13 and Dec. 20. Tickets are $35 for adults; $32 for seniors/military, $25 for students and $15 for children. More:  footlightplayers.net.
Bird walks: 8:30 a.m. to noon, every Wednesday and Saturday. This is the time of year that a great variety of migrating birds fly through the Lowcountry so what better time to take part in one of the regular early morning bird walks at Caw Caw Interpretive Center in Ravenel. Pre-registration is suggested. Cost is $5. Walks also are conducted on James Island and Folly Beach. Learn more online.
If you have an event to list on our calendar, please send it to editor@charlestoncurrents.com for consideration.  The calendar is updated weekly on Mondays.
REVIEW
Deep South
Nonfiction by Paul Theroux
Reviewed by Andy Brack  |  Noted travel writer and novelist Paul Theroux's new book about our region, Deep South, causes me to have very mixed reactions.  On more than one occasion, I wondered, "Where does this guy get off saying that?" And I grab the book and want to hurl it through the window. These fits particularly came after one of Theroux's elitist, degrading attempts at phonetically capturing the Southern accent.
But the book also shows he's a great storyteller who occasionally makes an interesting observation. "Well, that's a good point," I would think. "Don't get rid of it yet." And I kept reading.
For 50 years, Theroux, who is obviously not from around here, has traveled the corners of the earth — India, Zimbabwe, Kenya, Patagonia and China. But he realized he knew little about a lot of his own country, particularly the American South.
"I made it my habit to drive past the buoyant cities and obvious pleasures in favor of smaller places and huddled towns, to meet the submerged twenty percent," he wrote, explaining why he bypassed the prosperous South of Charleston and Hilton Head Island.
In doing so, he got an incomplete picture of today's South. He found cliché and decay. He found desolation, poverty, hopelessness and hunger in rural South Carolina, Alabama, Mississippi, Arkansas and elsewhere.  It's almost as if he found the South to be a highly-functioning alcoholic, but he only focused on the disease, not any of the good.
About a third of Deep South is about South Carolina and includes stories about the Orangeburg Massacre, Strom Thurmond, drunks at the Aiken Steeplechase and attending black church services. But Theroux's focus in the Palmetto State is on the desolation and desperation of Allendale. He fixates on how Indians run convenience stores and a motel.
Despite the book's narrowness, Theroux got a couple of things right. He found Southerners — from gun nuts to the poor — to be hospitable and kind. And he understood many poor areas are having a tough time economically because of how mechanization hurt family farms and how big American businesses shifted the only jobs left in rural areas to other counties.
If you must, read Deep South. But the 441-page book can be summarized simply: People in the rural South are good folks, but a lot of them are poor.  (Thanks. We know that.)
EDITOR'S NOTE: This is an excerpt of a longer review published last week in Statehouse Report.  To read the full review, click here.
MYSTERY PHOTO
Substantial building, but where?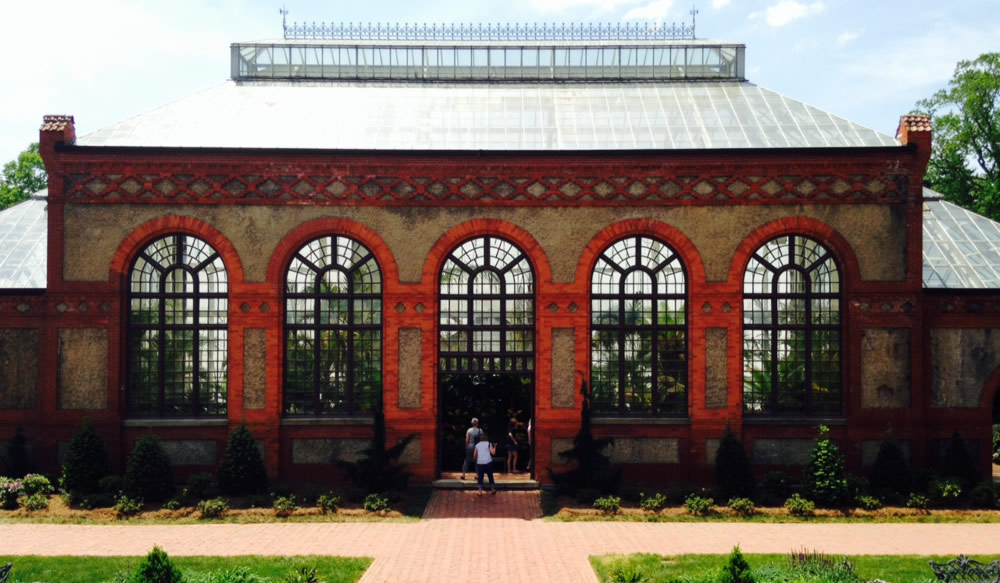 Our friend Deborah Getter of Johns Island sent along this photo of a beautiful building with bright red brick.  But where is it?  (Hint:  It could be in another Carolina.)  Send your guess to editor@charlestoncurrents.com— and be sure to but your name and town in which you live.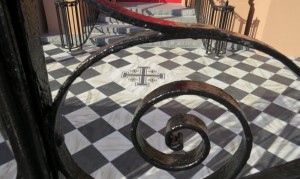 Meanwhile, go figure that The Rev. Dr. William B. Trexler would get the right answer for the last issue's Mystery Photo.  He wrote:  "Not fair:  I'm the pastor!"  The photo was of a cross in front of St. Matthew's Lutheran Church on King Street in Charleston!     (We thought the sliver of a red door in the picture was a good clue.)  Thanks also to others who correctly identified the photo:  Paul Wieters and Janelle Otherson, both of Charleston.
S.C. ENCYCLOPEDIA
Allendale County
S.C. Encyclopedia | Formed in 1919, Allendale is South Carolina's youngest county, yet it contains the oldest known human habitation in the state. Archaeological investigations in Allendale have found evidence of human settlement dating back more than sixteen thousand years. These prehistoric people used "Allendale Chert" in making stone tools.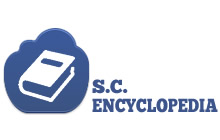 Europeans began arriving in the area in the 1750s, settling at Matthews Bluff on the Savannah River and Jackson's Branch, a tributary of the Salkehatchie. Other families settled along the headwaters of the Coosawhatchie and its tributaries. In 1759 they organized Coosawhatchie Church, which became Beech Branch Baptist Church. Cattle herding and farming were the mainstays of the pioneer economy.
During the Revolutionary War, armies marched up and down the Savannah River and partisan fighters conducted raids. The Pipe Creek Light Horse, a patriot cavalry force consisting of men from what came to be Allendale and Hampton Counties, established a camp at Matthews Bluff. In March 1779, patriots fleeing the disastrous Battle of Brier Creek in Georgia floated on logs or swam across the Savannah River; their commander, General John Ashe, took refuge at Matthews Bluff. In April 1781, the Battle of Wiggins Hill near Burtons Ferry ignited bloody conflict among neighbors.
After the Revolution, the area became more settled, with Baptists, Lutherans, and Methodists each establishing churches in the vicinity. Great Salkehatchie Baptist Church at Ulmer was organized in 1790. St. Nicholas Lutheran Church was founded around 1800. A log building housed Swallow Savannah Methodist Church around 1816. The buildings of Smyrna Baptist Church, organized 1827, and Antioch Christian Church, organized 1833, remained standing at the start of the twenty-first century.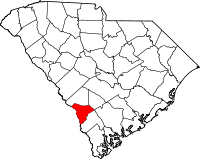 In the antebellum era, Allendale made up the southern third of Barnwell District. With the arrival of cotton and the cotton gin in the 1790s, landowners adopted the plantation system and slaves soon made up the majority of the population. Steamboats, pole boats, and cotton boxes plied the Savannah River during the era, and Allendale was the site of several boat landings. One steamboat line stopped at Matthews Bluff, while a competitor stopped at neighboring Cohens Bluff. Boats also stopped at Johnson's Landing and Little Hell.
During the Civil War, General William T. Sherman's army marched through Allendale County. Union troops spared the Erwinton Plantation house because it was being used as a hospital for malaria sufferers. Brigadier General Hugh Judson Kilpatrick set up headquarters for his Union cavalry at Roselawn. Confederates staged their strongest resistance against Sherman's march to Columbia at Rivers Bridge on the Salkehatchie; the resistance crumbled when Union troops crossed at Bufords Bridge and attacked the Confederates' right flank. In the post–Civil War era, the area continued to rely on an agricultural economy and an African American labor force. As late as 2000, African Americans made up almost seventy-five percent of the population.
Allendale County was formed in 1919 from parts of Barnwell and Hampton Counties because of the inconvenience of traveling to the courthouse in Barnwell or Hampton. The first courthouse was all but destroyed by fire in May 1998. Construction on a new courthouse incorporating the exterior shell of the old began in August 2002.
In the mid-twentieth century, the local economy benefited from travelers along U.S. Highways 301 and 321. Construction of the Savannah River Site, a nuclear weapons production plant, brought more economic opportunity to the area. Robert E. McNair practiced law in Allendale from 1948 until he became governor in 1965. The Salkehatchie Regional Campus of the University of South Carolina opened in Allendale in 1965. However, the opening of Interstate 95 deflated the tourism economy, the end of the cold war led to downsizing at the Savannah River Site, and an agricultural depression drove many farmers out of business. A handful of manufacturers, however, provided some light through the economic gloom, including Scotsman, Clariant, Mohawk, Collum's Lumber, International Apparel, Fairfax Dimension, and Corbett Plywood.
Allendale County entered the twentieth-first century facing a series of economic and social challenges. The county had the lowest per-capita income and the lowest median household income in South Carolina during the final two decades of the twentieth century. More than one third of the individuals and well over one fourth of the families lived in poverty. Half of the families had a female householder with no husband present. In the 1990s, twenty-six percent of births in the county were to teenage mothers. The county also had the highest infant mortality rate and the lowest percentage of high school graduates in the state. In 1999 the South Carolina Board of Education authorized the state to assume management of the Allendale County schools until goals for improvement were met.
– Excerpted from the entry by Daniel McDonald Johnson. To read more about this or 2,000 other entries about South Carolina, check out The South Carolina Encyclopedia by USC Press. (Information used by permission.)
About Charleston Currents
OUR UNDERWRITERS
Charleston Currents is an underwriter-supported weekly online journal of good news about the Charleston area and Lowcountry of South Carolina.
To learn more about how your organization or business can benefit, click here to contact us. Or give us a holler on the phone at: 843.670.3996.
OUR TEAM
Charleston Currents offers insightful community comment and good news on events each week. It cuts through the information clutter to offer the best of what's happening locally.
Mailing address: O. Box. 22261 | Charleston, SC 29413
Phone:  843.670.3996
Charleston Currents is provided to you twice a week by:
SUBSCRIBE FOR FREE
Subscriptions to Charleston Currents are free.
Unsubscribe.  We don't want to lose you as a reader of Charleston Currents, but if you must depart, please click here.
© 2008-2015, Statehouse Report, LLC. All rights reserved. Charleston Currents is published every Monday by Statehouse Report LLC, PO Box 22261, Charleston, SC 29413.