Charleston Currents  |  Nov. 30, 2015  |  Number 8.05

You can get a great view of the 34th annual Holiday Parade of Boats on Dec. 12 at a special viewing party hosted by the Rotary Club of Charleston, which also is raffling a $38,000 boat for $100 per ticket as its annual fundraiser.    This unique holiday event, produced by the City of Charleston and Charleston Sail and Power Squadron, attracts thousands to the Cooper and Ashley river waterfronts.  If you want to attend the club's family-friendly viewing party only, you get fun, music, food and a great time from 5 p.m. to 8 p.m. at the Charleston Maritime Center for just $25 in advance ($5 for kids).  Learn more about the party and raffle here.
SHARE THIS ISSUE
Request to readers:  How about giving your friends an early, free holiday gift by sharing this issue of Charleston Currents with them and encouraging them to subscribe for free.  Want to help more?  Share on Facebook and encourage them to like us!  Ho ho ho!
IN THIS ISSUE
PHOTO: Parade of Boats coming soon
FOCUS, Kristen French: Palmetto Scholars Academy, a success story
BRACK: Pandering to fear isn't American way
IN THE SPOTLIGHT: LaFond Law
MONEY, Kyra Morris: Have a financially-savvy holiday season
GOOD NEWS: Riley Waterfront Park, more
FEEDBACK: Send us your letters
CALENDAR, Nov. 30+: Revving it up for the holidays
MYSTERY: You might have seen this one
BROADUS: Big check for One80 Place
S.C. ENCYCLOPEDIA: Voorhees College
TODAY'S FOCUS
Palmetto Scholars Academy is an education success story
EDITOR'S NOTE:  Palmetto Scholars Academy is a charter school for gifted and talented students, generally attracting students in the tri-county area.  Currently housed on the old Navy Base in North Charleston, the campus will move in January to a new facility in Hunley Park on the Charleston Air Force Base. As outlined below, parents are seeking donations to help pay costs of furnishings and other items.
By Kristen L. French
NOV. 30, 2015  |  Palmetto Scholars Academy (PSA) was founded in 2009 with a mission to serve gifted students in the Lowcountry.  Many schools are not equipped to meet the different learning needs of gifted children.  This often leads to laziness, boredom, frustration, a loss of self-esteem and underachievement.  PSA has developed a liberal arts environment which provides academic and artistic challenges while also serving the social and emotional needs of gifted students.  PSA is open to all South Carolina students from 6th to 12th grades, resulting in a diverse student population that crosses economic and demographic lines.

Tolerance of each other's differences seems to come naturally to the PSA community.  The teachers and staff foster tolerance while maintaining a disciplined environment.  They encourage creativity and critical thinking in many formats rather than asking students to stick to a specific curriculum or teaching to a test.  In fact, testing in these classrooms is used as it was originally intended: to assess whether the teaching and learning goals of the curriculum have been met, not to judge and compare.
Many opportunities to stretch gifted children's artistic, athletic and mental muscles are offered in the classroom and in extracurricular activities.  The fine arts department offers chorus, drama, band, photography and art in a variety of media.  Scientific challenges come in the form of Vex Robotics, CyberPatriot, the Student Space Experimental Program and Mission Design, Odyssey of the Mind, Bar Camp and Trebuchet building in addition to many other opportunities.  Sports include basketball, volleyball, archer, and cross-country.  In addition, students at PSA are taught self-advocacy, time management, responsibility and respect.
In the first six years of PSA's history, the school has struggled to meet its facility and equipment needs.  During our first few formative years, PSA was actually the lowest funded public school in the country.  As a member of the SC Charter School District, PSA receives no funding for facility, equipment or transportation costs.  Despite these financial challenges, PSA students have proven that our model serves their needs, making PSA one of the highest-achieving schools in South Carolina. Students from our first graduating class (class of 2015) are now thriving in college.
PSA has thrived through this hardship due to the strong community developed between the school administration, the PSA Board of Directors and the Parent Community Association.  The PSA Board has provided strong direction and purpose and is nearing completion of a new building and campus for PSA, which will better serve the students and faculty for years to come.  In addition, the Parent Community Association (PCA) has consistently provided strong volunteerism, fundraising and other important support for PSA.  Now, as we prepare to move, all hands are on deck to raise funds for needed equipment in our new facility.
What students say about the school
"PSA is a school where people appreciate you."  — 6th grader
"PSA makes me want to be a better person."  — 6th grader
"I love PSA more than video games." — 7th grader
"Everyone knows everyone at PSA, and no one cares what you wear.  It's all about new ways to learn." — PSA student
"I love PSA! All my teachers are fun, make learning fun, and I love all my classes! I never want to change schools." — 6th grader
How you can help
PSA has begun a capital campaign to raise $1 million to purchase equipment for our new campus.  Science equipment, band instruments, computers, smart boards, a robotics lab, athletic equipment and fully-equipped computer labs and art studio are needed to provide our students with the well equipped facility they deserve.
All donations of any amount are greatly appreciated.  Donations to PSA are tax deductible as provided under section 501(c)(3) of the Internal Revenue code.
Kristen L. French, Ph.D., is a parent of a student at Palmetto Scholars Academy.
COMMENTARY
Pandering to fear is not the American way
By Andy Brack, editor and publisher  |  Recall Thanksgiving afternoon as you watched football and digested turkey after giving much thanks for your freedom, blessings and family.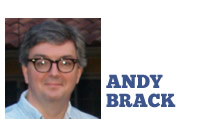 Imagine hearing the doorbell as you're dozing.  At the door is a young brown woman, heavy with child.  She's wearing a scarf on her head.  On the street, you see a beat-up car with a man inside.
The woman holds her belly. "Sir, my husband, Jose, and I have no place to stay tonight.  We're new to this country and haven't been able to find steady work.  We're cold.  We're hungry.  But we're not any trouble.  We're legal — we're refugees.  Can you help us tonight?"
You're perplexed, torn, conflicted.  What should you do?  Like most Americans, you're generous.  You're kind.  But this?  Somebody else should deal with it, right?  What do you know about these people, this woman who claims her name is Maria?
America, a nation made strong by immigrants, is once again confronting nasty, Joe McCarthy-like debates about immigration — about who should be in the country and who shouldn't.
Most Americans seem to forget that in just about everyone's background is an immigrant like Jose or Maria who turned up on these shores to start a better or different lif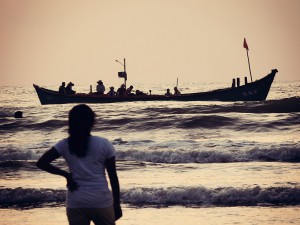 e, some as immigrants, some as slaves, and others as refugees from war and violence.  With each wave of new arrivals, some Americans were frightened at first, worried by the backgrounds, baggage and competition that the newcomers brought.  But over time, each new wave became part of the fabric of the nation, adding new strength to the diversity of people called Americans.
With just about every family's immigrant past, it's unsettling how quickly so many forget and fall into xenophobia, the fear or irrational dislike of foreigners.   Case in point:  Gov. Nikki Haley, a brown woman and daughter of Sikh immigrants who has joined 29 other governors — all but one Republican —  in saying Syrian refugees shouldn't be resettled in the Palmetto State.
Really, governor?  The overwhelming majority of refugees, all of whom go through extensive background checks, are women and children.  Where's your Christian charity?  Where's your leadership?  You could be a spokesman to highlight how America is the land of opportunity for all.  Instead, you conveniently join the crowd of pandering politicians and seem to forget how your family was welcomed into the United States.
Meanwhile, GOP presidential candidates turn up the heat with vitriol and rhetoric, inflaming feelings of fear.  Chief fearmonger is billionaire Donald Trump, who talks about maintaining databases of Muslims and making them wear identification, the same kind of labeling done in Nazi Germany to Jews, gays and Communists.
Ladies and gentlemen, this isn't the America in which I grew up.  We're better than the political nonsense that is fueling the airwaves and social media.  The Greatest Generation toiled and fought to preserve freedom for all, understanding what one president said:  "The only thing to fear is fear itself."
Washington Gov. Jay Inslee recently wrote that his state would continue to welcome refugees because it's part of what being American is:
"The American character is being tested. Will we hew to our long tradition of being a beacon of hope for those chased from their homelands?  I have always believed that the United States is a place of refuge for those escaping persecution, starvation or other horrors that thankfully most in America will never experience."
Since 2002, South Carolina has accepted 1,813 refugees from 30 countries, according to federal sources.  More than a third (680) were from Burma.  Iraq was the mother country to 249 and Ukraine to 205.  One refugee was from Syria.
Fear, as Inslee notes, is a powerful thing.  If we succumb to it, aren't we letting the terrorists win?  Aren't we letting them change our lives of freedom?  We shouldn't blame people running from terrorists into the refuge of America or France or Sweden for what the terrorists are doing.  Instead, we, like other free countries, should welcome them so they can blossom from victims into capitalists.
Andy Brack is editor and publisher of Charleston Currents and Statehouse Report.  You can reach him at:  editor@charlestoncurrents.com
IN THE SPOTLIGHT
LaFond Law Group, P.A.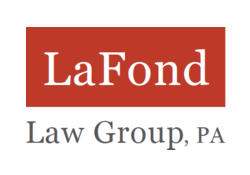 Attorneys Catherine E. LaFond and Ashley Andrews and their competent team offer compassion and broad experience in helping clients with real estate closings, estate planning, and securing veterans' benefits and other long-term care benefits.
Located at 544 Savannah Highway near Folly Road, LaFond Law Group, P.A., is convenient for appointments with helpful staff members who can help you and your family craft wills and trusts, weave comfortably through the maze of estate and elder law planning options, and close real estate loans for refinancing or purchases. To learn more, contact LaFond Law Group, P.A., at 843.762.3554.
MONEY
Have a financially-savvy holiday season
By Kyra Morris, contributing editor
NOV. 30, 2015  |  As our bellies are now full from a wonderful Thanksgiving meal, it's now time to consider emptying the wallet for the holidays.  At least that is what retailers would like for you to do.  The holiday season and shopping are often directly correlated. Instead of the joy of the season, we often experience the stress of the season.

Here are some ideas that may help you through with your sanity intact and a little extra in your wallet.
Make a list:  Consider all the people you want to remember – family, friends, teachers, colleagues.  For different groups set a dollar limit – for example $10 to $15 maximum for teachers and colleagues, or for someone special, but not immediate family, up to $50.   Create the list and add up the dollars.  Then consider the ancillary items that often are forgotten – food, beverage and home decorations.  Are you going to entertain, or are you going to others and be part of their celebrations?  What will this entail? These ancillary items may be kept on a separate page, but writing down your ideas will help you stay focused.
Being crafty:  Often people simply enjoy time together.  Invite people over to make simple decorations.  When my children were younger, I had a lot of their friends and parents over.  We used prior years' holiday cards to make decorations.  It took scissors, tape, glue, glitter, and colored yarn.  There are all kinds of twists on this idea – like cookie decorating, stringing popcorn or paper chains.  The key is to keep it simple.  Do not get too complex with the craft.  Yet if this works for you, it's a way to engage several people on your list, encourage friendships, and create and long lasting memories.
Create a budget:  From the list you created, add everything up.  If you're traveling, then travel costs may also come into the picture.  If the final amount is acceptable, then you've got your plan.  If you need to tweak it to get it down a little, then do it.  The thought you put in ahead of time will help you later when you're actually shopping or implementing.  With a budget or pre-thought plan, it may be easier to avoid the temptations of all the purchasing power at your fingertips on your mobile device.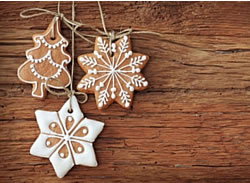 Use online shopping wisely:  Once you have your list, the Internet can be a helpful tool for researching ideas.  You are quickly able to read reviews and compare pricing.  Some of the perks of actually buying online are no crowds and checkout lines, and many are offering free gift wrapping and shipping.
Gift cards or cash:  For the hard-to-please or hard-to-shop-for folks, a gift card to a favorite store may be a way to take care of them and easily stay within your budget.  Cash is also another way to give them the freedom of getting whatever they want from wherever they want.  Cash also has no expiration date.
Charitable donations:  Give a gift to your favorite charities in honor of your special people.  You can get them more involved also by using online sites like DonorsChoose.  This way your honoree actually chooses the organization and project(s) where they would like to make contributions.  You provide them with the funds.  Another simple way is to ask them what their favorite charity is and let them know that this is how you'd like to recognize them.  This gift exemplifies the true meaning of this holiday season.  You can recognize the people you care about, engage them with the choices, and do good in the world all at the same time.  If I mention you also get a tax deduction, it tends to take away from all the other goodness, but yes, you do get a tax deduction if you use a 501c(3) charitable organization.
Start early:  Create your list, your plan and your budget early.  Shopping is less hectic, selections are better and finishing early has its rewards.  You can enjoy more time being with the people you care about, sharing your holiday fare in the comfort of your choice.  A little planning can go a long way.  Your time and resources can be used wisely, making the season one to enjoy.
Kyra Hollowell Morris, a Certified Financial Planner, is CEO of Morris Financial Concepts, Inc., in Mount Pleasant. A national leader in the financial planning profession, she has been named several times by leading magazines as one of the country's top financial planners.
GOOD NEWS
Park named after Riley
Hats off to Charleston City Council, which voted Nov. 24, to rename Waterfront Park in honor of retiring Mayor Joseph P. Riley Jr.
According a resolution that passed unanimously, "Waterfront Park, a magnificent public space at the water's edge, symbolizes Mayor Riley's dedication to the pursuit of excellence and beauty and his untiring zeal to achieve both for the heritage and enjoyment of all.  … Mayor Riley has been a builder not only of the human spirit but also of the physical environment which collectively help bind our City together as one."
In other good news:
Wind energy.  The notion of having an offshore wind energy farm seems to be picking up momentum.  Not only was there a weekend editorial about its advantages in The Post and Courier, but our sister publication, Statehouse Report, offered a detailed look at how South Carolina has a competitive advantage over the rest of the nation in developing this renewable source of power.  An excerpt:
"We're uniquely positioned for this," said Elizabeth Colbert Busch, director of business development at the Clemson University Restoration Institute in North Charleston, which is home to the world's largest wind turbine drive train test facility.  "We have the fuel, the infrastructure and the grid.  Our transmission lines are so robust that we don't have to change them."

State Sen. Paul Campbell, who led a state task force on wind energy, added, "Between Winyah Bay in Georgetown County and Cherry Grove in North Carolina, we have enough wind to give us a sizable production of wind energy — and we should do that."  More.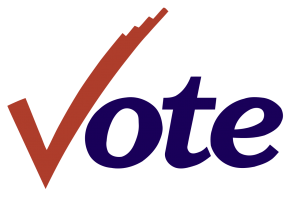 Vote for Charleston.  If you think Charleston's Holiday Festival of Lights is one of the best holiday festivals in the country, you can vote for it over 19 other community festivals in USA Today's 10Best Readers' Choice contest that runs through Dec. 21.  Last year, the event won the third best public lights display award from readers.  To vote now for our local event, click here.  (As of Nov 30, the Charleston festival was ranked 4th out of 20 in voting.)
Scuba Claus.  You can dive into the holiday season every weekend until Christmas from 11 a.m. to 3  p.m. at the S.C. Aquarium to see special appearances by Scuba Claus in the attraction's Great Ocean Tank.  A special elf helper will appear during weekdays.    Lots of holiday fun can be had at the aquarium, including snowman cookie decorating, ornament painting, snowman bowling and viewing of the movie, Polar Express, in 4-D.  More info.
Helping animals.  More than 5,000 people helped to raise $350,000 to benefit the Charleston Animal Society on the Saturday before Thanksgiving in a Celebrity Chili Cook-off and Oyster Roast.  The organization said it spends $750,000 a year on medical treatment of injured, diseased and victimized animals.  Best chili, by the way, was by a team from Burton's Grill, according to the society.
FEEDBACK
Send us your thoughts and letters
If you have an opinion on something we've offered or on a subject related to the Lowcountry, please send your letters of 150 words or less to: editor@charlestoncurrents.com. Our feedback policy.
CALENDAR
Nov. 30+:  Holiday events run the gamut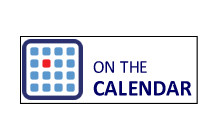 Holiday Festival of Lights:  Through Jan. 3, 2016, James Island County Park.  The annual light festival with millions of lights and lots of family fun opens for a seven-week run.  Lots of information is online here.
That Holiday Book Sale: Dec. 4-6, Charleston County Main Library, 68 Calhoun St., Charleston.  The Friends of the Library will offer a great book sale just in time for the holidays where you can pick up affordable books, CDs and more.  For times and other information, click here.
Miracle on 34th Street:  Dec. 4-20, Footlight Players Theatre, 20 Queen St., Charleston.  The Footlight Players will perform the beloved holiday classic based on the 1947 Oscar-winning film.  Shows are at 8 p.m. Dec. 4-5, Dec. 11-12 and Dec. 17-19 and at 3 p.m. Dec. 6, Dec. 13 and Dec. 20. Tickets are $35 for adults; $32 for seniors/military, $25 for students and $15 for children. More:  footlightplayers.net.
(NEW)  Nutcracker, by the South Carolina Ballet:  7:30 p.m., Dec. 4, and 1:30 p.m., Dec. 5, North Charleston Coliseum Performing Arts Center, North Charleston.  Tickets for the holiday performance range from $27 to $57 and can be purchased online or by phoning 843.529.5000.  More info:  S.C. Ballet.
Homegrown Holiday Bazaar: 10 a.m. to 4 p.m., Dec. 5, Johns Island Farmers Market, 3546 Maybank Highway, Johns Island. The market and Sea Islands Chamber of Commerce will offer its second annual holiday bazaar with silent auction items, a hayride, face painting and visits by Santa and Mrs. Claus. There will be music, crafts for the holidays and lots more.
(NEW)  Isle of Palms Holiday Street Festival: 2 p.m. to 7 p.m., Dec. 5, Isle of Palms front beach.  The community's fourth annual event will include music, food, carnival rides, and lots of holiday specials.  Santa will be in the area around 4:30 p.m. and a tree lighting will be an hour later.  More.
Gospel Christmas: 7:30 p.m., Dec. 5, Ashley River Baptist Church, 1101 Savannah Highway, Charleston. The Charleston Gospel Choir and Charleston Spiritual Ensemble will present the 15th annual Gospel Christmas, a performance of moving interpretations of sacred holiday music. Tickets are $35 for adults, $30 for seniors and $15 for students. Learn more here.
(NEW)  Charleston Holiday Parade:  2 p.m., Dec. 6, Broad Street at Barre Street to Marion Square, Charleston.  The annual parade will feature Santa Claus, who will be available at Marion Square at the end of the parade.
Path to Secession: 11:15 a.m., Dec. 8, John's Island Regional Library, Johns Island. Join Charleston County Public Library historian Nic Butler to follow 50 years of events that led the state to secede from the union in 1860 in this installment of the library's history series. The talk will be also offered 6 p.m., Dec. 9, at the main library on Calhoun St.
Stern lecture: 6 p.m., Dec. 10, Charleston Library Society, 164 King St., Charleston. "Remembering of the Remarkable Ted Stern: Charleston's Compass" will be the focus of a lecture by Bob Macdonald, director emeritus of the Museum of the City of New York and vice chair emeritus of the S.C. Aquarium. Introduction by Mayor Joseph P. Riley Jr. Cost is $15 for non-members; $10 for members. Tickets.
(NEW)  Charleston Holiday Parade of Boats viewing party:  5 p.m. to 8 p.m., Dec. 12, Charleston Maritime Center, Charleston.  Join the Rotary Club of Charleston for fun, barbecue, great music and the best location in town to watch the annual Parade of Boats, a holiday tradition.  Tickets are $25 for adults, $5 for kids.  Chance to win a $38,000 boat is $100 per ticket.  More.
Bird walks: 8:30 a.m. to noon, every Wednesday and Saturday. This is the time of year that a great variety of migrating birds fly through the Lowcountry so what better time to take part in one of the regular early morning bird walks at Caw Caw Interpretive Center in Ravenel. Pre-registration is suggested. Cost is $5. Walks also are conducted on James Island and Folly Beach. Learn more online.
If you have an event to list on our calendar, please send it to editor@charlestoncurrents.com for consideration.  The calendar is updated weekly on Mondays.
MYSTERY PHOTO
You might have seen this before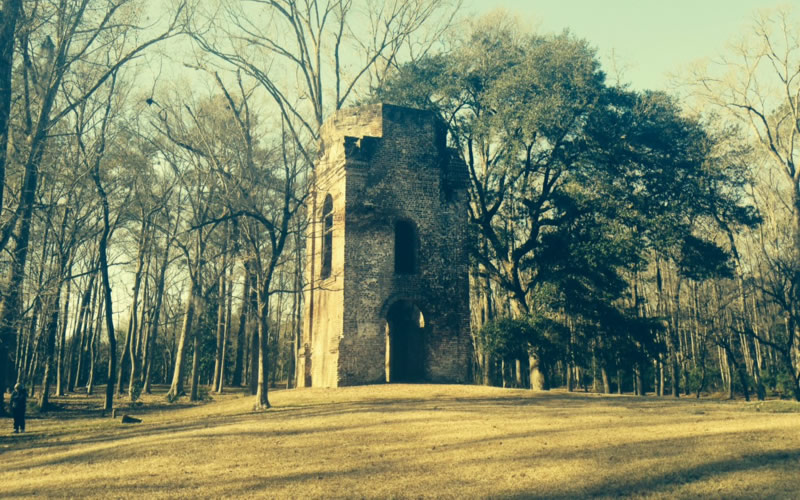 Long-time readers of Charleston Currents might have seen this structure, which was featured a few years back.  But it might not be familiar to many.  Hint:  It's in the tri-county area.  Know where it is?  Send your guess — and place of residence — to editor@charlestoncurrents.com.  (Thanks to Deborah Getter of Johns Island for furnishing this great new shot.)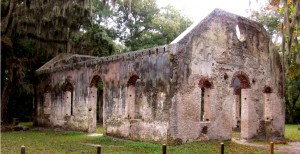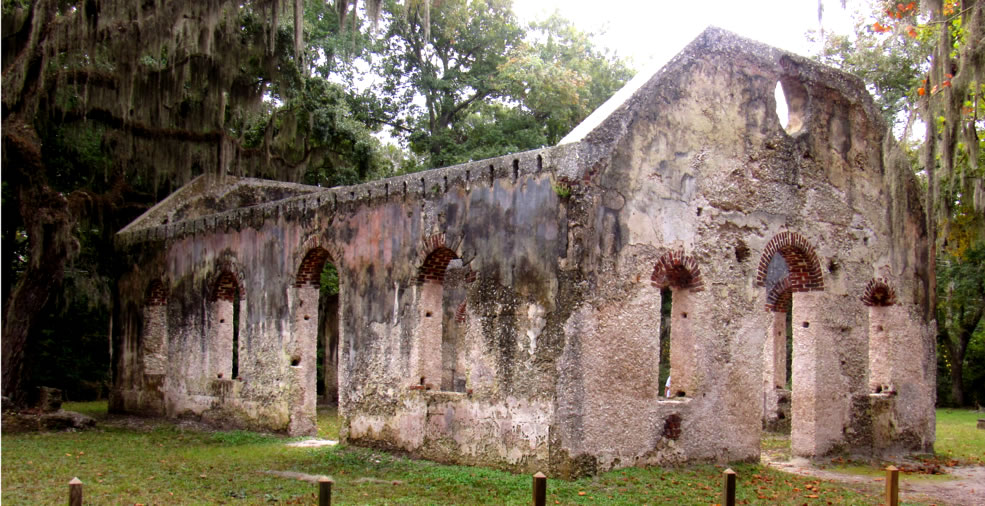 We had a bunch of guesses about the Mystery Photo from last week, several of whom thought it might be ruins of Old Sheldon Church in rural Beaufort County.  Nope.  It was an old chapel of ease on St. Helena Island near the Penn Center.  Dr. B.J. Scott of Charleston, who won a pair of tickets to Magnolia Gardens for the correct answer, wrote the tabby structure as built prior to the Civil War by plantation owners as a church because of the distance to Beaufort.  After a fire in 1886, it wasn't rebuilt.
Others who correctly identified the church were:  Chris Brooks, Lori Glenn and Laura Morris, all of Mount Pleasant; Susan Breslin of Folly Beach; Susan Fulmer and Mary Greene, both of Columbia; Marnie Huger of Richmond, Va.; and Kristina Wheeler of Charleston.
BROADUS
A big check to help the homeless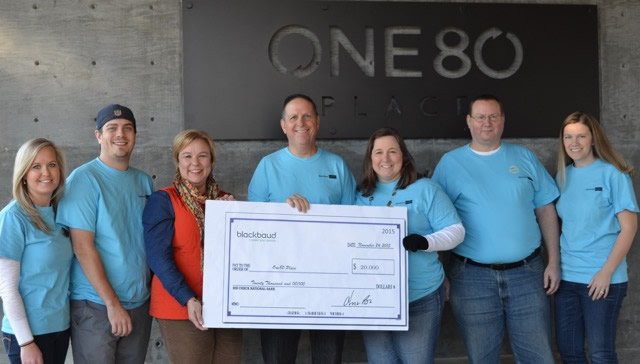 Blackbaud President and CEO Michael Gianoni, center, presented a $20,000.00 check to One80 Place CEO Stacey Denaux, who is wearing an orange vest and surrounded by Blackbaud employees.  The downtown homeless shelter raised more than $40,000 in total through its "Turkey & a $20" donation drive on Nov. 24. The company also celebrated reaching $300,000 in contributions to One80 Place, according to a press release.  Photo provided.
S.C. ENCYCLOPEDIA
Voorhees College
S.C. Encyclopedia |   Located in Denmark, Voorhees College is a four-year liberal arts undergraduate institution. Founded in 1897 by Elizabeth Evelyn Wright and Jessie Dorsey, the school was first known as the Denmark Industrial School and was based on Booker T. Washington's Tuskegee Institute. Wright was Washington's protégée and had determined that she wanted to "be the same type of woman as Mr. Washington was of a man." On graduation she set out for South Carolina to develop a second Tuskegee.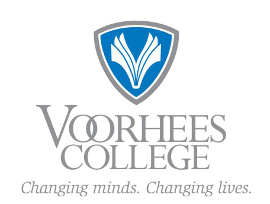 Wright's first efforts at Govan and in Hampton County were thwarted by a hostile white community, which burned buildings and building materials. Undaunted, Wright approached state senator Stanwix G. Mayfield of Bamberg County, who sold her twenty acres of land after she obtained an endorsement from Washington and collected pennies and nickels from black churches. The Denmark Industrial School became a reality when Wright and Dorsey taught 14 boarders and 236 pupils in the upstairs of an abandoned store. The curriculum included the basics of reading, writing, and arithmetic, but the school's primary mission was to develop students through an industrial-vocational system modeled after Tuskegee.
By 1902 Wright had successfully persuaded a New Jersey industrialist, Ralph Voorhees, to donate money that was used to purchase land and construct buildings. The institution was renamed for its benefactor, and the state legislature incorporated the school in 1904 as the Voorhees Industrial School for Colored Youths. The school now had almost 350 students and 17 faculty members and was supported by the local black community as well as through solicitation campaigns. Though Wright died in 1906, the school continued to prosper. By the end of World War I, however, Voorhees faced a financial crisis when gifts and grants decreased. In 1924 the school was taken over by the Episcopal Church's American Institute for Negroes and remains affiliated with the Diocese of South Carolina.
The school's name was changed in 1947 to Voorhees School and Junior College, and in 1962 it became Voorhees College. Earning full accreditation as a four-year school from the Southern Association of Colleges and Schools in 1968, Voorhees faced student unrest over civil rights and personnel issues. Voorhees students objected to the lack of blacks serving on the school's board of trustees as well as student living conditions, wage scales for nonacademic workers, few black history courses, and a poorly equipped library. With tempers rising and protests growing, armed students took over the library in April 1969. The demonstration was reported in the national press but ended quickly when the National Guard was called to the campus by President John Potts and J. Kenneth Morris, chairman of the board of trustees.
Potts's tenure as president of Voorhees from 1954 to 1970 was marked by both progress and protest. During that time the institution dropped its high school component and became a four-year college. Other accomplishments included increased enrollment, an improvement in the quality of the faculty, and an upgrading of the curriculum and programs. Several presidents who succeeded Potts did not prove to be as visionary in dealing with programs, finances, or students and were dismissed from office. Enrollment reached a high of one thousand students in 1976. In 2001 Voorhees had seven hundred students when it welcomed its seventh president, Dr. Lee Monroe. The college offers a traditional liberal arts program and awards bachelor's degrees in eleven majors.
NOTE:  Dr. Cleveland Sellers is the college's current president.  Founder Elizabeth Evelyn Wright is an honoree on AT&T's 27th annual S.C. African American History Calendar for 2016.
– Excerpted from the entry by Louise Allen. To read more about this or 2,000 other entries about South Carolina, check out The South Carolina Encyclopedia by USC Press. (Information used by permission.)
About Charleston Currents
OUR UNDERWRITERS
Charleston Currents is an underwriter-supported weekly online journal of good news about the Charleston area and Lowcountry of South Carolina.
To learn more about how your organization or business can benefit, click here to contact us. Or give us a holler on the phone at: 843.670.3996.
OUR TEAM
Charleston Currents offers insightful community comment and good news on events each week. It cuts through the information clutter to offer the best of what's happening locally.
Mailing address: O. Box. 22261 | Charleston, SC 29413
Phone:  843.670.3996
Charleston Currents is provided to you twice a week by:
SUBSCRIBE FOR FREE
Subscriptions to Charleston Currents are free.
Unsubscribe.  We don't want to lose you as a reader of Charleston Currents, but if you must depart, please click here.
© 2008-2015, Statehouse Report, LLC. All rights reserved. Charleston Currents is published every Monday by Statehouse Report LLC, PO Box 22261, Charleston, SC 29413.