Charleston Currents | Oct. 19, 2015 | Number 7.49
SUNRISE: The Chehaw River in Colleton County is part of the ACE Basin, known as one of the last undiscovered places in the United States. In today's review below, Andy Brack takes a look at Pete Laurie's great new book on this special area at the confluence of the Ashepoo, Combahee and Edisto rivers that has been protected by a joint venture of conservationists and governments. Photo by Andy Brack.
IN THIS ISSUE
PHOTO:  Sunrise on the Chehaw River
FOCUS, Pamela Lackey: On digital citizenship
BRACK: Why I'm voting for John Tecklenburg for mayor
IN THE SPOTLIGHT:  Morris Financial Concepts, Inc.
GOOD NEWS: Artists for Emanuel, more
FEEDBACK: Our children deserve better than legislators giving them
CALENDAR, Oct. 19+: From a block party to thanking Joe
REVIEW:  The Ace Basin: A Lowcountry Legacy, by Pete Laurie
MYSTERY:  It's not Kansas, anyway
S.C. ENCYCLOPEDIA: Edisto Island
TODAY'S FOCUS
Citizenship in the brave new – digital – world
By Pamela Lackey
OCT. 19, 2015 | Regardless of where we consider "home," we are all citizens of a digital world. Advances in communication and computer technology have revolutionized nearly every aspect of life, from how we work and play to how we stay in touch with others.
Some people seem to be completely at home in an online, interconnected community. For example, Beloit University's "The Mindset List" notes that members of the Class of 2015 have never known a world without the Internet.
Other folks, however, seem slightly perplexed by where they find themselves. For them, "friend" is a noun, not a verb, and "shopping" requires going to a store.
At AT&T, we believe in doing our part to help everyone succeed and prosper in this technology-defined community. That's why we have committed to a series of initiatives that are all about digital citizenship – navigating challenges in this online world safely while embracing new opportunities.
Just as living in a particular place requires certain practical information, such as traffic laws or the location of a nearby grocery story, digital citizenship requires a basic understanding of the devices and technology which create and power the digital world.
As part of our Digital You program, we offer information specifically designed for digital newcomers. In addition to practical, how-to-use guidance on basic cell phones, smartphone and tablets, it also addresses mobile broadband, identifying and avoiding e-mail scams and being safe online.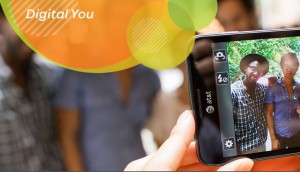 Digital You also brings you Digital Compass™, a free interactive game developed by Common Sense to help teach 6th through 9th graders about the real-world impact of their online choices.
Online safety, especially for youth, is a major issue today. The Internet lets us travel the world without leaving home. While that is great for teens doing research for school or playing online games with friends, it creates situations their parents never had to address. For example, one in four kids say they have been bullied online. So we are providing some common-sense tips for handling online bullies and trolls.
Since every keyboard has a delete key, it is easy to forget how permanent the online world is. Even if a photo is deleted, the comments and images can live on. So we are helping teens understand that what may seem like a funny comment today may look tomorrow like questionable judgment to a university admissions officer or potential employer.
Businesses, too, face online risks, suffering nearly 43 million known security incidents in 2014. This increased 48 percent compared with 2013 and equals some 117,000 attacks daily. To better equip other businesses to secure their own data we recently shared our own insights and research in our first Cybersecurity Insights Report.
Another aspect of citizenship is taking responsibility for how our actions impact others and our community. In the digital world, that means we need to use our devices wisely and safely.
For five years, the It Can Wait campaign has conveyed a single message: Keep your eyes on the road, not on your phone. Over that time, our campaign has evolved as smartphone driving distractions have grown beyond texting to include social media, web surfing, selfies and video chatting.
The latest research of smartphone users has found that of those who use their devices while driving, more than 60 percent text, about 30 percent email or surf the web, and an astonishing 10 percent Facetime. For those unfamiliar with the practice, to "Facetime," individuals use their smartphones to create an interactive videoconference. I am astonished that people do this behind the wheel.
The simple fact remains that no post, glance, email, search or text is worth a life.
Today's technology offers unprecedented opportunities for inclusion, removing the barriers of distance and, often, language. The Digital You program therefore also delves into accessibility resources for users with disabilities and includes a wide assortment of resources in Spanish.
I realize that change can be unsettling – don't move my coffeepot on my kitchen counter. But I am excited to think about the innovations which are even now being developed, thanks to today's advanced technologies.
Pamela Lackey is president, AT&T-South Carolina
COMMENTARY
Why I'm voting for John Tecklenburg for mayor
By Andy Brack, editor and publisher
OCT. 19, 2015 | John Tecklenburg has the best line in the campaign to be Charleston's next mayor:
"Charleston is not a theme park," he tells people during meetings and in ads.
In just six words, he succinctly captures what's different about his candidacy and lets us in on his secret: he's running to serve the people of Charleston. He wants to work collaboratively with people to foster a community vision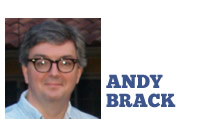 that focuses on what Charleston's residents want their future to be. As the Charleston Mercury sagely noted in a recent endorsement, "Mr. Tecklenburg is a rejection of the hucksterism we have seen in too many political rings."
I'm voting for John Tecklenburg for mayor on Nov. 3 because he's the kind of decent, service-focused leader our community needs for the post-Joe Riley era. There's a lot to be said for common decency — for someone who is kind, generous with time and who listens. You don't see it much these days in public officials, who often seem more obsessed about self and power than others and service.
I'm voting for John Tecklenburg because his life is a testament to working for the common good. A successful businessman, John helped guide the successful economic development of the upper King Street area. In private life, he has focused on a personal ministry of helping the less fortunate. As a Rotarian, he lives the creed "service above self."
And finally, I'm voting for John Tecklenburg to be our next mayor because he understands the job of mayor — that our next mayor must bring together people and factions and then steer them toward common goals to make our city more livable. Unlike other leading candidates who focus on poll-driven issues of building roads and fixing education, John isn't misleading. He knows mayors don't build roads or teach in schools.   He knows mayors make sure trash gets picked up. Mayors make sure potholes get filled. Mayors make sure communities work together toward common goals. Mayors lead. And while part of their leadership is to use the bully pulpit to guide others who build roads and improve schools, John know that a mayor's number one job is to make sure people who live here have a good quality of life.
John Tecklenburg is running for mayor to serve, not for individual power or glory. We should give him the chance to show how he can bring our community together in new ways. I urge you to join me in voting for John Tecklenburg to lead us forward.
Andy Brack is editor and publisher of Charleston Currents and Statehouse Report. You can reach him at: editor@charlestoncurrents.com
IN THE SPOTLIGHT
Morris Financial Concepts, Inc.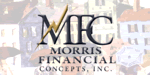 The public spiritedness of our sponsors allows us to bring Charleston Currents to you at no cost to readers.  Morris Financial Concepts, Inc., is a nationally recognized, fee-only financial consulting firm that helps you identify and align your resources, values and goals to achieve an enriched life. We do not accept commissions or compensation related to the products and service we recommend. Our counsel is based solely on what we believe is best for each client.
GOOD NEWS
Artists join for benefit auction to help victims' families
Artists for Emanuel is a collective November art auction of 90 Charleston artists to raise funds for the families of the victims of the June murders at Emanuel AME Church.
The auction, called "Straight From the Heart," currently offers several artworks for viewing online here. Not only can you bid on the items, but there also is a "buy it now" option that starts Nov. 4 for those interested in getting a particular piece before the public bidding.
One artist notes, "When unreasonable acts of violence occur due to the twisted thoughts of an individual, the painful losses endure far beyond the immediate.  In a small way, the community of Charleston artists have come together to raise funds for the families."
The auction, slated for 6 p.m. to 9 p.m., on Nov. 11, will be at the Cigar Factory, 701 East Bay Street. You're expected to wear "art gallery chic."
In other good news:
Holiday Festival of Lights sneak peek: Runners and walkers can get a sneak peak of annual Holiday Festival of Lights at James Island County Park with two non-competitive Fun Run and Walk events set for Nov. 11 and 12. The events are now open for registration ($12 per person) here. Rates go up Nov. 11. On-site tickets will not be sold.
"Because much of the Holiday Festival of Lights is normally seen from a vehicle, the Fun Run and Walk is the way to go for seeing the entire light show up close," according to a press release. "Attendees will get a preview of the festival's 700+ illuminated displays and amenities, including gift shops, marshmallow roasting, train and carousel rides, and so much more!" The Holiday Festival of Lights will run this year from Nov. 13, 2015, to Jan. 3, 2016.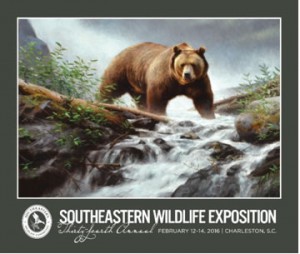 SEWE's 2016 painting unveiled. "Power and Grace" is the featured painting for the 2016 Southeastern Wildlife Exposition, which will be held Feb. 12-14 in Charleston. The painting, by artist Kyle Sims, will be featured on the event's official poster. The painting depicts a grizzly bear. It was inspired by hikes in the artist's home state of Montana. More: SEWE.com
Baker Motors honored. Charleston's Baker Motor Company last week was named the No. 1 dealership in the United States and Canada on Automotive News 100 Best Dealerships To Work For 2015 list. "It fills my heart to know my employees feel so positively about working here." owner Tommy Baker said. "It's a compliment to all of us, both management and team members. Everyone is family at Baker Motor Company, and we all share in this achievement."
FEEDBACK
Our children deserve better than legislators giving them
To the editor:
I just wanted to thank you for your article in today's Morning News in Florence [Brack: Stop shortchanging South Carolina]. You have certainly pointed out effectively the problems in South Carolina politics.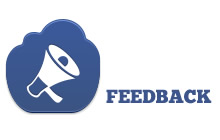 I've been an educator for more than 40 years and have just retired. Throughout my tenure, I have watched South Carolina politics ruin children's lives. No matter how hard teachers try, without more money in the poorer schools, teachers and students are severely handicapped. It is so sad that we have lost so many years of equitable funding because the judge ruled that "minimally adequate" was good enough. We have a lower class of South Carolinians who will forever be a burden on our system because they have not been properly educated.
My heart has been broken many times watching our children strive to do better and get better when, deep down, I know there is no job for their broken skills.
I just want to thank you so much for pointing out the shortfalls of our legislature. I pray daily that the blinders will fall off the eyes of South Carolinians and they will become aware of our educational problems. If we don't educate these children, we will forever be taking care of them in the welfare rolls, or even worse, prisons.
Our children in South Carolina deserve so much more.
– Dianne Hill Anderson, Timmonsville, S.C.
Rant.  Rave.  Tell us what you really think.  If you have an opinion on something we've offered or on a subject related to the Lowcountry, please send your letters of 150 words or less to: editor@charlestoncurrents.com. Our feedback policy.
CALENDAR
From a block party and plant sale and thanking Joe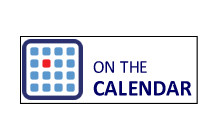 Author visit:  Noon to 2 p.m., Oct. 17, Saffron Cafe and Bakery, 333 East Bay St., Charleston.  Nurse Jean D. Moody-Williams will explore her new book on caregiving and devotions, "Transitions, Trust and Triumph" at this book signing.  More: jeanmoodywilliams.org.
North Charleston Block Party: 4 p.m. to 8 p.m., Oct. 17, Olde Village, East Montague Street near Park Circle. This third annual event will feature live music, arts and craft booths, costume contest and more. There will be trick-or-treating for kids 12 and under. Email for more information.
(NEW) Native plants: 9 a.m. to noon, Oct. 24, parking lot, Charles Towne Landing State Historic Site. The S.C. Native Plant Society has its annual fall native plant sale with about 100 species of plants available for purchase. More.
Thanks Joe! 3 p.m. to 7 p.m., Oct. 25,  at Brittlebank Park, followed by 7 p.m. to 9 p.m. at nearby Joe Riley Stadium, Charleston. This is a privately-funded, family event to allow people to give their appreciation for Mayor Joe Riley's 40 years of public service. The first half of the event will feature games and food, while the last two hours will include a Blue Dogs all-star tribute, rocker Edwin McCain, the Emanuel AME Choir and more. More details to come.
History of Charleston's mayor: 6 p.m., Oct. 28, Main Library, Calhoun Street, Charleston. Just in time for the 2015 election, the library will host a talk that delves into the evolution of Charleston's executive office, from "intendant" to mayor. More.
Little Shop of Horrors:  Through Nov. 1, Dock Street Theatre, Charleston.  Just in time for Halloween, you can see plant puppets from Broadway and the national tour of this musical by Charleston Stage with nine actors and a live nine-piece orchestra.  More:  CharlestonStage.com.
(NEW) Harvest Festival: 11 a.m. to 5 p.m., Nov. 7, Mullet Hall Equestrian Center, Johns Island. Bring the family to celebrate a traditional Southern fall festival that features down-home delights like a craft market, children's activities, and live foot-stomping bluegrass from five bands! Plus enjoy beverages and food for sale, including plenty of barbeque! Admission is $8, or free for kids 12 and under as well as Gold Pass holders. More info.
(NEW) Beach & Chefs in the Kitchen: 1 p.m. to 5 p.m., Nov. 8, Sullivan's Island. This afternoon house tour will feature more than 25 artists selling their creations as well as live music, chef demonstrations and tastings. Proceeds will benefit Charleston Pro Bono Services. Tickets are $40 in advance, $45 on the day of the show. More info.
(NEW) Oyster roast: 2 p.m. to 5 p.m., Nov. 8, Gold Bug Island at the Intercoastal Waterway in Mount Pleasant. This third annual event benefits East Cooper Meals on Wheels. In addition to oysters, the event will include a chili cook-off by four East Cooper Fire Departments where guests choose the winner by voting with their dollars. Also: Live music by Awendaw Green, a silent auction and more Tickets are $30 in advance, $35 at event. More info.
Bird walks: 8:30 a.m. to noon, every Wednesday and Saturday. This is the time of year that a great variety of migrating birds fly through the Lowcountry so what better time to take part in one of the regular early morning bird walks at Caw Caw Interpretive Center in Ravenel. Pre-registration is suggested. Cost is $5. Walks also are conducted on James Island and Folly Beach. Learn more online.
If you have an event to list on our calendar, please send it to editor@charlestoncurrents.com for consideration.  The calendar is updated weekly on Mondays.
REVIEW
The ACE Basin: A Lowcountry Legacy
Nonfiction by Pete Laurie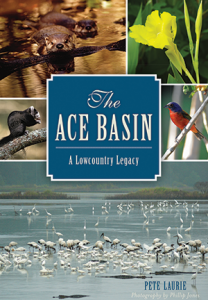 The ACE Basin: A Lowcountry Legacy is a beautiful book. It's perfect for anyone who wants to understand the importance of conservationists and governments working together to protect a wholly special place that stretches from the southern end of Charleston County through Beaufort County. With vivid color photographs by Phillip Jones, Laurie's book explains the history since 1988 behind conserving more than 200,000 acres in the confluence of the Ashepoo, Combahee and Edisto rivers through purchases of large tracts of land plus dozens of conservation easements by nature-loving landowners. Today — and for generations of South Carolinians in the future — the ACE Basin will serve as a living reminder of the diversity of nature habitats for birds, fish, mammals, insects and hundreds of species of plants. We love how the book also features the habitats in different seasons, which helps one to understand the changing annual dynamic of the important marshes and maritime forests. Hats off to Laurie, a veteran nature writer from Johns Island, for pulling together this compelling, interesting work that deepens our love for the ACE Basin — and gives us good reasons to love it even more. (The Ace Basin, $21.99, The History Press. Published Sept. 28, 2015. More online.) — Reviewed by Andy Brack.
Find this and similar titles from Charleston County Public Library. This item available as a book. To learn more or place a hold, visit www.ccpl.org or call 843-805-6930.
MYSTERY PHOTO
You're not in Kansas, here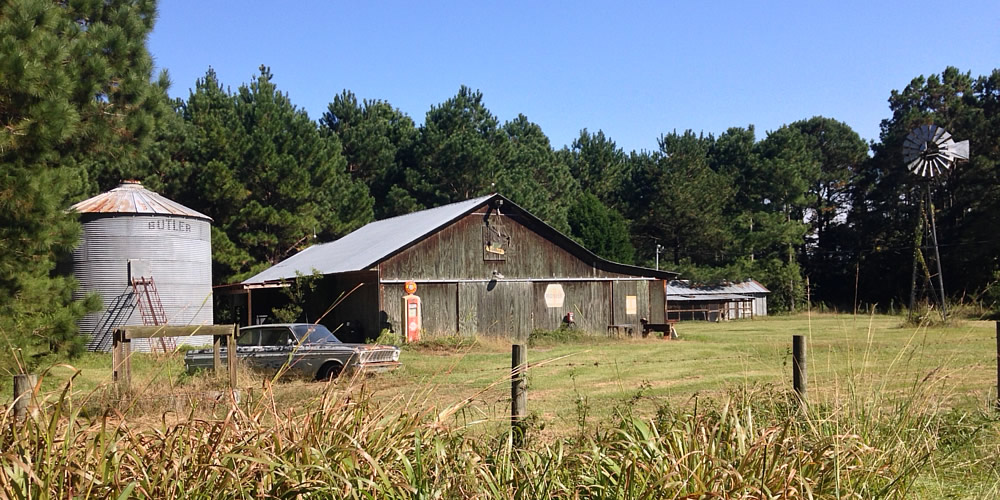 This may look like a scene from Kansas, but it's in a rural part of Charleston County. Where? Second person to guess correctly gets a pair of tickets to Magnolia Plantation and Gardens. Send your guess to: editor@charlestoncurrents.com — and be sure to include your name and hometown.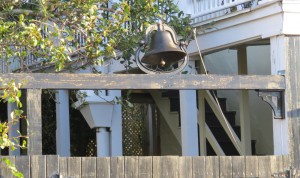 Absolutely no one even guessed at last week's Mystery Photo, which must have been the toughest ever. Contributing photographer Michael Kaynard snapped the picture during a walk on Pinckney Street near East Bay Street. You've probably see the bell … but just didn't remember it. Better luck next time. (And stop making the pictures so hard, Michael!)
S.C. ENCYCLOPEDIA
Edisto Island
S.C. Encyclopedia | Located between the mouths of the North and South Edisto Rivers south of Charleston, Edisto Island is a Lowcountry Sea Island of approximately sixty-eight square miles. The island is shielded from the Atlantic Ocean by Edisto Beach, a barrier island municipality contained in Colleton County and linked to Edisto Island by a causeway.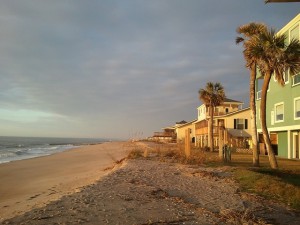 Edisto Island derives its name from the Edisto Indians, the island's initial inhabitants (an Indian mound built by the Edistos survives at Edisto Beach State Park). In the mid-1500s Spanish settlers arrived on the island they called "Oristo" and established a Jesuit mission. Englishman Robert Sandford explored Edisto in 1666, and a decade later the "Edistow" deeded the island to the Lords Proprietors. The Spanish raided an English settlement on Edisto in 1686, but Anglo settlers and their African slaves remained and increased in the ensuing decades. Edisto Presbyterian Church was organized in 1710 and Trinity Episcopal Church in 1774.
The salinity of the island's wetlands inhibited rice production, but indigo production flourished in the mid–eighteenth century. From the late eighteenth century until the early twentieth century, Edisto Island was a center of Sea Island cotton production, until the boll weevil devastated the crop in the early 1920s. Edisto farmers thereafter produced cabbage, potatoes, cattle, and tomatoes. In 1920 the Dawhoo Bridge connected the isolated island to the mainland. The bridge subsequently was replaced by a high, fixed-span bridge.
– Excerpted from the entry by Ford Walpole. To read more about this or 2,000 other entries about South Carolina, check out The South Carolina Encyclopedia by USC Press. (Information used by permission.)
About Charleston Currents
OUR UNDERWRITERS
Charleston Currents is an underwriter-supported weekly online journal of good news about the Charleston area and Lowcountry of South Carolina.
To learn more about how your organization or business can benefit, click here to contact us. Or give us a holler on the phone at: 843.670.3996.
OUR TEAM
Charleston Currents offers insightful community comment and good news on events each week. It cuts through the information clutter to offer the best of what's happening locally.
Mailing address: O. Box. 22261 | Charleston, SC 29413
Phone: 843.670.3996
Charleston Currents is provided to you twice a week by:
SUBSCRIBE FOR FREE
Subscriptions to Charleston Currents are free.
Unsubscribe.  We don't want to lose you as a reader of Charleston Currents, but if you must depart, please click here.
© 2008-2015, Statehouse Report, LLC. All rights reserved. Charleston Currents is published every Monday by Statehouse Report LLC, PO Box 22261, Charleston, SC 29413.