By Doug Holmes, contributing editor  |   The Charleston real estate market continues to perform very well. In fact, real estate across the nation has made a big recovery. While the smaller, isolated markets may have not recovered much, most larger metropolitan areas have regained much of the ground lost during the 2008-2011 period. I read an article a few days ago that listed the 20 busiest real estate markets in the nation and was a bit surprised to see that Charleston was not listed. This actually brightened my day a bit to know that there were so many markets doing so well.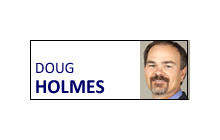 Here in Charleston, we are having our third busiest year ever. Through July, we sold more than 9,100 residential units and are well on our way to selling more than 14,000 for the year. Buying activity is up 18 percent over the same period last year. And median sales price is now at an all-time high of $233,000. That is up about 5 percent over the same period last year.
While many agents and others express concern about this market maybe being too good and possibly getting out of control like it did in 2006, I see many signs in my analysis that point to this recovery being very sustainable. While median sales price is at an all-time high, we are still below the trend line created from sales prices back to 1991. We should have a median sales price of around $250,000 at this point. So, we're actually undervalued.
More telling to me are the prices per square foot. Most specific areas of Charleston are still down between 5 percent to 10 percent on what their dollar-per-square-foot prices were back in 2006. Just one example is James Island. Back in 2006, the median sales price was $173/sqft on James Island. This year, it is $163/sqft. That's a 5.8 percent drop over a nine-year period. It was much worse if you compared 2006 numbers to the dismal numbers in 2010 or 2011. We have recovered a lot of the losses, but not entirely. And that pattern is prevalent throughout most of the areas around Charleston, with Mount Pleasant south being a lone exception.
I think this is good news that our prices are rising at a moderate pace rather than skyrocketing out of control. Next month, I'll try to discuss what's selling in our market. During the downturn, short sales and foreclosures were the hot topic. Those still exist in our market, but at a fairly insignificant percentage. But there is a new competitor out there for the traditional seller that I'll discuss next month.
Doug Holmes is a local Realtor with Keller Williams. He also provides markets analysis for a fee to several hundred local real estate agents. He has a bachelor's degree in physics and math from the College of Charleston as well as a master's degree in math from the college, where he still teaches a couple of statistics classes in the fall. Visit his website here.