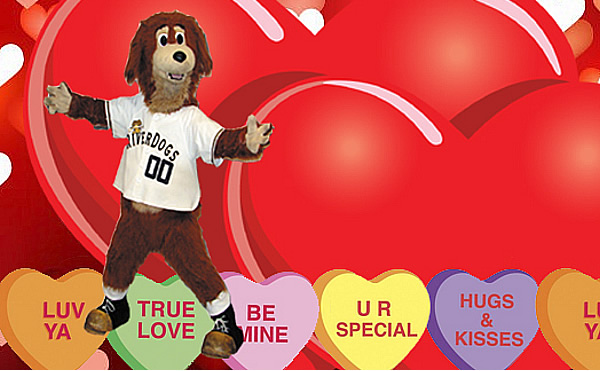 Looking for a way to spice up Valentine's Day with something new? Here are two special deliveries that you might want to consider — a singing Valentine from the Charleston Barbershop Chorus or one of four packages delivered by the mascot of the Charleston RiverDogs.
Valentine's singers. Quartets from the Charleston Barbershop Chorus will deliver singing Valentines on Feb. 13 and 14 throughout the Charleston and Summerville areas. Cost: $50 for one or two love songs and a long-stemmed rose. Last year, the group delivered about 80 messages to the delight of recipients. To learn more about how you can make someone smile in a new way on the holiday, contact Robert Priore at 843.557.0500.
RiverDogs' Valentines. If you're looking for a different kind of Valentine's Day greeting, how about one of four different packages delivered by Charlie T. RiverDog, mascot of the local minor league baseball team.
"Love is always in the air this time of year," said Dave Echols, RiverDogs' general manager. "These packages allow everyone, whether in love with someone else or themselves, to bring that love to the ballpark this season."
For $75, the new "Deferred Date Package" includes two box seats to a Tuesday RiverDogs game and a three-course feast at The Joe ordered from a romantic menu of ballpark cuisine put together, with love of course, by Food and Beverage Director Josh Shea. Note that the dinner is NOT on Valentine's Day, but on a specified Tuesday "Date Night" game at Joseph P. Riley, Jr. Park. The lovebirds will choose from items such as the Out of the Ball Park Garden Salad, Sassy Jerk Chicken Sausage and Deep Fried Oreo Churros listed on the special menu.
Other bundles offered include "For Him," and "For Her" packages which come with four upper reserved vouchers and two gifts for $50 and a special "Lonely Heart's" package with one upper reserved voucher, one frozen dinner, and one pint of ice cream for $20. Order by Feb. 10 for delivery on Feb. 12 and 13. More.
Also in the news:
Huge gift. Employees at MeadWestvaco have pledged $1 million to Trident United Way in 2015 becoming the first company in Lowcountry history to raise $1 million for the organization's work. A check presentation was to be held Friday. Last week, the company, one of the largest area employers, announced it would merge with Rock-Tenn. More.
ACLU president to speak. Susan Herman, president of the American Civil Liberties Union, will speak at 4 p.m. Feb. 5 at the Sottile Theatre, 44 George St., during a College of Charleston political science convocation lecture. Her speech is titled, "Civil Liberties and the 'War on Terror.'" Free.
Free showing of "Selma" for students. Charleston County School District students in grades 7 to 12 can see the movie Selma for at 11:30 a.m. Feb. 7 thanks to State Sen. Marlon Kimpson, (D-Charleston), Charleston City Council member Keith Waring and Walterboro dentist Harold Rhodes. To see the movie, which will be at Regal Cinemas, 2401 Mall Drive, North Charleston, students will be required to present their school IDs. Following the screening will be a discussion about the movie.
Community support: The Magnolia Plantation Foundation has awarded 21 local and national community grants worth a total of $90,000. Grants went to nonprofit groups associated with animal welfare, nature conservation, history, youth activities, education, horticulture and the arts. More.
Volunteers sought. Want a backstage pass to the Baker Motor Company Charleston Fashion Week, which is scheduled for March 17-21 in downtown Charleston. Consider being a volunteer. The presenters have extended the volunteer deadline to Feb. 15, 2015. If interested, apply here.