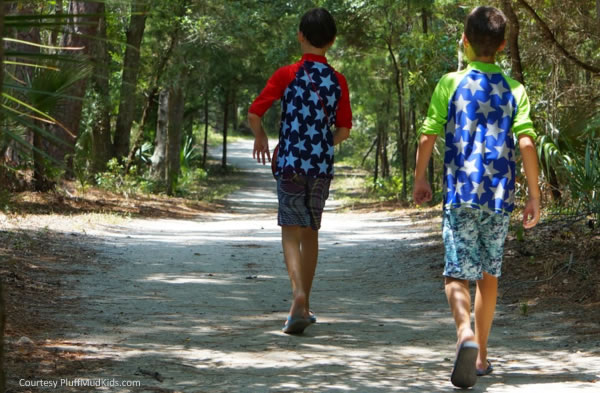 JAN. 26, 2015 | As we settle into the new year, popular demand for the best summer camps has resulted in early planning. January and February are now the months to begin looking at your summer calendar and bookmark the websites you will watch for upcoming camp schedules and registrations.

To help get your game plan organized, we offer a breakdown of some of our favorite camps, what they specialize in and a timeline of when those 2015 online schedules will appear on your screen. This selection of camps includes Charleston-area day camps with a focus on the camps tried by or highly recommended to Pluff Mud Kids.
Guidelines for choosing camps
When choosing a local day camp for your child, there are a few key guidelines to follow.
What is the age and maturity level of your child? Will you include a friend or sibling of similar age? Always check ahead to determine the ratio of adult supervisors to children and overall group size.
If the camp is offered on a split schedule, what time of day would best suit your child? Also consider the weather conditions for the month of the camp. For example, an indoor camp may be a reprieve from the heat in Charleston in August, whereas your child may enjoy a soccer camp more in early June.
Does the camp offer instruction in a new skill or interest, or would your child feel more comfortable with some level of experience in the camp theme?
Transportation is key. Do the logistics of drop off and pick up still make the camp worthwhile? Make sure your child is comfortable with carpooling or transportation provided by the camp.
Consider the cost carefully and factor in transportation, snacks, and special equipment/clothes needed. Some camps will offer discounts for multiple siblings.
Area favorites
Here are a few of our favorite Charleston-area recommendations:
Charleston-area town recreation department camps: Mount Pleasant Recreation Department serves as a good example of the well-rounded brochure of camp options for all age levels. MPRD has a long-standing track record for offering reasonably priced camps with seasoned teachers. Program Coordinator Tina Carter advises that, while camp registration begins March 2, 2015, online information on these camps will be available for parents to consider a week prior to registration. Parents may register online or at Rec Department facilities. Tina Carter may be reached at by email or check the website directly here for more information as it becomes available.
Trident Technical College Kids' College: I recently spoke with Daphne Holland, personal enrichment and youth development manager for TTC, and she stated that the popularity for age-appropriate camps calls for an even more structured programming in the works for TTC summer camps in 2016 (current camp range is kids age 7 to 16). Kids' College at TTC offers a campus that can cater to creative cooking, in-depth science study and state-of-the-art technology, to name a few of the courses that get children excited for summer learning. These programs are very popular and fill up quickly, so choose carefully ahead of time and be prepared to sit and immediately fill out on-line registrations. All day camps at TTC specify the various campus locations where classes are held to help in transportation planning. Use this link Trident Technical College Kids' College Camps to peruse camp offerings available online Feb.15, 2015, with registration beginning mid-March 2015. More information: Contact Daphne Holland.
Gibbes Museum Of Art: Morning art camps are held at the Circular Congregational Church directly across from the Gibbes Museum Of Art and offer a small group study on various themes. Last summer ( take a peek here at the brochure), there was a camp entitled "All About Animals" that was perfect for our son and his cousin. Taught by Charleston artist Kristen Solecki, this class was one in a range of choices that appeal to budding artists. Check the Gibbes website here in the coming weeks for a 2015 brochure or contact Associate Curator of Education Rebecca Sailor directly. Members of the museum receive a discount on camp registration fees.
Huck Finn School: Huck Finn School summer camps on Sullivan's Island are a perfect example of a great program for children taking off and running wild. The 2015 summer camps were posted online and sold out in two hours with a current waiting list of 60 children! "A good problem to have," says school founder Michael Bronco, who is currently looking to add a few more potential camp dates to meet the demand. This wildly popular program offers old-school classes in areas such as knife forging, log cabin building, and WWII survival techniques to name but a few of the innovative skill building workshops. Check back here as this site is one to watch.
Local businesses supporting education for children: Some local area businesses specialize in specific skills and have embraced the summer camp culture by offering ongoing classes throughout the summer. Three excellent examples are:
Space Craft Studios: Printmaking, hand-lettering, 3D printing and so much more… Owner Allison Merrick has created a warm and welcoming space for kids (and adults) to explore new styles of art. Located in West Ashley at 8 Avondale Avenue, Allison is currently working on plans for summer options and can be reached at (843) 284- MAKE or by email.
Sew Much Better: Sewing Studio owner Janet Muhs is currently finalizing plans for her 2015 summer sewing classes for kids to be called "Camp Couture." With School Of The Arts adding an area of study in costume and fashion design, learning to sew in a small setting at a young age is a great way to work towards that program. Camp Couture runs each week of summer at a cost of $200 per week which includes all fabrics, patterns, and notions. Camps commence June 8, 2015, and are broken into two separate sessions, 9 a.m. to 12 p.m. and 1 p.m. to 4 p.m. These camps wrap in August with a fashion show called "Project Swag Way". For more information, contact owner Janet Muhs or call (347) 581-8336. It is located in Mount Pleasant at 708 S. Shelmore Blvd.
Blue Bicycle Books: "Write of Summer" has been a Lowcountry favorite summer writing camp for kids for more than a decade. With camp locations in downtown Charleston and Mount Pleasant, these morning session camps help to enhance your child's creative writing abilities to keep summer brains active. Watch the website here for summer listings.
Big Fun For Groups: Other options we recommend are facilities such as Wild Blue Ropes and SkyZone, which provide summer fun for groups of kids. These can be ways to create new interests and work out muscle groups on equipment that kids don't otherwise have access to. These businesses make it easy for parents to provide a long afternoon of well supervised, safe fun.
For a closer look at most of these wonderful summer programs for kids, take a look in the Pluff Mud Kids archives listed under "Summer Camps."